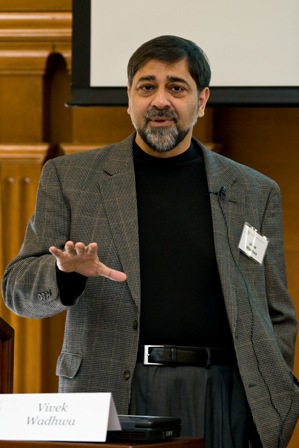 One of the things I love about living and working in such a progressive and forward thinking area like the Washington DC region is getting to attend lectures by very smart people about lots of different interesting topics.  This past October 28, I got the opportunity to listen to a leader in innovation and entrepreneurial research, Vivek Wadhwa, who used a mere 50 minutes to expose some of the top myths of digital entrepreneurship and share some insights to what the most successful innovators do and know that makes them rise above others.
A hop skip and metro rail line or two away and I was at the George Mason University School of Law in Arlington, Virginia at the Information Economy Project Tullock Lecture: "What is a Tech Entrepreneur…And How Can We Make More of Them?"  with about 75 others.
Vivek Wadhwa is a visiting UC-Berkely Scholar, senior Harvard Law School research Associate, Executive in residence at the Pratt School of Engineering at Duke, and BusinessWeek and TechCrunch columnist and writer.
Wadhwa himself is a tech "entrepreneur turned academic". His words not mine.   Among his most popular writings are those about his global travels to various regions of the world that have been trying to replicate Silicon Valley.  Governments all over the world have spent billions of dollars trying to build centers that they hope to be a hub for innovation.  Wadhwa has discovered the vast majority of these efforts have failed.  Based on his writings and recommendations, Wadhwa has been able to shift policy and adjust their thinking and methods.
The man knows what he is talking about considering that in his days as an entrepreneur, he helped build Seer Technologies into a $118 million publicly traded company before launching Relativity Technologies.  Forbes.com named him a "Leader of Tomorrow" and Fortune Magazine named Relativity one of the 25 "coolest" companies in the world.
Below is my summation of the ideas he shared at that lecture for the edification of my astute readers:
Wadhwa on how academic research does not contribute to innovation:
He pointed out that in America, we spend 15 billion in university research but get just 2 billion dollar in licensing revenue from the research created from that spending.  Normally, a business in the real world would fail if those were its rate of return.  While there is value to universities and research centers in that they educate scholars and the workforce, they are not the solution to getting more innovation.  It would be a waste to throw more money at universities because they will only use it to build more colleges, hire more people and create more overhead, he said.  "You're never going to get any innovation out of this," he said.
Wadhwa on the role of America's immigration policy on stifling American innovation:
"Immigrants have contributed disproportionately to American competitiveness," he said.  According to Wadhwa, studies show  that during the dot.com boom and the biggest period of growth in the tech sector, "about 52.4% of the start-ups were founded by immigrants, people like me who were born abroad."  He added that " in 2005 alone, these companies founded by immigrants employed half a million people and produced about 52 billion dollar in revenue."
He also pointed out that his Indian bothers are hyperactive at starting companies, noting that while "15.5% of Silicon Valley companies are founded by Indians…Indians comprise just 6% of the Silicon Valley workforce."
Notwithstanding all of that, he says the debate about H-1B visas and legislation restricting American companies hiring of foreign workers is actually doing us more harm than good.  There is a fear of outsourcing and of  foreign workers, but the fact is, he said, Americans train innovators in American markets, at the best universities and teach American culture to them and then sends them home to start their businesses in their own country.
"We are sending highly educated masters and PhDs back home to compete with us," Wadhwa pointed out.
About 60% of PhD graduating are foreign nationals 43% are foreign nationals, and therefore, according to Wadwha, it is important to keep them in this country while America works on getting more Americans to seek professional degrees and create home grown innovators.
Wadhwa on the value of America lagging behind India and China in graduating engineers:
He addressed the fear of the American government over the fact that the United States graduate significantly less (12% less) engineers than countries like India and China  which graduate 650,000 engineers a year.  To that, Wadwha said don't worry. Based on his observation while traveling and studying the countries that graduate the highest number of engineers, America is not behind in innovation.  A paper published shared that a lot of the published numbers are bogus, but besides that, while American has been successful in localizing technology centers that incubate entrepreneurs and have grown innovation, in China, for example, most of their labs are spent replicating existing innovation but not creating new ones.
He has concluded that there is no coalition between engineering graduation rates and innovation.
The story is different in India which has been successful in innovation despite the fact that traditional indicators would ordinarily state otherwise.   For example, he said that in India, in 2007, India graduated 220,000 engineers but half of the output is unemployable and the majority of them do not become engineer but join investment banks. Further, he said the definition of what makes a Master's degree conferring institution is not in the same rank as in teh United States.  The way India names some of its colleges, students can easily obtain a "masters" in Engineering.   The country has a week infrastructure but have succeeded in its innovation sector because it copied the best practices in America and perfected it.
Unlike in America, which relies on resumes to screen the best candidates, Indian companies hire by meeting with and testing applicants in store front type recruitment centers.  "A resume is a bogus piece of paper that doesn't tell you anything about our competence," he said.  "Indian companies have figured that a resume is not a good way to hire good people," Wadhea said.
In India, they hire applicants by putting them through a series of meetings and a battery of tests. Unlike American companies which put through new employees through a one day orientation and expect them to succeed and be productive, in India regardless of what school a person went to or their resume, every employee goes through a 4 month boot camp like training.
Indian CEOs and chief executives are expected to do some of the training. In America, it is unheard of for a top boss to had to do mandatory training hours.
"We don't get that much vacation in America to what they get in training,"  Wadhwa stated.  He noted that the attrition rate is the lowest in India which is about half of what it is in the US industries and as "companies started investing more in their people, attrition rates started dropping. What this shows is that by investing more in people, you make them more viable, increase their skills, increase their billable hours and people don't leave for money but because they are at a dead end of their jobs."
He said if America was serious about improving the American the work force, just like maternity leave, we would have education leave and let workers get skilled. "We pay unemployment for folks to do nothing, why didn't we replace 9 week of unemployment for 30 weeks of training.  We're giving them money anyway.  Community Colleges are already subsidized. We could have taken some of that money  and use it toward workforce training.  Imagine what would happen if we would have taken 10% of American population and upgrading their education system. Instead we blame on schools and talk about graduation rates."
Wadhwa on the myths of what is an Entrepreneur:
Many people think that the successful entrepreneur is a young single kid.  However, that assumption is incorrect. The average age of a tech entrepreneur is 39,  he said. They are married with children, most don't come from rich families, and have 95% have higher degrees, and not all from STEM (Science Technology Engineering and Mathematics) fields either. All the stuff you read about kids being the entrepreneurs is false. "Those who are hungry to rise above their heritage that become entrepreneurs," Wadwha added.
The stereotype of the successful entrepreneur " is based on a myth that Bill Gates created."
Wadhwa's research revealed that entrepreneurs are better educated than their parents; did well in high school but not so well in college; and that getting an Ivy League degree doesn't make a big difference.  Many have no college degree or non-Ivy league college degrees by comparison, according to his research.
Venture capital was only relevant in 11% of successful companies and 9 out of 10 successful tech companies did not raise venture capital.  Successful companies do not come from VCs but entrepreneurs.
There is very little pessimism among entrepreneurs.  Nothing stops them.  People are only fearful of the amount of time and effort it takes and that they won't have enough money but for the most part, are not stopped by fear of failure.
Route 128 is the tech corridor in Boston which used to be in the came category at Silicon Valley 20 years ago but Boston has fallen off and Silicon took off.  New York is the next tech center.
The difference between the Boston and Silicon tech center is informality. "In Silicon Valley, there are no secrets. You go to any Pete's coffee house or Starbucks there and basically exchange ideas openly with other people. They are fearless about failure."
He explained that many of them ran a succession of failed companies. "I realized that in Silicon Valley, failure is a badge of honor. The more you fail, the more likely you are to succeed," he said. "In the tech world you are building new technology each year with challenges the previous models. With R&D, you build new ideas each year, It's all experimentation. You have to fail a few times before you succeed. That's the way it goes in the tech field. You can shortcut that by learning from others, so this is why management teams are so important. Bring experience in and learn from others failures. Successful entrepreneurs value their failures more than their successes because you learn from them.
Wadhwa on women entrepreneurs
Only 1 percent of high-tech startups have a woman CEO; there are almost no women in the ranks of chief technology officers; and to make matters worse, the proportion of women studying computer science has been steadily declining, from 37 percent in 1985 to 19 percent today, according to the National Science Foundation.
There is nothing different between men and women in terms of drive and motivation, but the VCs who, for the most part, are all white males and would ask women seeking money stereotypical insulting questions like "how does your husband feel about you running a company" or "what are you going to do when you have a baby."
In sum, the culture of Silicon Valley, hiring practices and the tech industry must adapt to be less male-centric.
Finale:
He also shared three models of China, Chile and Russia, and addressed my question about network neutrality that I will get into in a part two to this post.
Jay Jay Ghatt is also editor at Techyaya.com, founder of the JayJayGhatt.com and JayJayGhatt.com where she teaches online creators how to navigate digital entrepreneurship and offers Do-It-For-You Blogging Service. She manages her lifestyle sites BellyitchBlog, Jenebaspeaks and JJBraids.com and is the founder of BlackWomenTech.com 200 Black Women in Tech On Twitter. Her biz podcast 10 Minute Podcast is available on iTunes and Player.fm. Follow her on Twitter at @Jenebaspeaks. Buy her templates over at her legal and business templates on Etsy shop!