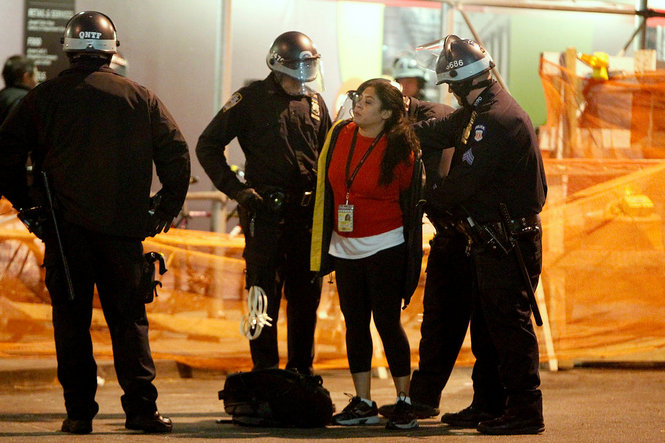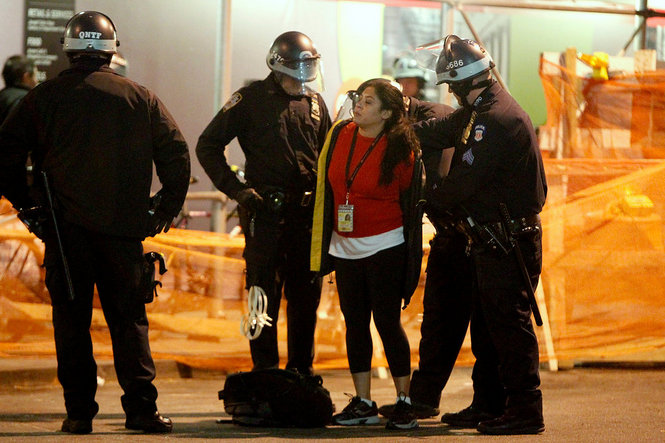 Communities@WashingtonTimes.com Senior Editor Accused of Assaulting Officer Heads to Court.
Kubin is 64th Journalist Arrested Nationwide Covering Occupy Movement Protests
WASHINGTON, DC, February 27, 2012 – In a disturbing national trend, Jacquie Kubin, senior editor and architect of the Communities@ WashingtonTimes.com, became the 64th journalist arrested while covering protests associated with the Occupy Movement. Kubin, 53, was detained after interviewing a protestor at the Conservative Political Action Convention (CPAC) in Washington, DC on February 10, 2012. She will appear in court for her arraignment on Tuesday, February 28, 2012 at 10:00 AM in the Superior Court of the District of Columbia, to answer charges of assault on a police officer and crossing a police line. Kubin denies the charges.
Kubin attended the CPAC convention as a credentialed journalist. According to accounts obtained from witnesses, Kubin was interviewing a protestor when an officer hit her  in her chest. Witnesses later identified him as Lt. Robert Glover.
According to accounts from witnesses and video footage, as Kubin and Rich Stowell, an independent writer at Communities @WashingtonTimes.com attempted to get help for her injuries and make other officers aware of the assault on her by Officer Glover, she was arrested by Glover for assault on a police officer
Kubin, herself sustained injuries to her right shoulder, arm, and chest from the incident.
Her charge of assault on a police officer carries a maximum sentence of 180 days and or $1,000 fine.
The case is DC/USA v. Jacqueline Kubin Szadkowski. Deborah K. Hines, Esq. a trial attorney in Washington, DC and Maryland and former prosecutor, represents her.
Jeneba "
JJ Ghatt
",is editor at 
Jenebapeaks.com
, an online hub where she helps social media butterfly who empowers digital entrepreneurs and professionals to create great things online at her online learning platform 
Digital Publishing Academy.
  She is an editor of tech blog Techyaya.com and founded the annual 
200 Black Women to Follow On Twitter List
. Read
her bio
, then get all of her online & digital biz startup advice and tools in 
one spot here!