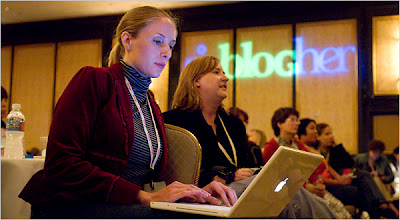 Last month, I ventured to my very first BlogHer conference. The mega conference attracts 5,000 bloggers, mainly women and "mom bloggers" and over 130 sponsors and expo exhibitors annually. This year, it was conveniently located a short distance away north of me in New York city at the New York Hilton in mid-town Manhattan.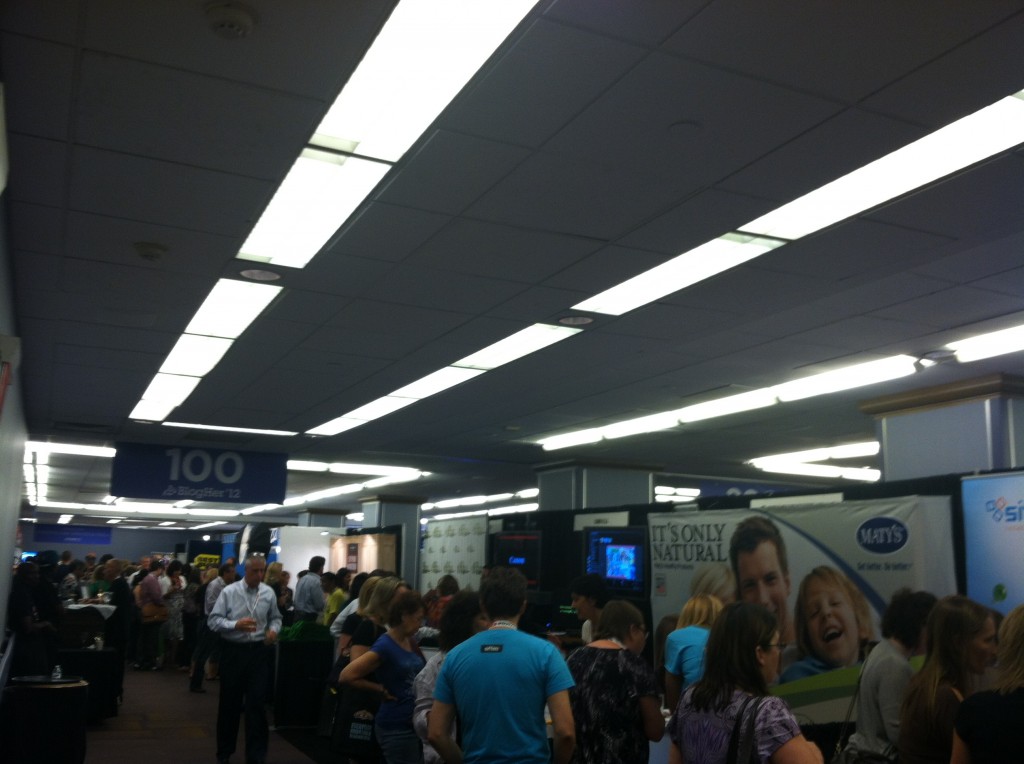 I arrived on the first official day, Thursday, and discovered a small sea of women women who already knew each other. Maybe not in person, but definitely from months or years of following each others' blogs. They hugged. Air kissed. Exchanged pleasantries. Plotted plans for cocktails later. It felt like the first day of college all over again. The thought of the identity crisis I suffered on those first few days at a campus of 20,000 gave me shivers.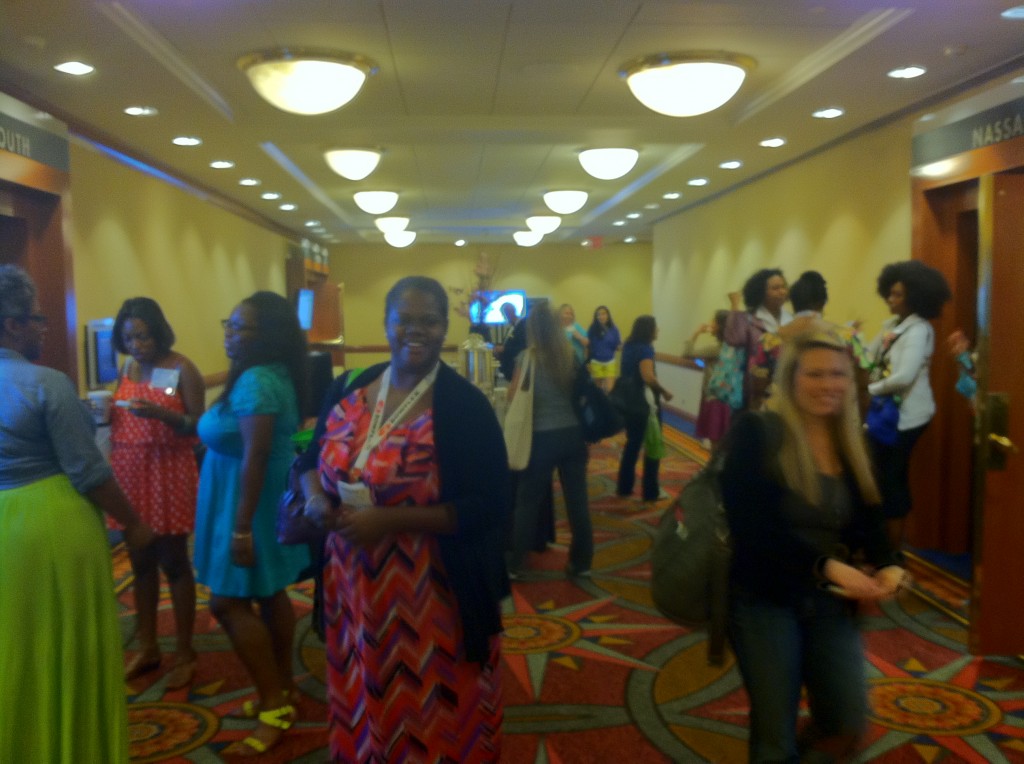 I  collected my conference info and made my way up to the large conference room to hear the President address the conference attendees via live feed. The room of mainly 1000 or so women was excited to see and learn that the Pres of the United States thought them worthwhile to address. Cynically speaking, it is an election year and women are core to Obama's base. The speech was mainly political but they didn't care. His speaking to them was validation that all their hours drafting, blog posting and connecting with their audience base meant they mattered and the Commander in Chief recognized that. Not all were impressed. I sat at a large banquet table with two women who obviously didn't care for the message. They barely lifted their hands to applause. Made me wonder why they'd bother to attend this session anyway.
Afterwards, I found my sole Blogger friend who I knew was in attendance, Onica Cupido of the The Mommy Factor. She's one of those sought after bloggers who attends many events thrown around Manhattan for the small circle of influential and elite NYC mom bloggers. She introduced me to a few of her blogger friends new and old, Marie from Raising Great Men and Melissa who blogs at Raising Kvell and other places. Later, I'd bump into Danielle J of WordyLess who I follow on Twitter and who is a great writer and photographer.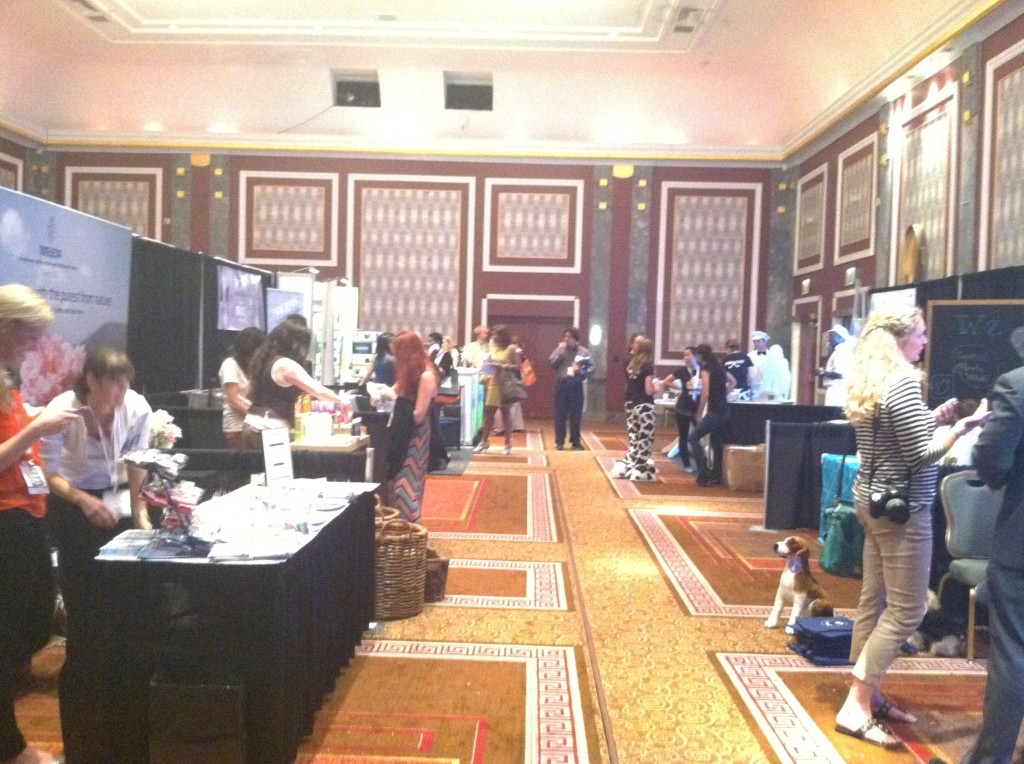 We sat around the table chatting about our excitement of what was to come. Then, all of a sudden, I hear them dropping the names of all these exclusive private parties that had been taking place earlier in the week and were to take place over the next two days. Hmm. I hadn't done sufficient research in advance to scope the process of getting invites and felt snubbed a bit. While I am a serious person who loves to tackle intense issues and can go toe to toe with any one in an online debate on almost any topic, I love a good party!
It was around then that I discovered that I am not really a mom blogger after all. Mom bloggers develop a relationship with other mom bloggers, build rich relationships with premium PR companies that want to reach their readership and most importantly, have a substantial and generous following on their blogs, Facebook and Twitter. Their readers return time and time again. They know one another and the blogger and comment often.
Meanwhile, my pregnancy and celeb blog, Bellyitch, doesn't get much comments. It isnt' really personal to me as I don't interject myself or my kids in it too much at all given that most of the users come from world wide, grab the info or gape the photo they want to see and are off. That personification is what attracts mom blog readers and have them coming back time and time again. I  have a small group of brands and PR agencies I regularly work with, although I get new ones each year. I get opportunities that come from belonging to the Glam Network and SocialMoms networks. Both network communities represent the highest trafficked sites and connect brands and advertisers to them. But I hadn't thought to start exploring deeper relationships and partnerships beyond the occasional co-branding project, Pinterest contests or giveaway.  Mine is more of a digital magazine or a celebrity blog than a personal blog.
Meanwhile, this blog, Jenebaspeaks, is not updated often enough (about 5 times a month) and tackles a variety of topics from technology to politics to social media trends and doesn't really attempt to link them together.
My other blog, The Politics of Raising Children, featured at the Communities section of The Washington Times is infrequently updated but tackles big topics and draws readership in the thousands each post, many of whom do not agree and pick fights with me or read and share my pieces and discuss among their own networks. It is more of a column than a personal blog.
So it was like that huh? What an eye opening moment.
Not to be shaken by the truth, I headed home and returned the next day and had a wonderful time learning from the various sessions, grabbing swag from the vendors at the Expo and signing up for as many contests and giveaways as I could in the numerous suites and vendor locations during the conference.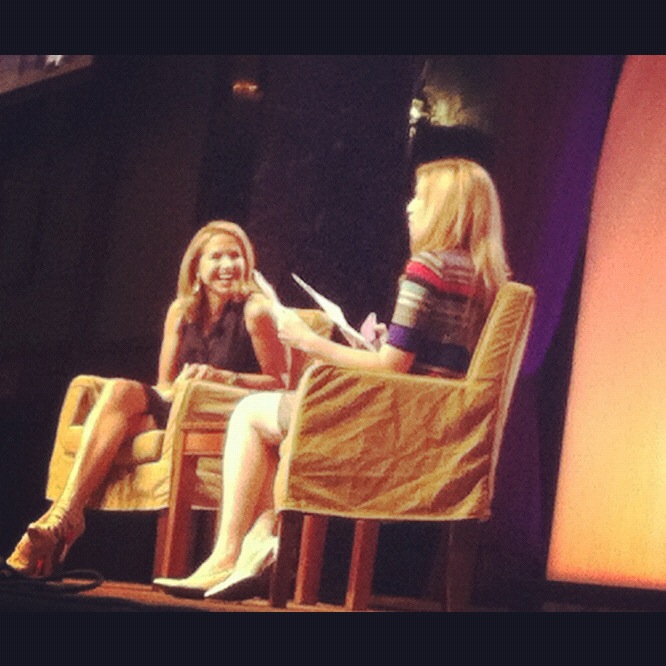 My favorite part of the second day was watching Katie Couric talk about her career and introduce the room to her new daytime show Katie during a sit-down with BlogHer founder Lisa Stone. Because I cover politics, it was interesting to hear Couric say of her now famous interview with Sarah Palin that she thought she treated Palin as she would any person vying for the 2nd highest position in Executive office, but that she felt for the fact that Palin struggle to answer some of the questions.
I also enjoyed veteran newswoman Soledad O'Brien's sitdown with Malaak Compton-Rock of The Angel Rock Project and Christy Turlington of Every Mother Counts and  discuss  their respective charitable projects.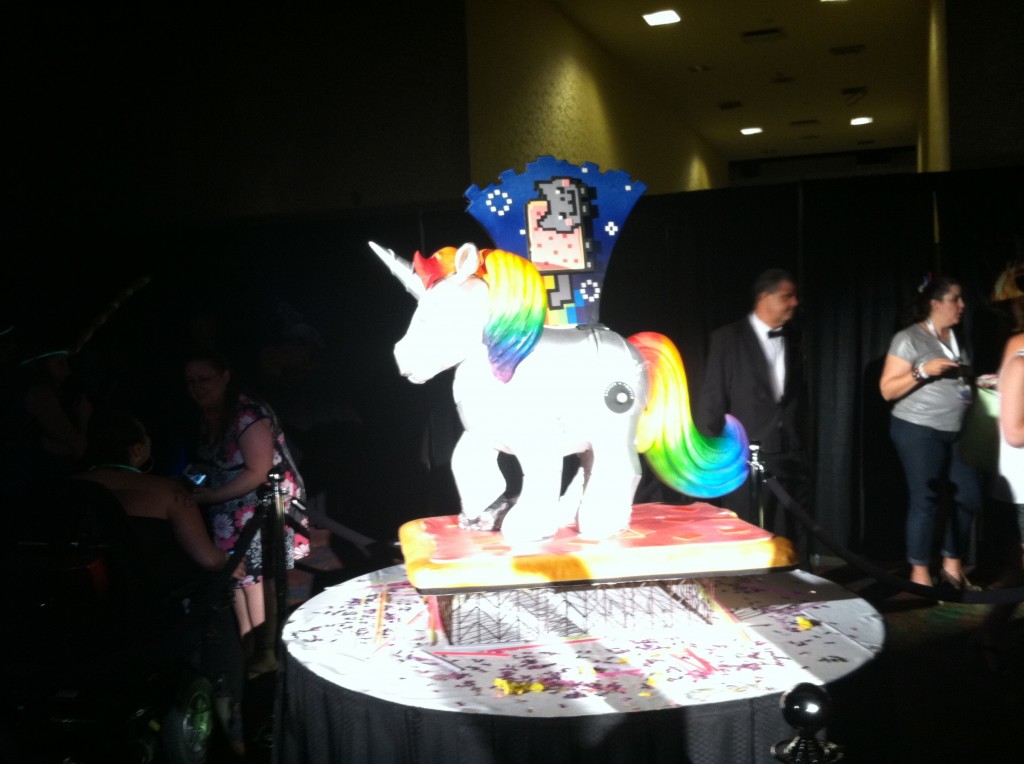 The unicorn at the annual Sparklecorn party
I also briefly attended two of the official parties and quickly discovered that they were not my scene though they looked fun!  It was entertaining to see so many Midwestern moms who had escaped their lives of balancing family and managing a household while blogging get down.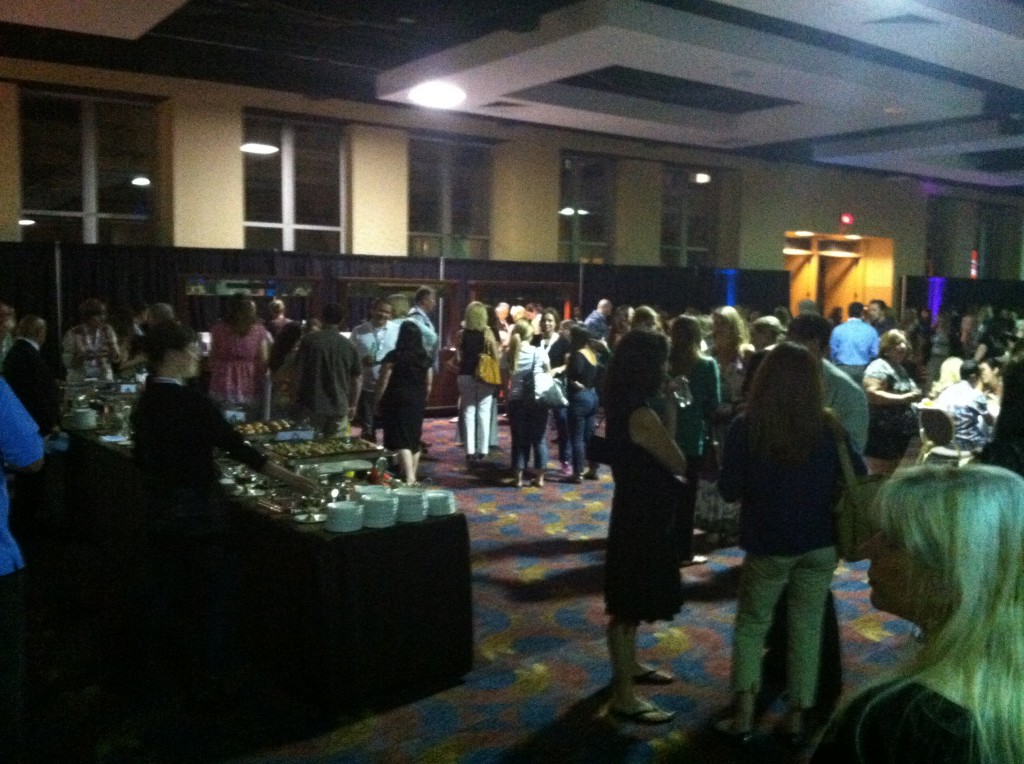 I didn't really connect with the other mom bloggers I knew. Maybe the entire time I longed to be noshing on crepes and sipping Mojitos and cocktails at one of those schi schi parties taking place in uptown.
In the end, I did eventually get to attend one event after getting a last minute invite from the makers of a new innovative digital lap game for families. The PR person at the door kind of turned me off because she had a pretentious attitude about the fact I got an invite in the first place. Like when I asked if she had seen my late RSVP that I emailed the day before, she went "Oh yes, and I was wondering, 'What is that?' I never heard of if before.'" Okay, well your rep I chatted with at the Expo learned that I get a quarter million page views monthly, cover technology and thought 'shucks we need to have THIS woman review our product!' How about them apples?
The ladies in the quaint underground lounge and bar had an air of the popular girls to them. They swirled their champagne flutes filled with the specialty cocktail designed for the evening and nibbled on imported cheese and spoke about not being able to stand the crowds at the official events. "Yes, too much. Not this year." one said. Hmm. My suspicions were verified. This was the snobby elite bunch after all.
I chatted up the very friendly founder and designer of the product, gave him some advice which I think he appreciated and noted. I even got an invitation later to give my readers codes for pre-ordering the game! Sweet! The  second rep who greeted me after was quite friendly and totally made up for the chilly reception I had gotten at the door from that first diva. Gatekeepers can be such a PITA!
Overall, I left the city and headed back to my land of ornate marbled floors ontop which stuffy Capitol Hill press stake outs take place and of balancing an aging law practice, wife and mommyhood while trying to build a business around one of my most popular blogs.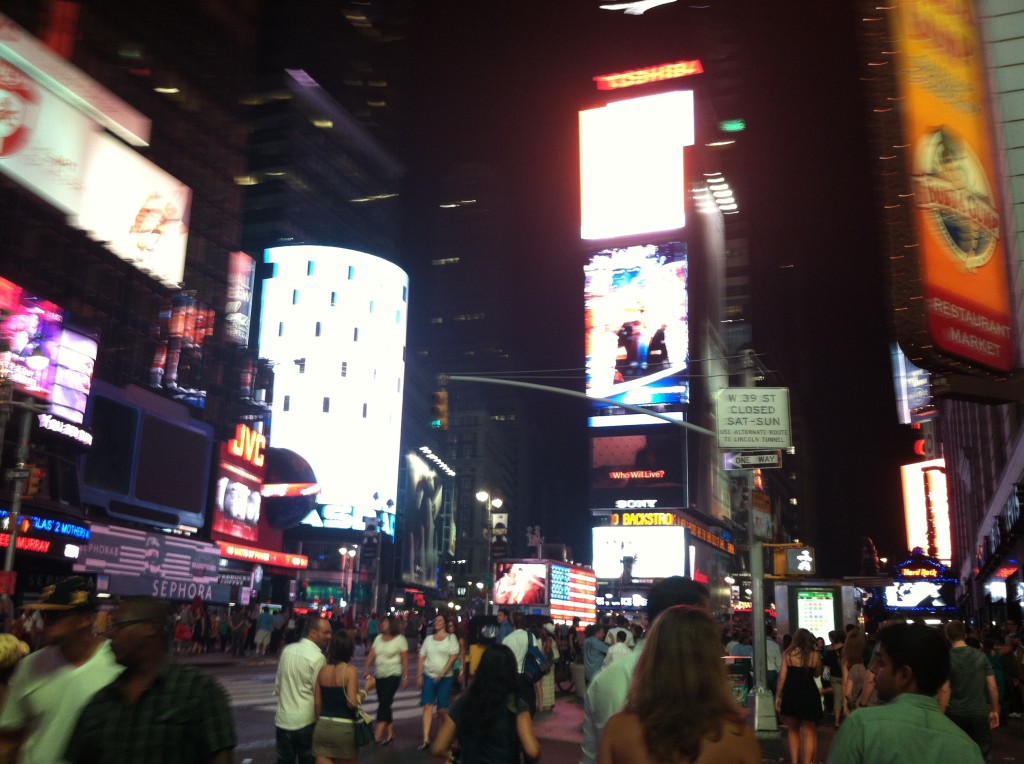 It was a great experience. I learned much and would definitely return but much wiser and much more prepared!
I rocked BlogHer 2012 and am glad I got an opportunity to do what many other women bloggers would love the opportunity to do.
Jay Jay Ghatt is also editor at Techyaya.com, founder of the JayJayGhatt.com and JayJayGhatt.com where she teaches online creators how to navigate digital entrepreneurship and offers Do-It-For-You Blogging Service. She manages her lifestyle sites BellyitchBlog, Jenebaspeaks and JJBraids.com and is the founder of BlackWomenTech.com 200 Black Women in Tech On Twitter. Her biz podcast 10 Minute Podcast is available on iTunes and Player.fm. Follow her on Twitter at @Jenebaspeaks. Buy her templates over at her legal and business templates on Etsy shop!