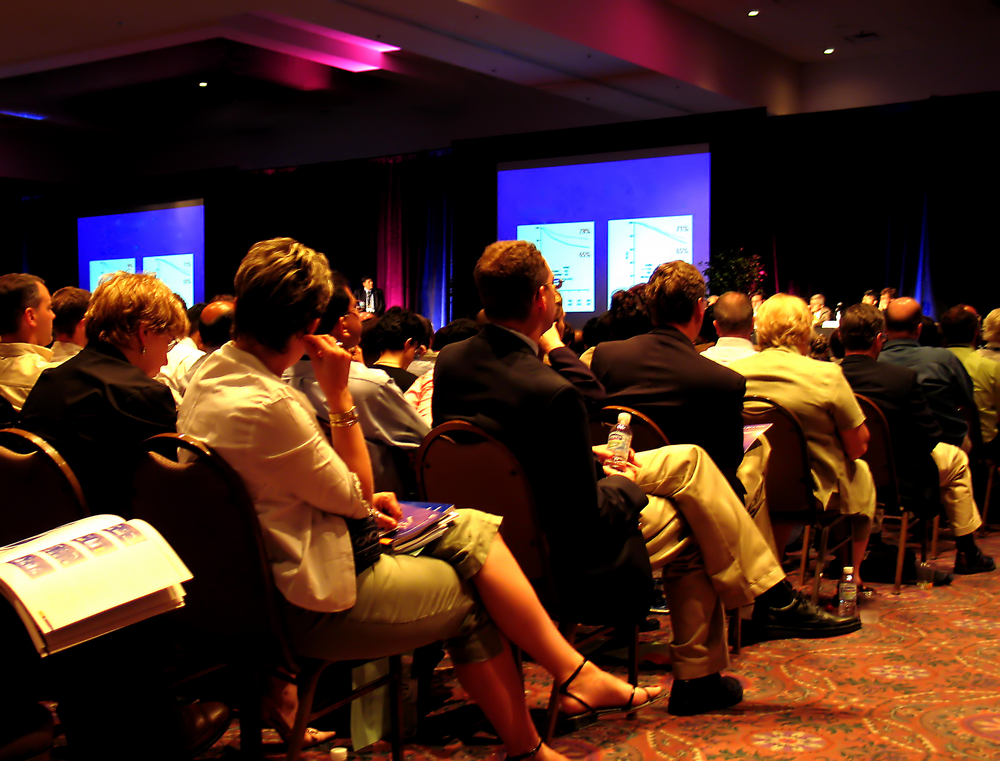 For two years now, I have gotten emails from companies inviting me to private receptions at popular summits and conferences assuming that because I regularly cover certain topics that naturally, I have plans to attend the underlining events.
Most times, I had no clue those events were even scheduled. Doh!
I traditionally have stuck with the familiar and  gone repeatedly to women's blogging conferences like BlogHer, which takes place July 16-18 in New York City this year (http://www.blogher.com/conferences); Blogalicious and Blogging While Brown, which will be June 18-19 in Austin, Texas this year. (http://bloggingwhilebrown.com/).
But I really need to branch out.
So I think I need to take a pro-active approach and learn of the 200 or so marketing, social media, tech, niche industry and blogging conferences that take place annually, and then decipher which I am most interested in attending.
[Professional note: If there are any conference organizers or brands that would like to  interject some much-needed diversity in the attendee list at these events and are looking for a delegate to send on their behalf, please feel free to give me a holler at jenebaspeaks(at)yahoo.com! ha!]
Anyway, here is the result of that search in order of which they are coming up and registration deadline:
What: Digital Summit Phoenix
Description: – Digital Summit Phoenix is a premier digital strategies forum with a goal of educating and promoting forward thinking and thought leadership on topics related to internet business and marketing. Digital Summit Phoenix is presented by TechMedia, the leading producer of regional digital forums in the United States, serving thousands of digital professionals every year.
Where: Scottsdale, AZ
When: Feb 4-5
Website: http://digitalsummitphoenix.com/
---
What: 2015 ANA Media Leadership Conference presented by Google.
Description: This conference presented by Google will bring together the leaders of the media industry to discuss urgent issues and share insights on the newest ways of connecting with today's consumers.
Where: Hollywood, Florida
When: March 4-6
Website: http://www.ana.net/conference/show/id/MLC-MAR15
---
What: SXSW Interactive
Description: This mega multi-day, multi-tracks conference brings together entrepreneurs, creatives, innovators, and influencers for a sneak peek into the future of technology and digital creativity.
Where: Austin, TX
When: March 13–17 , 2015
Website: http://sxsw.com/home
---
What: GigOm Big Data, Bold Strategies
Description:  The GigOm Structure Data conference is bringing together prominent big data analysts, technologists and companies who are implementing some very cool data strategies
Where: New York, City
When: March 18-19, 2015
Website: https://events.gigaom.com/structuredata-2015/
---
What: New Media Expo
Description: This expo is the only tradeshow, conference and media event dedicated to blogging and new media and is perfect for bloggers, vloggers, podcasters and anyone else  producing some other form of new media content.
Where: Las Vegas, NV
When: TBA
Website:  http://nmxlive.com/2014-lv/
---
What: Social Media Marketing World 2015
Description: This is the world's largest social media marketing conference. By attending, you'll make connections with 100+ of the world's top social media pros.
Where: San Diego, California
When: March 25, 26 and 27, 2015.
Website: http://www.socialmediaexaminer.com/smmworld/
---
What: The Social Media Revolutionon
Description: Conference is touted to help others learn and network with the most successful New Media content creators in the World. You'll connect with peers attending from 50 countries for 3 days of educational sessions (over 140, in fact) presented by more than 175 industry leaders.
Where: New York City
When: April 13-16
Website: http://nmxlive.com/2015-lv/
---
What: Content Delivery Summit
Description: This summit is a one-day conference designed to bring together telecom carriers, service providers, content owners, and industry vendors for a detailed look at CDN platforms for the delivery of video and content acceleration.
Where: New York City
When:  May 11, 2015
Website: http://www.contentdeliverysummit.com/2015/
---
What: Confab Central
Description: Our annually sold-out show returns! Join 650 content strategy enthusiasts—from newbies to old-timers—for three days of awesome workshops and sessions. More speakers, more networking, more everything. And as they say … either you love Minneapolis, or you've never been here.
Where: Minneapolis, MN
When: May 20-22, 2015
Website: http://confabevents.com/events
---
What: TED Women 2015
Description: This is part of the popular TED series of conferences for innovators, motivators and thinkers. It brings together a global community of women and men interested in the innovations, ideas and individuals building momentum around the world. The program will start by drawing out collective wisdom — choose from one of two interactive workshops to stimulate your thinking on transformational change. Then, in six sessions of TED Talks,  speakers will share insights on creating, sustaining and recovering momentum. They'll offer up fresh insight and new perspectives. Together, we'll discover a vision of where things are headed.
Where: Monterey, California
When: May 27-29
Website: http://www.ted.com/attend/conferences/special-events/tedwomen
---
What: Social Media Strategies Summit
Description: This summit helps start-ups to large enterprises via interactive workshops and engaging sessions to boost their social media marketing efforts and reach  business goals.
Where: New York City
When: June 9-11, 2015
Website: http://socialmediastrategiessummit.com/
---
What: TechCrunch Disrupt NYC
Description: TechCrunch Disrupt NYC is often named the hottest tech conference of the year.
Where: NYC
When: August 10-12, 2015
Website: http://techcrunch.com/events/disrupt-ny-201
---
What: Brand Manage camp 2015
Description: dedicated to helping companies big and small create and grow strong, vibrant, profitable brands through Fresh Thinking. We accomplish this by delivering world-class learning experiences as well as by providing brand and strategy consulting services.
Where: Las Vegas, Nevada
When:  October 1-2
Website: http://brandmanagecamp.com
---
What: ABC Kids Show
Description: This is the largest trade show and exhibition of baby and childrens products and services nationwide.
Where: Las Vegas, Nevada
When: October 18 – 21
Website:  http://www.theabcshow.com/
---
What: The WSJ.D Conference
Description:  The WSJ.D conference brings together renown CEOs, aspiring entrepreneurs, industry experts, and more for three days of inspiring debate and discussion about technology in today's world.
Where: Laguna Beach, California
When:  October  19-21, 2015
Website: http://wsjdlive.wsj.com/
---
What: AdTech
Description: This conference touts itself as THE  event for modern marketing and media.
Where: New York City
When: November 4-5
Website: http://www.ad-tech.com/ny/
Jay Jay Ghatt is also editor at Techyaya.com, founder of the JayJayGhatt.com and JayJayGhatt.com where she teaches online creators how to navigate digital entrepreneurship and offers Do-It-For-You Blogging Service. She manages her lifestyle sites BellyitchBlog, Jenebaspeaks and JJBraids.com and is the founder of BlackWomenTech.com 200 Black Women in Tech On Twitter. Her biz podcast 10 Minute Podcast is available on iTunes and Player.fm. Follow her on Twitter at @Jenebaspeaks. Buy her templates over at her legal and business templates on Etsy shop!