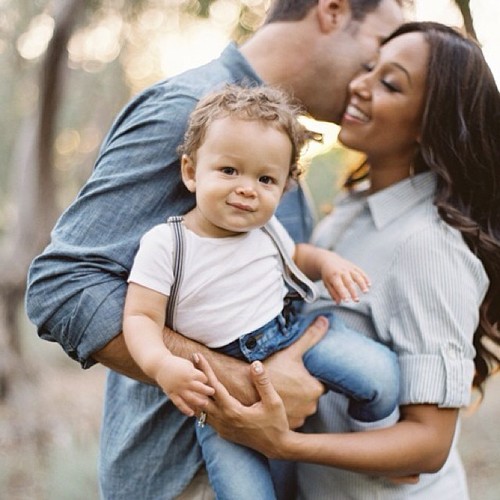 Yesterday, with the reaction to TV actress & host Tamera Mowry-Housley's sponsored pregnancy announcement, we saw why celebrities avoid disclosing the fact they are paid to promote a product in social media. The backlash when audiences realize they are being paid to influence them can be fierce.
Mowry-Housley has been a spokesperson for the pregnancy testing brand Clear Blue since 2013 . Perhaps part of that deal, she mentioned the brand while announcing yesterday on her Instagram and Facebook accounts that she is expecting her second child with husband FOX News correspondent Adam Housley. The couple are already parents to  2-year old son, Aden.
 "We are thrilled to announce we are #ClearblueConfirmed! Can't wait to meet baby #2! Love Clearblue's pregnancy test with Smart Countdown. It helped me get through the wait to get my result by counting down with me. #spon," the co-host of the FOX show The Real captioned her photo.
 Most people simply wished her congratulations but others peppered their comments with criticism over the sponsored share:
"Wow…awful product placement. Will she put ads on her kid when she shows the first photo of him/her?" one comment to an article in PEOPLE about the news stated.
"Was this an ad or an announcement? How much $$$ did she make for this plug? Either way congrats," another wrote.
"Shamless product pimping," a UK Daily mail commenter wrote.
"Congratulations, although it kind of bothers me she turned her announcement into some kind of ad for clear blue. Js..," a comment under the former reality-TV star's Facebook version of the announcement read.

At least one other celebrity, Chrissy Teigen, controversial model wife of singer John Legend,  offered a critical "shade-filled" response in a tweet.
 I wrote about this a couple years ago in March 2013  when the  US Federal Trade Commission (FTC) updated its regulations back then to require celebrities, bloggers and other social media personalities to indicate clearly and explicitly when they are getting paid in product or money to promote a product.
 The purpose, of course, is the interest of transparency and full disclosure so the public is aware they are being influenced by someone paid to advance the brand being promoted.
As a blogger, I have railed for years against the fact that I see so many celebrities promote products daily that they are getting paid to social share with their millions of followers but who fail to abide by the FTC disclosure rules. Yet, despite celebrities' blatant disregard for the requirements, there seemed to be a focus from that agency to make sure bloggers, vloggers and other rising social media digital influencers are compliant.
Meanwhile, celebrities were violating the rules routinely and there seemed to be no interest in cracking down on them.
Technically, the brands are responsible for making sure celebs themselves do not break the guidelines and they, along with the celebrity, are responsible for any fines or repercussions of the violation.
 Now,  given the negative reaction to Mowry-Housley's announcement, with some people calling the share "tacky", it's easy to see why many choose to just omit the fact they were paid to promote a product or service.
Consumers, apparently,  don't take too well to paid promotions at all and will be less likely to trust the word of the person promoting the product if they feel there was compensation for it. They don't find it as genuine. Perhaps it's the same reason why people get up to use the bathroom during commercials but cannot avoid brands strategically placed on TV shows.
 It also probably has to do with the fact that people gravitate to blogs, online communities and social media to get the "real" experience and find dialogue. They probably find the exchanges there more trustworthy and honest than from scripted prose. It's the same reason why people prefer the reality TV or non-fiction genre over scripted drama perhaps.
I am eager, however, to see if this announcement and the reaction to it will lead more celebrities and brands to continue to take the risk of an FTC fine by just not following the rules as they are already are.
….Or will it open up more audiences' eyes to realize that they see thousands of product placements in tweets and IG shares daily and have been obliviously, subconscious and subliminally taking it all in and fine with it all the time.
 Note how audiences are not bothered when it was in their faces.
 So it seems people don't mind being "influenced" so long as they're not told they are.
But from the perspective of the brand, any controversy over the announcement is paying off as the news gets picked up and written about by major news outlets. Clear Blue is getting bang for its buck beyond Mowry-Housley's fans and followers. It's getting the millions of news media and gossip bloggers readers too.
That's a win-win for them and perhaps why they made sure they included the sponsored disclaimer too. 
Jay Jay Ghatt is also editor at Techyaya.com, founder of the JayJayGhatt.com and JayJayGhatt.com where she teaches online creators how to navigate digital entrepreneurship and offers Do-It-For-You Blogging Service. She manages her lifestyle sites BellyitchBlog, Jenebaspeaks and JJBraids.com and is the founder of BlackWomenTech.com 200 Black Women in Tech On Twitter. Her biz podcast 10 Minute Podcast is available on iTunes and Player.fm. Follow her on Twitter at @Jenebaspeaks. Buy her templates over at her legal and business templates on Etsy shop!