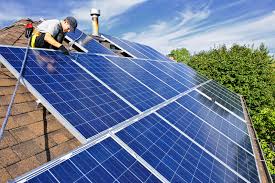 In 2013, I wrote an eBook summarizing the Obama administration's foreign policy treatment towards sub-Saharan African nations. In it, I hypothesized that US support for those nations' usage and exploitation of alternative renewable energy sources to power homes would have dual purposes.
One, it would enable rural townships, cities, and villages to get much needed electricity to power homes, and businesses in regions where it would be cost-prohibitive to build out terrestrial and traditional electricity power grids. A second goal would be to establish a standard for success that the administration could use to show how renewable energy skeptics that alternative sources of fuel and energy is the future.
We see some of these predictions coming true.
Where I live in the Washington, DC metropolitan area, my local power company has seen a 115% increase in customers using solar power windows.  Nationwide,  since President Obama took office, installed solar power has increased 13-fold, topping nearly 16 gigawatts today – enough to power the equivalent of 3.2 million average American homes. As solar energy continues to grow, it is becoming a major source of high-paying American jobs – employing nearly 143,000 full-time professionals  in 2012.
And earlier this month,  the President visited an Air Force base outside Salt Lake City to announce a relatively new program called "Solar Ready Vets" that trains veterans to size and install solar panels on their military compounds, in the hopes of imparting skills applicable to a rapidly growing sector of the economy.
The program will train vets at 10 military bases across the country.  Hill Air Force Base in Utah already has onsite installed solar panel training.  The next three bases to join the program will be California's Camp Pendleton, Colorado's Fort Carson and Naval Station Norfolk in Virginia.
"That's how we're going our keep our economy growing, and how we're going to create new jobs," the President said at the Hill Air Force Base in Utah.
The administration's goal is to get 75,000 Americans trained in solar panel industry by 2020.
At no cost to the participants, they took a 4-6 week training course where they learned to size and install solar panels, connect electricity to the grid and make sure they meet industry standards.  The programs are supported by area community colleges that surround the bases. 
The equipment is the kind used in today's marketplace donated by the private sector.  G.I. Bill funding will also be made available to support solar workforce training for veterans.
All 20 Marines who finished the training program on February 13 received at least one job offer from the five major U.S. solar firms who are conducting recruiting as part of the program, Department of Energy Deputy Secretary Elizabeth Sherwood-Randall said during the call with reporters.
It's proof that it is a growth sector needing qualified and trained workers. Also, consider the backlog for installation in many communities nationwide.
On a call before the president's speech,  I asked about high unemployment areas and whether they will be included in the program . Sherwood-Randall confirmed  that the military is not the only target demographic to benefit from the training program.
Exiting military vets are but one of three communities targeted for training:   other communities struggling with high unemployment such as those in urban and inner cities; and  older and more seasoned workers returning to the workplace may also benefit and are included in the target goals.
That's double good news! The next challenge will be getting those in these communities to learn about the opportunity and take advantage of getting training for the next 21st century growth industry!
The entire effort is also tied to reducing emissions.  This solar push should lead more Americans to use less fossil fuels that create byproducts. The administration is looking to slash total emissions by 28% in the coming decade.
Good stuff!
Jay Jay Ghatt is also editor at Techyaya.com, founder of the JayJayGhatt.com and JayJayGhatt.com where she teaches online creators how to navigate digital entrepreneurship and offers Do-It-For-You Blogging Service. She manages her lifestyle sites BellyitchBlog, Jenebaspeaks and JJBraids.com and is the founder of BlackWomenTech.com 200 Black Women in Tech On Twitter. Her biz podcast 10 Minute Podcast is available on iTunes and Player.fm. Follow her on Twitter at @Jenebaspeaks. Buy her templates over at her legal and business templates on Etsy shop!