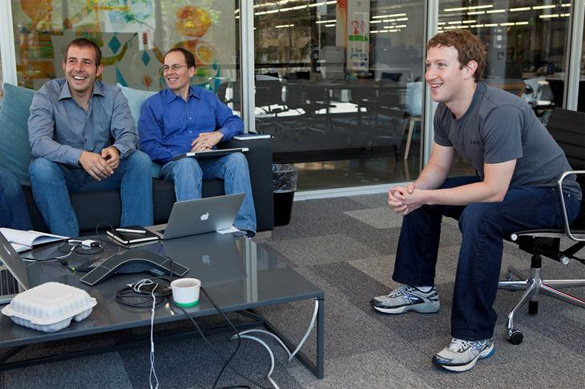 Facebook founder Mark Zuckerberg has said publicly that "diverse staffs"perform better than non-diverse ones and that his company is making an effort to disproportionately hire more women and minorities to ensure there is racial and gender diversity in his social media company's workforce.
Facebook released its EEO Report filed last Thursday which revealed how much of a racial imbalance there is in that company, and how far it has to go to achieve Zuckerberg's goal.
The report summarized its 2013 racial and gender workforce breakdown, which shows comparatively its 2012 numbers.
For example, in 2013, Facebook only hired 7 new black employees out of 1,231 new hires.
Seven.
*slow blink*
Only one was a black woman.
*sigh*
The percentage of all women also dropped from the previous year by 1%.
Meanwhile, the representation of Hispanics and Mixed Race employees remained at 4 and 3% respectively.
In sum, those new hire numbers bumped up the total number of black females employed at Facebook to 11 and male to 34 that year compared to the previous year.
Then and now, none in the companies executive and senior management positions is black.
That's pretty pitiful for a company that boasts 1.4 billion users, most of whom are people of color if you include users from around the world.
Notwithstanding these deplorable numbers, Facebook's Global Head of Diversity Maxine Williams responded to the report:
"We need a team that understands and reflects many different communities, backgrounds and cultures. Research also shows that diverse teams are better at solving complex problems and enjoy more dynamic workplaces. So at Facebook we're serious about building a workplace that reflects a broad range of experience, thought, geography, age, background, gender, sexual orientation, language, culture and many other characteristics."
Hmm… I think I've seen this explanation before…
ah yes, it sounds eerily like a previous post I had done discussing the ways companies explain the absence of racial diversity among their workforce.
Number one reason given is "We describe diversity differently."
And these words in essence came from a woman I'm sure is talented, capable and confident at what she does, but who sadly represents the #2 way companies with a diversity deficit wrongly attempt to fix it: they place a minority person to serve in a position like, "Senior Vice President of Diversity and Talent" or " CEO of Diversity and Talent Recruitment" with expectation that this person will diversify the staff.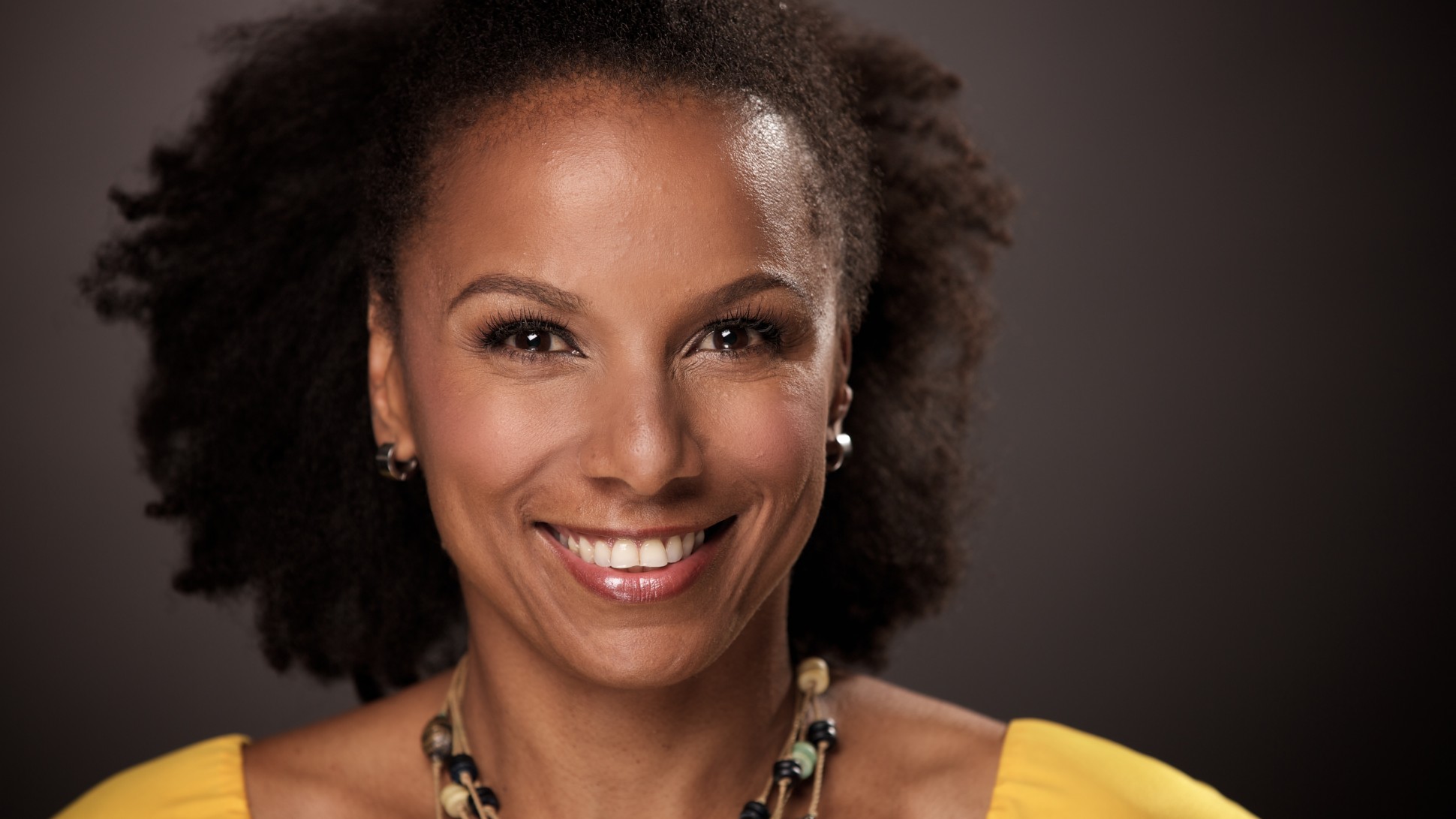 Um…
Zuckerberg himself has offered that stale excuse of blaming it on the fact that minorities and girls "self-select" out of doing computer science education.
"It's this problem because it's not even clear where you would start attacking it," he said at a public forum last year. "You need to start earlier in the funnel so that girls don't self-select out of doing computer science education, but at the same time, one of the big reasons why today we have this issue is that there aren't a lot of women in the field today."
Similar retorts are said about Blacks and Hispanics even though they make up 9% each of computer science graduates.
Those graduates still don't get hired at tech companies.
Women earn just 18% of Computer Science degrees, but they too still don't make it in large numbers in those jobs…well not the tech jobs.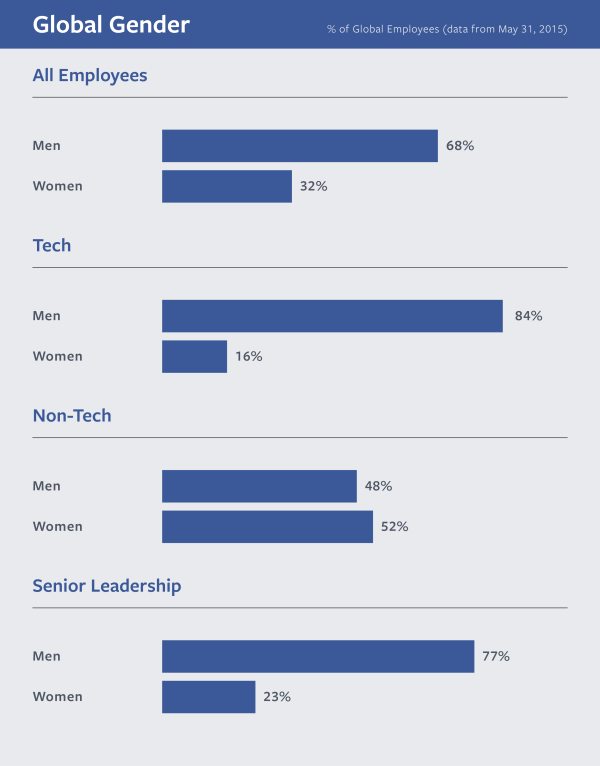 Women make up nearly half 48% of non-tech jobs at Facebook. ..and by women, I mean White Women, because remember they had 11 black women out of 4,263 in 2013.
And that brings me to my other point: Facebook manages to fill the non-tech jobs with White Women but uses as an excuse for not hiring Blacks and Hispanics that they don't have technical background or degrees.
They didn't even have black janitors! And they had just two black women as secretaries or admin assistants out of 121.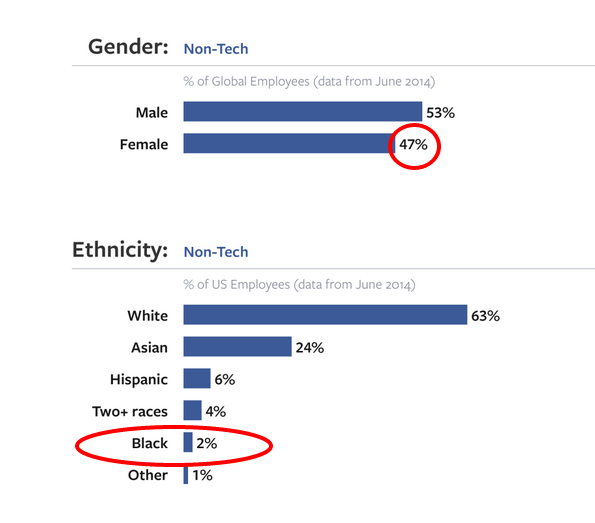 Facebook's own Career page shows there are jobs at the company that do NOT require a computer science degree like in the legal, finance, facilities, communications, public policy, human resources, data analytics, marketing, sales and business development departments.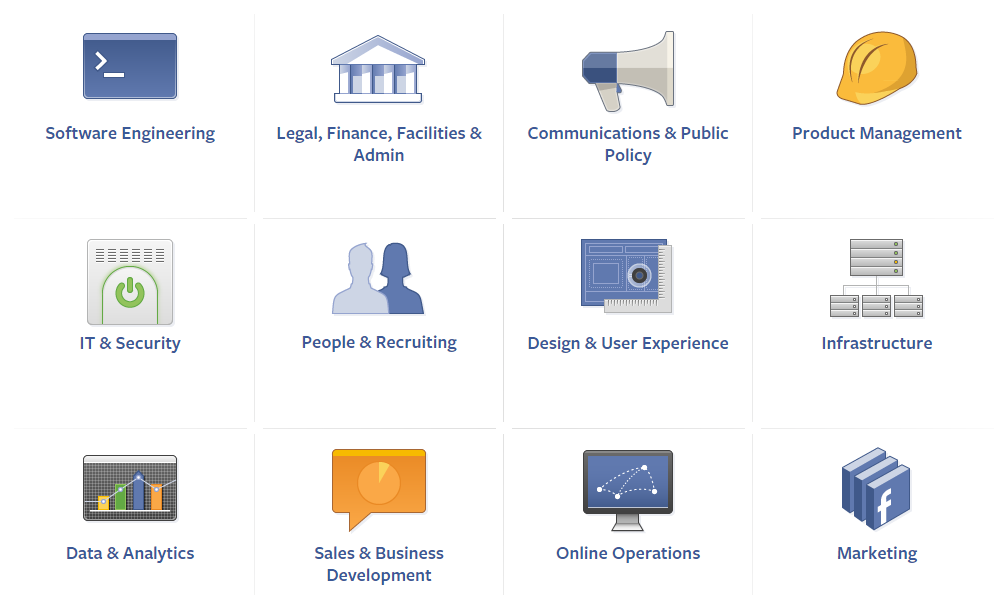 What gives???
The main answer is plain and simple: conscious or unconscious bias.
Given equal qualifications and experience, those who hire usually select candidates they feel comfortable with, who they can see themselves chilling after work with or who simply resemble, physically, their current co-workers, supervisors and social circle.
Also, interviewers are humans and we all carry around preconceived notions about others based on superficial things like their dress, weight, height, name and tone of speech or inflection.
Those are attributes that should be more or less non-consequential, yet they remain dormant at rest in all of our psyche, but awaken when it's time for recall and to make a perception of a person. And when making a hiring decision, that perception plays a big factor as well.
So, if you walk into the room with the same gender and race as the interviewer, you are awarded unconsciously a check mark that you may fit in…until you open your mouth and maybe prove otherwise.
The Black or Hispanic candidate, on the other hand, would have to prove that they could fit in. They are not rewarded with the positive side of bias.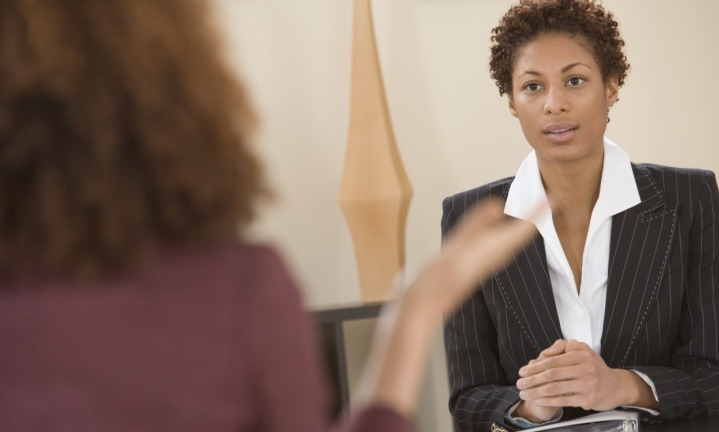 I have a black female friend who is a Harvard and MIT graduate who has traveled to over 30 countries, has multiple interests, has had phenomenal experiences in life and during her travels, is very social, personable and has a varied and very diverse social circle.
She applied to several top tech companies for jobs, yet none hired her after she got to the interview stage.
Clearly, she had the education and background and made it all the way to the final stages but….????
This result despite they all aware of the fact that they all have that pesky 2% problem.
Things that make you go hmmmm…
Now this may sound ridiculous, but I honestly think that if someone were to do blind testing among employers withholding all these superficial things from their knowledge and even go so far as disguise a voice so there are no clues from inflection or give away the gender of the candidate, I'm pretty sure that would reveal their choices may be different without the benefit or detriment of unconscious bias clouding the picture.
The thing with assigning the problem to unconscious bias is that it shifts the blame away from women and minorities, who are always being told that THEY need to network more, attend more conferences, intern more or try to get to know the leaders in the industry more or to get Comp Sci degrees (even when it isn't required for the job).
All of a sudden, the onus is squarely on the tech firms to try to neutralize unconscious bias that most likely contribute highly to these low numbers.
Thankfully, the summary released with the report indicates that Facebook has started a program to deal with Unconscious Bias. This is one of steps it's taking to tackle the diversity issue along with expanding the talent pool search area and training potential hires internally and through supporting others' external efforts.
The summary includes:
"We also know that all the effort we're putting into finding more diverse talent will be futile if we don't ensure that we have an inclusive culture that can truly support diversity. As such, we completely reworked our Managing Bias training course to be harder hitting and the starting point for honest conversations about stereotypes and unconscious bias. It is designed to surface biases that people might not even realize they have, and gives people the tools to identify and interrupt biased behavior as it occurs. Our entire management team has taken the class and we are rolling it out to our teams across the world"
After implementing this training along with other strategies, I would be eager to see what its soon to be released 2014 numbers will look like.
Jay Jay Ghatt is also editor at Techyaya.com, founder of the JayJayGhatt.com and JayJayGhatt.com where she teaches online creators how to navigate digital entrepreneurship and offers Do-It-For-You Blogging Service. She manages her lifestyle sites BellyitchBlog, Jenebaspeaks and JJBraids.com and is the founder of BlackWomenTech.com 200 Black Women in Tech On Twitter. Her biz podcast 10 Minute Podcast is available on iTunes and Player.fm. Follow her on Twitter at @Jenebaspeaks. Buy her templates over at her legal and business templates on Etsy shop!