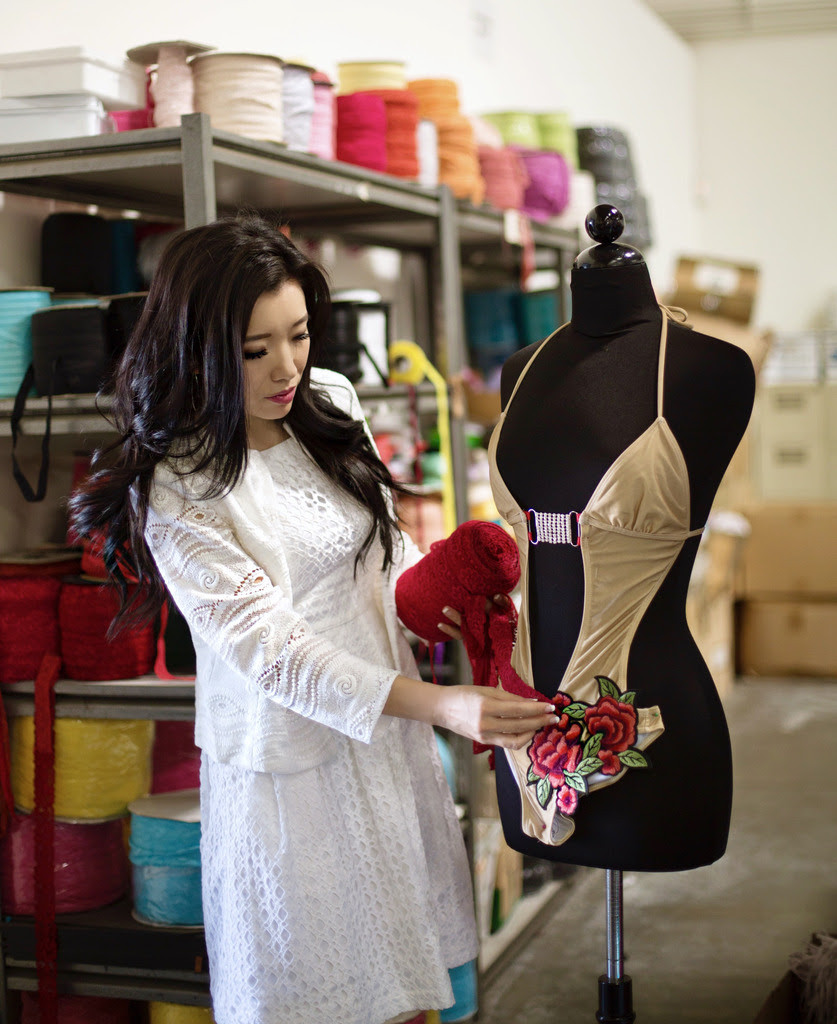 Yang Yang has a signature style. She always wears white. But what is more impressive than sticking to one color palette is the smart marketing trick that is the key to her success.
Yang Yang is the millennial woman behind the  $40 million annual revenue-earning online boutique AMIClubwear.com. The mom to two bootstrapped her business which started as an eBay shop back in 2004.
She followed smart but very simple marketing know-how to grow her one-person eBay show into a multi-million dollar business.
Born and raised in Beijing, China, Yang earned her bachelor's and Masters Degree in Business form the prestigious University of Cambridge  before journeying to America to start her own company.
She skipped the traditional brick and mortar stores and went straight on line, starting with her boutique of low priced party dresses for young women, AMI Clubwear.
The site is well known as a place where  young party goers know they can stock up on pretty low cost outfits for going out. Yang seemingly sourced her clothes from her native land and nets a pretty sizable profit.
Investing in the youth fashion market paid off and she gives back and stays on trend by hiring only women to staff her company. Over 90% of the workers at her Los Angeles, California-based company Dese Enterprise is women.
Certainly, the lyric from Drake's song "Started from the Bottom" applies.
On her lonesome, Yang learned all aspects of running a business; from photography, and marketing, to customer service and shipping.
The astute 29-year old bucked traditional marketing by studying the results of conventional and online marketing and going with what converts best.
Yang doesn't waste one cent on advertising or marketing until she measures the cost per acquisition(CPA)—how much you spend to bring in each new customer
She quickly realized that the click-through rates for banner ads on celebrity blogs like PerezHilton.com that cost $10,000 to $12,000 per month to advertise drove less than 0.02-0.05% of her total traffic.
When everyone was going with influencer marketing and spending a ton on marketing and advertising, Yang figured out that 75% of her traffic was driven by Google (via a mix of paid ad-words and free organic search traffic). The cost per customer acquisition:  $0.98-$1.
And that's it! Yang's key to success: learning to measure results and then just going with what works. Simple, right?
It was a no brainer for her to figure out the best thing to do was to launch an online magazine  and later a YouTube channel which drove an additional 25% of traffic to her eCommerce sites. 
Yang also doesn't spend a lot of money on national TV ads. She saw her eCommerce site get a 25% increase in direct traffic from local TV spots which are much cheaper.
Yang offers other women who are launching businesses online to follow five principles to success:
1. Make deadlines — Many tasks don't have deadlines but setting one will help you finish them faster and be able to move to the next thing quicker. 
2. Reward yourself — Set a goal and when you reach it, buy yourself something nice —this will keep you motivated to achieve that goal.
3. Stop being a perfectionist — While having high standards is good, trying to do everything perfectly can actually be a time waste. Get the work done to the best of your ability the first time, and don't second guess yourself — you'll be happier with your work. 
 4. Be well groomed —Your personal appearance is the first thing a customer is going to notice, so wear a nice outfit — always be over dressed than under dressed. Yang has found that when you look and feel good, you tend to work faster. Therefore, taking that extra time to make sure  you're well groomed and outfitted can help your productivity. 
5. Don't waste time — If you can live close to your work office, that is perfect but most people have to commute in to work. Utilize that time productively by listening to podcasts or audio books to learn a new skill. Alternatively, you can use that time to relax, get centered and regroup.
 What started as a one-woman business has grown into Dese Enterprise, which is comprised of AMIClubwear.com, Pinkbasis.com, and Cuteshoesforsale.com.
 She lives in Glendora, CA with her husband and two children.
Jay Jay Ghatt is also editor at Techyaya.com, founder of the JayJayGhatt.com and JayJayGhatt.com where she teaches online creators how to navigate digital entrepreneurship and offers Do-It-For-You Blogging Service. She manages her lifestyle sites BellyitchBlog, Jenebaspeaks and JJBraids.com and is the founder of BlackWomenTech.com 200 Black Women in Tech On Twitter. Her biz podcast 10 Minute Podcast is available on iTunes and Player.fm. Follow her on Twitter at @Jenebaspeaks. Buy her templates over at her legal and business templates on Etsy shop!