A recent survey of the State of Small Business found that African-American small business (SMB) owners are happier, younger, and more female-led than the average SMB owners surveyed. This was the finding despite other conclusions which stated this group received little funding from outside sources and essentially bootstrapped their businesses at a higher rate than all Small Business owners. The survey of 2,700 small business owners by
Guidant Financial
and
LendingClub
found that while just 23 percent of all average SMB owner is women, among African Americans, women make up 38 percent.
Black small business owners are young, happy and female
They're also younger than average. While the average SMB is a boomer (57%), only 45 percent of African American small business owners is a boomer, while 32 percent are Generation Xers compared to 18 percent of all SMBs.
And black business owners, for the most part, are happy with entrepreneurship. A majority of black small business owners (56%) rated their happiness between 9 and 10 on a 10-point scale. That is 6 percent hire than the average rate companies to all small biz owners.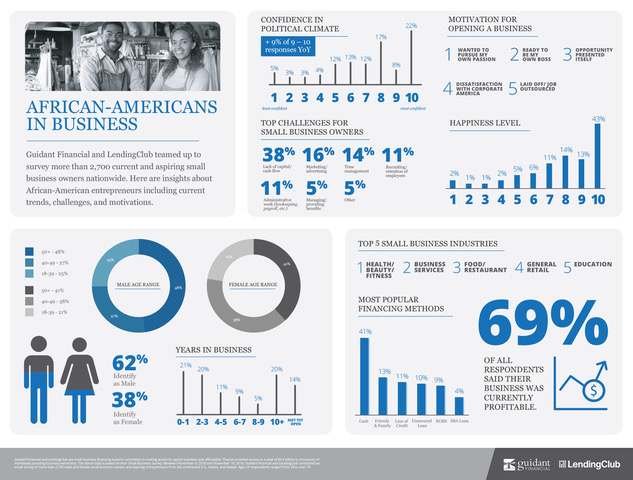 Black businesses run on cash, not private equity funding or big bank loans
This happiness comes despite the fact that African American small business owners struggle with getting access to capital. The survey found that more African-American small business owners leverage cash to fund their businesses than other small business owners, 41 percent versus 32 percent respectively. Only 3 percent of African-American small business owners use equipment leasing, and only 1 percent utilize crowdfunding.
Black businesses get lower loan amounts
This bootstrap trend may have to do with the fact that the majority of African-American small businesses were acquired for under $50,000 (58 percent), while the national average of businesses acquired under $50,000 is 45 percent.
Black Businesses owners are running their shops solo
Also, perhaps because they are cash-strapped, black business owners are building their dreams all alone. Forty-seven percent of African-American small business owners are running their businesses by themselves, compared to the 33 percent of average small business owners.
Despite it all, they're doing it for themselves
When asked the primary reason they're in business, 28 percent said to "pursue my own passion", followed closely by "ready to be my own boss" (27 percent), then the "opportunity presented itself" (17 percent) and "dissatisfaction with corporate America" (11 percent).
Headquartered in Bellevue, WA Guidant Financial helps business owners secure financing to start, buy or grow a business and works with new and existing entrepreneurs to identify, evaluate and deploy customized financing solutions, and has helped over 20,000 entrepreneurs in all 50 states invest more than $4 billion in funds to start small businesses, resulting in more than 85,000 U.S. jobs created. Visit Guidant on the web at .
LendingClub is a San Francisco, California based online credit marketplace that connects borrowers and investors to deliver more efficient and affordable access to credit. LendingClub's technology platform creates cost efficiencies, which are passed onto borrowers as savings in the form of lower rates and to investors in the form of risk-adjusted returns.
Jay Jay Ghatt is also editor at Techyaya.com, founder of the JayJayGhatt.com and JayJayGhatt.com where she teaches online creators how to navigate digital entrepreneurship and offers Do-It-For-You Blogging Service. She manages her lifestyle sites BellyitchBlog, Jenebaspeaks and JJBraids.com and is the founder of BlackWomenTech.com 200 Black Women in Tech On Twitter. Her biz podcast 10 Minute Podcast is available on iTunes and Player.fm. Follow her on Twitter at @Jenebaspeaks. Buy her templates over at her legal and business templates on Etsy shop!