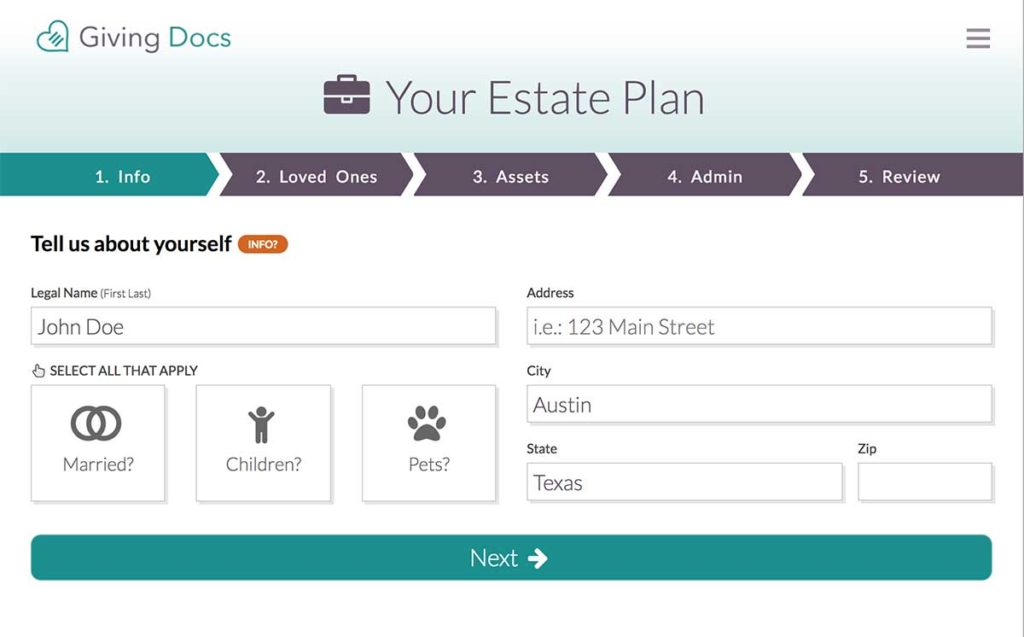 This week's FREE deal:
Generating a will is time-consuming and financially draining. The founder of Giving Docs, Brantley Boyett, knows this because he's a lawyer. (And he approves this message.)
But with Giving Docs, you can create a will in just 10 minutes and avoid expensive lawyer fees!
How does Giving Docs help you create such an important document so quickly? With yes or no questions and short text entry.
There are five simple steps:
Add your loved ones and organizations important in your life
Define any specific gifts, such as cash amounts or possessions like family heirlooms
Assign your distributions to people and organizations (::cough:: educational organization ::cough::)
Choose your personal representative who will be responsible for carrying out your wishes for your estate
Print off your will, visit a notary, and sign your will with two witnesses present
When you're done, your will will be Ed Hochuli official and legally-binding in all 50 states. (Giving Docs does recommend showing what you've created to your lawyer.)
International Sumo-ling hack: Use these documents as a template, bring them to an attorney, and save yourself a few billable hours!
Ok, but what if you want to make changes, like remove a school you just discovered serves pineapple pizza? Not a problem. You can alter your will at any time. Just remember to get it notarized again.
Listen, I know talking about death gives you the heebie-jeebies, but by being proactive, you can make sure the people and causes you care about are taken care of.
Usually, lifetime access to this estate planning tool is $295.
But, because Giving Docs practices what they preach about paying it forward, they are giving Sumo-lings lifetime access for free!
Look at that. You are saving hundreds of dollars that would normally be going to a lawyer.
So let's start dividing up those assets and gifting your favorite educational institution today.
Jay Jay Ghatt is also editor at Techyaya.com, founder of the JayJayGhatt.com and JayJayGhatt.com where she teaches online creators how to navigate digital entrepreneurship and offers Do-It-For-You Blogging Service. She manages her lifestyle sites BellyitchBlog, Jenebaspeaks and JJBraids.com and is the founder of BlackWomenTech.com 200 Black Women in Tech On Twitter. Her biz podcast 10 Minute Podcast is available on iTunes and Player.fm. Follow her on Twitter at @Jenebaspeaks. Buy her templates over at her legal and business templates on Etsy shop!