Influencer marketing sometimes gets a bad rap and now with the political campaign season into overdrive, one campaign is blending influencer marketing with the Russian political bots game.
Recall that Russia's government spy organization, the Kremlin, dispatched computer generated and human bots to flood social media with pre-scripted messages in order to sway the 2016 US presidential election.
Other nations followed its blueprint and now one of our very own candidates, Mike Bloomberg, seems to have upped the ante.
I'm not sure how much rubles being a bot pays these days, but the billionaire's campaign has reportedly hired 396 people in California to transmit pro-Bloomberg messages in social media, specifically on three campaign texting and phone banking apps called, OutVote, Hustle and ThruTalk, the LA Times recently reported after getting a hold of a spreadsheet that revealed the project, names of workers, goals and output.
And the workers didn't have to have a large influential following either, just know how to use social media and for that, they got $2,500 per month to text messages and post. This one has only about 500 followers.
The tactic may run afoul of Facebook and Twitter's rules against automated mass-posting by so-called software bots because even though the Bloomberg campaign is relying on a large human workforce to spread its messages, the "sameness" of the messages,  shared sometimes from brand new created accounts that get little to no engagement, means it has the same effect of a botnet.
Following the LA Times report, Twitter ended up suspending 70 Mike Bloomberg for President accounts based on a policy it created for getting rid of Russian bots following the last US presidential election cycle.
And on Friday, about a dozen that posted the same message as Romir Kapur, a deputy field organizer for the Bloomberg campaign:
"A President Is Born: Barbra Streisand sings Mike's praises. Check out her tweet."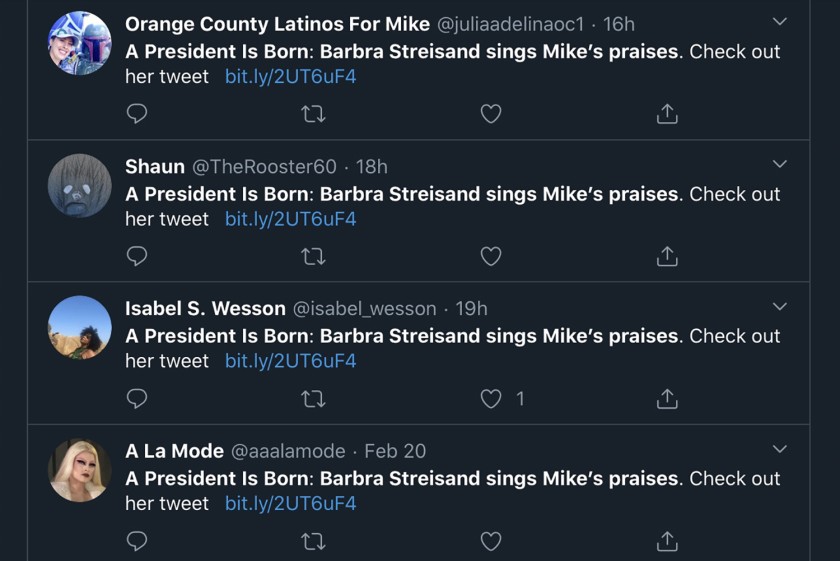 But the campaign is not deterred and plans to hire more, the Times reported.
And it was the newspaper's reporting that got the campaign to formalize its disclosure instructions for workers.  Those the Times spoke to before their article was published said they were not given instructions to disclose their affiliation and most did not. And after the Times published its expose,  the campaign instructed organizers to identify themselves as campaign employees in their profiles.
Actual compliance is mixed or unknown.
Several organizers the Times spoke to said they would tell a few friends they were being paid to reach out but did not disclose it to everyone they contacted.
"When I text my friends — depending on the friend — a lot of people think it's spam or my account was hacked," an organizer living in Los Angeles said. "Once people realize it's actually me who's making these and it's not spam, they kind of just figure I'm being paid for it."
Another said she always disclosed her position in her initial text. "It would be irresponsible of me to act otherwise. It just seems like the ethical thing to do."
One more stated, "Nobody's unfriended me….Pretty much, it's a job, and I needed one."
It blurs the lines and certainly ratchets up the growing sentiments the public has against influencer marketing.
Jay Jay Ghatt is also editor at Techyaya.com, founder of the JayJayGhatt.com and JayJayGhatt.com where she teaches online creators how to navigate digital entrepreneurship and offers Do-It-For-You Blogging Service. She manages her lifestyle sites BellyitchBlog, Jenebaspeaks and JJBraids.com and is the founder of BlackWomenTech.com 200 Black Women in Tech On Twitter. Her biz podcast 10 Minute Podcast is available on iTunes and Player.fm. Follow her on Twitter at @Jenebaspeaks. Buy her templates over at her legal and business templates on Etsy shop!