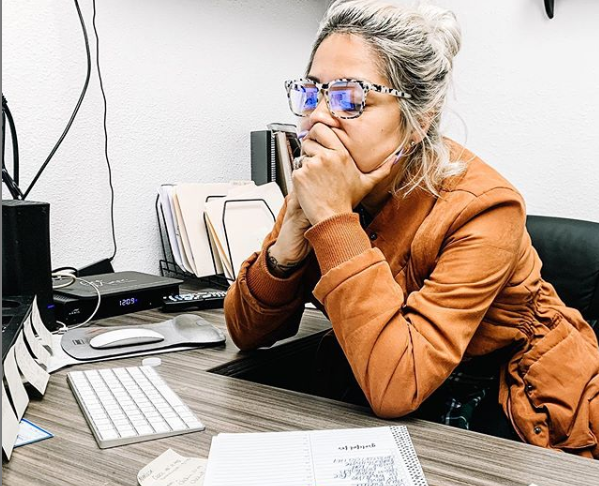 Online business owner Jackie Miramontes of Gia Monae Boutique spent 6 years organically building her boutique's Instagram following to 216,000, but then, on January 20, 2020 Instagram shut down her boutique's page forcing her to start over.

In an online video Jackie posted on her YouTube channel, she explains the reason for her account being disabled.
In a nutshell, she ignored one pesky violation notification that wouldn't go away and just kept popping up.
It started this year, while promoting her boutique's New Year's collection. Jackie said she uploaded a campaign promo video onto her page's IGTV video section.
The video unfortunately included a copyrighted song so Instagram sent her a notification indicating that the post was flagged, and the music would be muted.
She explained in her video that she thought because IG had muted the video, there was nothing more she needed to do
Apparently, she was supposed to take down the post or follow the steps on the flag notification.
Because she failed to take down the video, each day the post stayed live counted as a violation.
Our business IG acct was disabled after 6 years of hard work growing it to 216k. I am devastated but not defeated. If you guys can help me share our new IG page I'd appreciate it. @giamonaeboutique pic.twitter.com/lIzuSYWyEf

— Jackie (@BOSSMAMAJACKIE) January 21, 2020
So the official reason for the page being disabled was "continued violation of community guidelines."
It is unfortunate and there are tons of lessons to be learned here.
One, as Jackie alludes to in her somber upload, pay attention to those flags whether they come from Instagram, YouTube, Pinterest, Twitter or Facebook.
Do not ignore them.
And not just copyright flags. Pay attention to all, even the flags for associating a post with branded content.
All are important. I know I've had a few of those. Do not let those posts linger. Correct the problem. Add the appropriate branded content handle or just DELETE the post.
Two: create your own space!
I always advocate that social media influencers and creators have a home and host via their own website or blog.
In fact, I help others create their own space.
[SCHEDULE A CONSULTATION TODAY]
She has a website, but as with other influencers and celebrities that sell products, social media is just an easier, faster and a more efficient means of reaching your market.
Think of the fact that Bey, Rihanna and Kylie Jenner can sell out products in minutes or days by simply marketing solely on social media.
To lose that type of instant access to over 200,000 consumers and potential buyers is a huge loss.
But Jackie seems upbeat and optimistic and advises, as I always do, to have multiple accounts and to secure email addresses from customers so when a social media exercises its rights to shut down your page over a terms of service violation, you'll have a way of communicating with customers and fans.
Watch Jackie explain her situation herself in this video she posted this week:
&
Jay Jay Ghatt is also editor at Techyaya.com, founder of the JayJayGhatt.com and JayJayGhatt.com where she teaches online creators how to navigate digital entrepreneurship and offers Do-It-For-You Blogging Service. She manages her lifestyle sites BellyitchBlog, Jenebaspeaks and JJBraids.com and is the founder of BlackWomenTech.com 200 Black Women in Tech On Twitter. Her biz podcast 10 Minute Podcast is available on iTunes and Player.fm. Follow her on Twitter at @Jenebaspeaks. Buy her templates over at her legal and business templates on Etsy shop!