It's for this reason that avoiding remote job scams can seem like a tall task.
Online job hub FlexJobs'annual survey found that more than 80% of job seekers report being on guard or very concerned about scams on other job boards. According to the same survey, almost 20% of job seekers have been a victim of a job scam (up from 13% in 2016), with 22% of job seekers knowing somebody who has been victim of a job scam.
Listings can be rife with scams and savvy scammers know how much people desire to work from home. They impersonate potential bosses, recruiters, and hiring managers in order to scam job seekers out of personal financial information—and in the worst-case scenario, their life savings.
That said, 15% of survey respondents have avoided being scammed because they knew the warning signs. Knowing the warning signs of online job scams is important, but remember that FlexJobs' in-house team of experts carefully vets through openings so you don't have to.
Use these 6 tips to avoid remote job scams and keep yourself safe on other job boards.
1. Trust Your Gut If a Job Feels Scammy
As with most situations in life, one of the single best ways to avoid a job scam is to listen to your instincts.
That can be hard if you've been out of work for a while and a plum position seems to fall smack dab into your lap. But think about the job and how you were approached in an objective light.
Says Brie Reynolds, Career Development Manager and Career Coach at FlexJobs, "The ability to work from home would be a dream come true for many people and because of the value people place on this way of working, scammers are able to take advantage of folks who want to find this type of job."
If something just feels off, or you feel uncomfortable for any reason (e.g., the job recruiter is pushy or demanding, or you don't have a clear understanding of the job responsibilities), don't think twice about walking away from it.
More than likely, your instincts are right. And remember, there are plenty of real online jobs out there to choose from. This won't be your one and only opportunity to work remotely, so don't feel intimidated or pressured into doing something you don't feel comfortable with.
2. Know the Signs of an Online Job Scam
While job scammers have adapted their tactics over time, there are still some hard-and-fast warnings that a job is a scam. Here are some basic signs of a work-from-home job scam:
You're asked for personal financial information—such as your social security number, your bank account, your home address and phone number, your date of birth, etc.—early on in the job interview process.
The job pays a lot of money for little work. After all, if it sounds too good to be true, it almost always is.
The company boasts several rags-to-riches stories that showcase high-flying lifestyles.
The job posting mentions quick money, drastic income changes overnight, etc.
The job posting has glaring grammatical or spelling errors.
The product is supposedly endorsed by countless celebrities or public figures.
The contact email address is personal (e.g., [email protected]) or one that mimics a real company's email address (e.g., [email protected]).
The job requires several up-front expenses from candidates.
Compensation is based on how many people you recruit.
A recruiter offers you the job immediately without verifying your work experience or doesn't ask for references.
In one of the latest remote work scams, the FTC reports that the operators of a work-from-home scheme used "misleading spam emails to lure consumers into buying work-from-home services." These emails used fake news stories and fake celebrity endorsements to convince consumers to purchase. In total, the settlements with the operators of this scheme imposed an $11.3 million judgement.
"Unfortunately, online job scams remain a troubling component of the work-from-home job market, even as the number of legitimate remote job opportunities continues to grow. It's encouraging to see this settlement, but job seekers should not let their guard down—many, many more scams still exist," says Reynolds.
3. Consider the Keywords
In general, be careful of certain keywords in posts. The following options (and variations) can be indicative of a work-from-home job scam:
Free work from home jobs
Quick money
Unlimited earning potential
Multi-level marketing
Envelope stuffing
Investment opportunities and seminars
"Keywords like 'work-from-home' and 'work-at-home' are most commonly used by scammers, and the FBI warned people about the schemes associated with these phrases all the way back in 2010. If you're looking for a real remote job, use keywords like remote job, virtual job, and telecommute job as part of your search. Those words are most often used by real employers," offers Reynolds.
4. Research the Companies
Let's say a "recruiter" contacts you and wants you to apply for a job. They say that based on your skills and work experience, you'd be perfect for an open position.
That doesn't mean the job is legitimate (or the recruiter is who they claim to be). You should always do your due diligence on both the recruiter and the job. Conduct research to see if you can find out any info on the recruiter/hiring manager to determine if they are indeed a real person.
The Better Business Bureau and the Federal Trade Commission can be great resources to find and report online job scams. You should be able to find a trail verifying the person and company, and, if not, you may want to reconsider moving forward with the job process.
5. Connect with the Company Directly
A hiring manager might reach out to you with a potential job. They might offer all the details about the job but not the biggest one of all—the company hiring for the job. Although they might say they can't disclose the company or they'll lose the potential commission associated with placing you in the position, you should know for certain the name of the company you're interviewing for.
If the hiring manager won't tell you, it could be a sign that you're in the middle of a scam. So contact the company that you might be working for to verify that a) the job recruiter is working for them, and b) the job you're applying for exists.
6. Question the Communication
The job interview process has evolved quite a bit over the years to keep up with changes in technology.
Almost everything is done online, from job applications to interviews, which are happening more frequently via video conferencing, particularly for remote positions.
That being said, there are still a few red flags when it comes to using technology for hire, and those are email or instant messaging. Any hiring manager or boss worth their salt is not going to conduct a job interview via instant message or email. Most often, you might be initially contacted by email, but after that, you should still have a phone or video interview—or both.
Dodging Work-from-Home Job Scams
It's unlikely that job scammers will ever go away, but there are ways to protect yourself and avoid job scams. Using a reputable job search service like FlexJobs can help you find a real online job faster, easier, and, most importantly, safer.
We pre-screen every job and company before posting them to our site. Our trained research team weeds out both the obvious scams and the more sophisticated ones, along with commission-only jobs, low-quality positions, "business opportunities," and other junk so our members are guaranteed a quality job search experience.
Wherever else you might be searching, use caution and always consider the signs of a work-from-home job scam and stay safe and find legitimate, real online jobs!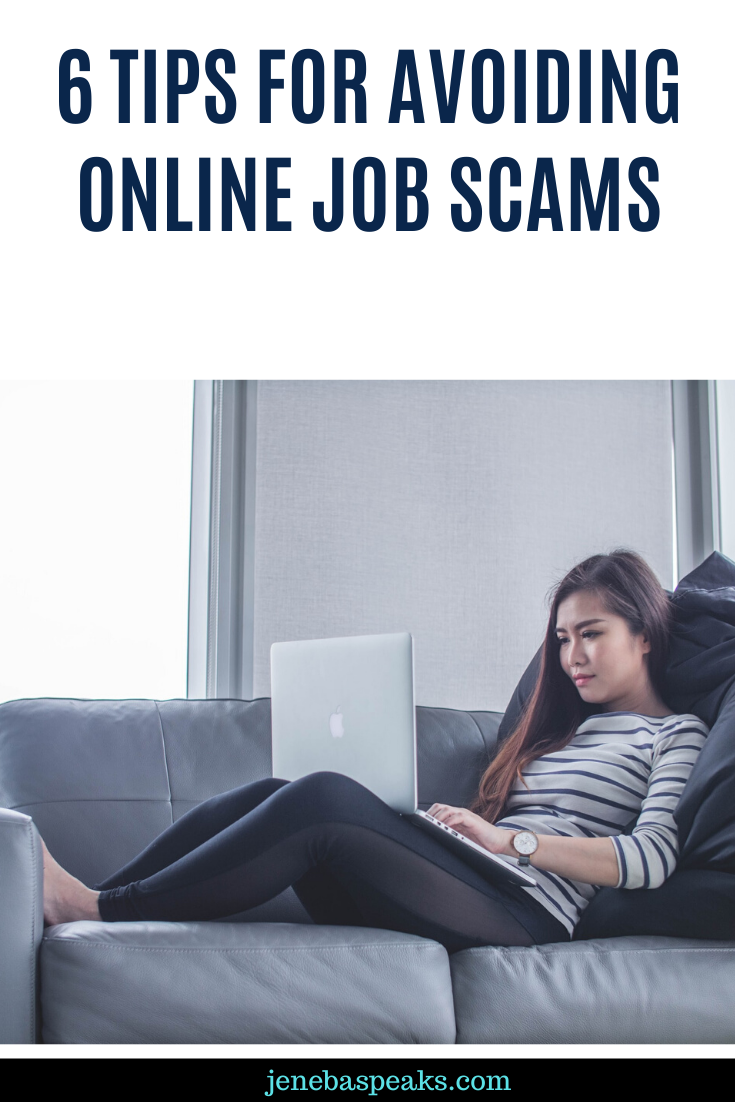 Jay Jay Ghatt is also editor at Techyaya.com, founder of the JayJayGhatt.com and JayJayGhatt.com where she teaches online creators how to navigate digital entrepreneurship and offers Do-It-For-You Blogging Service. She manages her lifestyle sites BellyitchBlog, Jenebaspeaks and JJBraids.com and is the founder of BlackWomenTech.com 200 Black Women in Tech On Twitter. Her biz podcast 10 Minute Podcast is available on iTunes and Player.fm. Follow her on Twitter at @Jenebaspeaks. Buy her templates over at her legal and business templates on Etsy shop!