In this blog I'm just going to show you how you can actually have your own domain with your own links page that's going to host your portfolio, and it's gonna look great and polished.
Hey there creators, so by now you know that if you are an influencer or creator, and you're interested in partnering with brands to promote their products and services.
To your own following, or as a UGC or CGC, which means user-generated or content generated, content creator and create videos are organic looking to native looking to social media platforms on their behalf as a service, then you know, you're gonna need a portfolio.
There are lots of apps out there desktop and smartphone apps that will host your portfolio which is great.However, you control more if you host your own portfolio on a domain and a hosting that you own.
You can have, for example, my name is JayJay Ghatt so you can have jayjayghatt.com for $2.95 per month hosting, you can use that domain to actually host a link tree. So instead of using something like a link tree, or using a social tab, you can actually have your own name.So mine is jjghattdata.com/ links.
We will start by buying your own Domain
Go over to your get to the Dreamhouse account, you're going to see options to choose a hosting plan. As I said, for $1.99 a month, you can actually host a website. If you add a domain, an email, it's $7.99. So let's say my name is JJGhatt and I wanted to add JJGhat.com, in addition to $1.99 a month, I would pay an additional $7.99 plus the $7.99. So get unlimited traffic, you get your bandwidth, and the free SSL certificate. Remember to install it after purchase.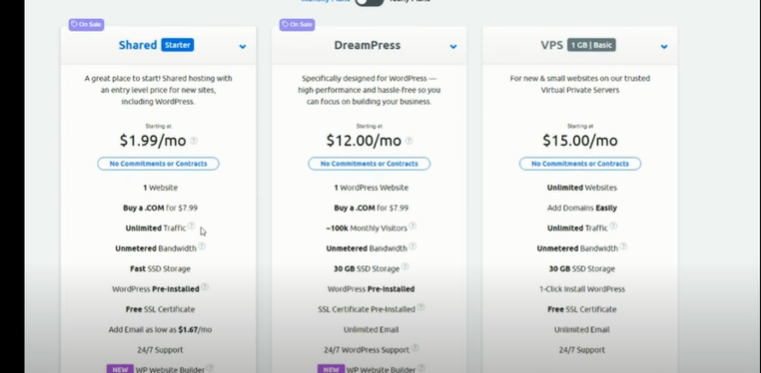 Why SSL certificates important?
If you do not install it, you will have the HTTP without the S anyone who comes to your site will get a block. With the S, Google will now serve your content, your video or website upto anyone who comes to your website.
Next you need to is an email.
I think it is important if you want to be a business, and for people to seriously, Instead of having a [email protected] account, I have a [email protected] get or [email protected] So that is actually a monthly fee in additional but it's still $1.67. When you total the costs you may find you still spend more on a latee each day.
You will also get a website builder
The Website builder allows you to click Install your domain with no hassle and you have automatic WordPress migrations. What this means is that if you already have a site or someplace else you can actually migrate that over to this new host.
Dreampress is a little more complicated if you have less than 100k monthly visitors or if you're starting out, you don't need this in and then also here with the VPS basic virtual private servers that's a little more. For you who are starting out, you just need the shared starter account.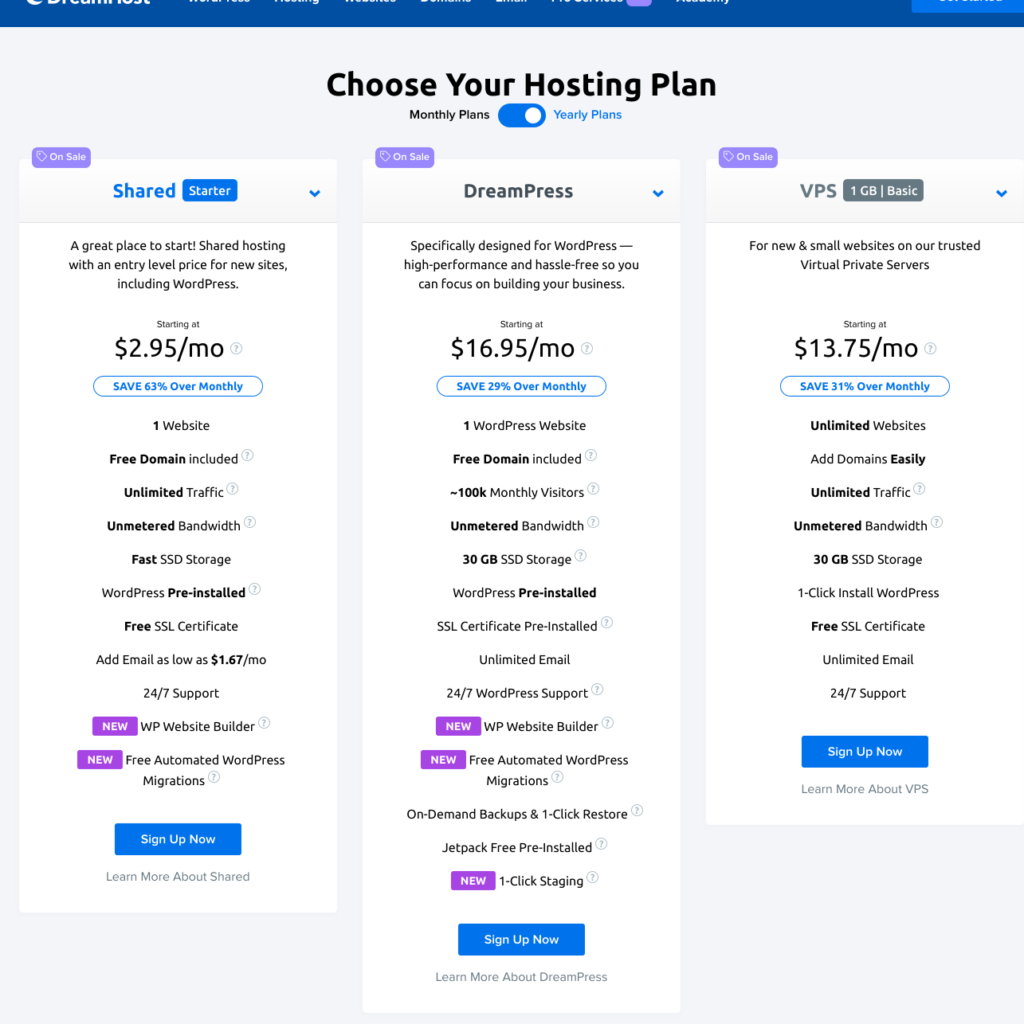 Now there's gonna be a benefit that you get for switching to the yearly plan. When you switch to a yearly plan, the price goes up to $2.95 but you know what you get with that you get a free domain is included.
So you go ahead and you should do that. I highly recommend that because the ultimate price, let's say if were to sign up for this, with that free domain I'm paying today $35.40 for a website for four years, that includes my domain, I added https://gabrielleghatt.com/. I get domain privacy, which is free which means that people don't know who's hosted.
Domian Privacy
So after a year, these poachers what they do is let's say a year passes and you're not checking your email or you're out of town or you're out of the country and there's a new email saying hey gabrielleghatt.com/ is about to expire. If you don't respond within a set amount of time these poachers will come and try to take your domain especially if you already made something of the domain and made it popular.
So domain privacy instead of them doing that to you DreamHost will give you some time and they will actually try to contact you there in order to renew it. That's why domain privacy is important.
Install WordPress
If you have the option for pre-install WordPress select it. What happens it is going to connect your domtain automatically to WordPress and install WordPress for you. That's amazing. Then what happens is it will set up the hosting for you and and finalize the setup and you don't have to worry about it.
So now, once you install your theme, you want to have to actually have a nice, not that plain site, you want to have one that is customised already. In WordPress themes, you can actually under themes, have a whole collection of them, they're all free, so you don't even have to purchase one.
You can watch my video here for a step by step walkthrough on how to change the design, the color palette, the background, the photos, the pictures are here, you have you can change the design.
Now if you were interested in an agency to represent you because you're looking for brands, I want to invite you to join my agency and if you are brand new and looking for content creators to create organic native looking content that you can then use in your marketing, advertising, promotional processes and campaigns then definitely hit me up.