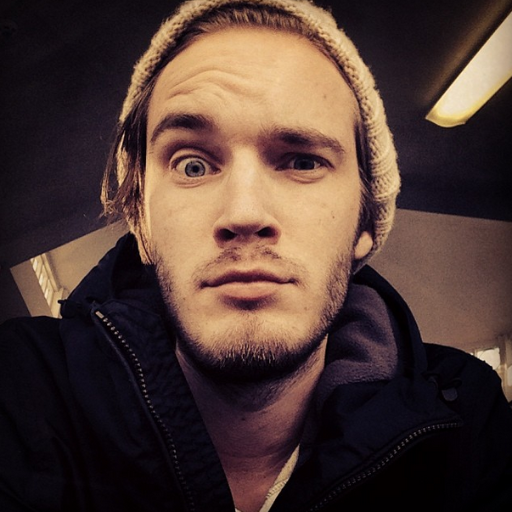 When my eldest kid was 6 years old, he posted a YouTube video of himself playing a HotWheels PS2 game and got close to 75,000 views. By the time he was 9, he had posted several more and gained an additional 150,000 views and grew a small subscribership of about 35. Today, he and his younger siblings, ages 6 and 9, enjoy watching other people play video games on YouTube.
At first, I snickered at the grown men playing these videos and cracking jokes, some of them inappropriate for young ears, while he played them.
The joke is on me. Watching other kids or men playing their favorite game online is a thing. Who knew?!
A recent Atlantic article about one such dude, Swede Felix Kjellberg, revealed that the top YouTube gamer, who plays games under the title "Let's Play" makes a million dollars from Adsense dollars accumulated from his fan base!  Kjellberg has a 2.8 Million following on Twitter.
Say what?!  *kicks self for not encouraging kid to keep it up*
PewDiePie has two videos that has garnered 7 million views and his subscriber list is 23 million!
And here I thought Make Up and Hair Tutorial YouTubers were big money makers! Wowza!
Unemployed 20-year old Matthew Varrone makes between $600 and $1,000 a month in ad revenue from his videos via his YouTube channel, "Awesomefaceprod," that has grown to  20,000 subscribers since he started Let's Playing in 2011.
Amazing! And there are plenty more like them!
Read the rest HERE, but the next time your kid is wasting away time playing games, maybe you want to reconsider stopping him.
Jay Jay Ghatt is also editor at Techyaya.com, founder of the JayJayGhatt.com and JayJayGhatt.com where she teaches online creators how to navigate digital entrepreneurship and offers Do-It-For-You Blogging Service. She manages her lifestyle sites BellyitchBlog, Jenebaspeaks and JJBraids.com and is the founder of BlackWomenTech.com 200 Black Women in Tech On Twitter. Her biz podcast 10 Minute Podcast is available on iTunes and Player.fm. Follow her on Twitter at @Jenebaspeaks. Buy her templates over at her legal and business templates on Etsy shop!