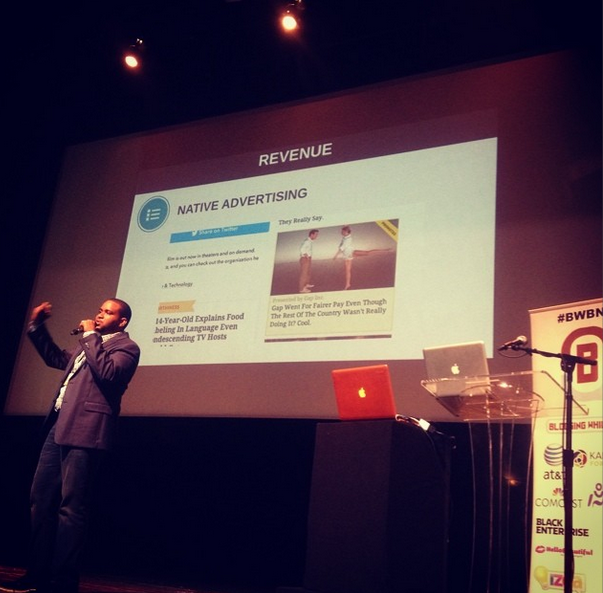 I just came back from another amazing experience attending the 7th  Annual Blogging While Brown conference in New York City this past weekend. It was my third time attending the annual conference launched to educate, train and edify beginning and veteran bloggers of color and to fill a void in the blog conference market.
Last year, I pitched and got accepted to do a presentation on using Google Plus, Instagram and Pinterest to drive traffic to your blog. [See the slides to that presentation HERE]
That also meant I didn't have time to really listen to the other sessions as I was prepping right up to my session and spent a lot of time talking with other novice bloggers after my session ended.
This round, I went with my sister who has been blogging for a few years at her lifestyle and fashion blog, Posh The Socialite, and wanted to attend her first national blogging conference.  She and I played it smart and split up on the concurrent sessions so we both could attend the entire conference and get the benefits of any slide shots or materials being handed out.
We have not connected yet to share notes, but I wanted to spit out of my brain my biggest take aways while they are still fresh in my head.  From the slides I saw tweeted and my own personal experience attending the sessions on visual blogging, mobile apps for bloggers, confidence per Kanye West, social sharing using Triberr and the keynote about monetizing the blogs, here are my key take away:
Making money from affiliate links or ads requires tons of traffic and most new bloggers will never get enough traffic to make a reasonable income.
Use analytics to figure out about whatever works or draws people in to your site(s) and is most popular  and then monetize that or do something with that knowledge: write an ebook or paper book on the topic, establish yourself as an expert and get on a speaker circuit, go after a brand ambassador gig surrounding related brands to that topic…you know you have a market, now capitalize on it. (software, training, webinar, podcast, workshops, DVD, CDs, T-shirts, Coaching, event Planning, video production, editing, ghost writing, social media managment, consulting)
Just do it and stop thinking about it. We spend a lot of our time planning and in fear of failure rather than doing and risking it. Go Brave!
From Black and Married with Kids Lamar and Ronnie Tyler's presentation on "How to make 6 Figures Blogging without relying on Ad Revenue
We spend a lot of time looking for images to post on our blogs and have anxiety over copyright violation.
I got Reinforcement of my already held belief about photographing everything and building my own image stock file.
No need to spend much money on purchasing stock or stressing about copyright violation if you build your file of stock photos full of images you photograph.
From the Visual Blogging session.
Don't get caught up in broad and general vanity analytics like page views and Alexa rank. They tell you nothing.
Instead, hone into specifics, details and those analytics that give you insight into audience behavior once they land on your blog.
Make sure your visitors are doing what you want them to do when they come to your site: Share your Content, Click an Affiliate Link, Get the gist of your piece or learn more about your brand. Your heat map or other anayltics will tell you if that is being accomplished.  So if it only takes under a minute for a visitor to land on your site, quickly skim a list post and hit share, don't get worried about those minimal audience minutes you see in your analytics report. It isn't all bad news.
From the Mobile Blogging session
Reinforcement of the awareness that confidence is everything.
If you believe in yourself, your site, your work, your words, others will too.
You are your own best promoter and no one will promote you more than your self
From the What Yeezus Taught us Session
Many digital desktop and mobile tools exist already to help you with your blogging, analytics and business building efforts that you not know about or know of but are underutilizing the available features.
Don't reinvent the wheel.
Study and start using these already existing resources
From the Marcus Robinson's Keynote on Revenue building
The Triberr tool will help me turn my Tribe of one – and ease my frustration of asking others to share my content but to no compliance.
Using Triberr, I can join with other bloggers who want to social share and can set up my parameters for sharing
Join the BWB Tribe and Two Tribes I created:
From the Social Sharing using Triberr session
Overall, it was a great conference. I met up with some bloggers I met last year and others I only knew from the online world so it was great to connect in real life. I didn't get a chance to meet many more new bloggers though this year because of my tight schedule. I hope to be able to use next year to get to know other conference attendees more.
Good Job Gina, Lianne, Yolanda and the entire team on another well produced event!
Jay Jay Ghatt is also editor at Techyaya.com, founder of the JayJayGhatt.com and JayJayGhatt.com where she teaches online creators how to navigate digital entrepreneurship and offers Do-It-For-You Blogging Service. She manages her lifestyle sites BellyitchBlog, Jenebaspeaks and JJBraids.com and is the founder of BlackWomenTech.com 200 Black Women in Tech On Twitter. Her biz podcast 10 Minute Podcast is available on iTunes and Player.fm. Follow her on Twitter at @Jenebaspeaks. Buy her templates over at her legal and business templates on Etsy shop!