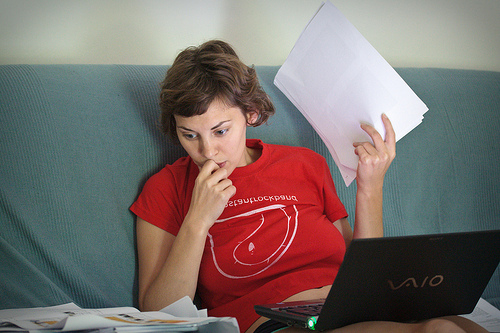 Just sharing a nice synopsis that NannyNewsNetworks compiled and ask that I share:
There is money to made from blogging, and moms have a lot of knowledge and information that others will pay to access. If you've wondered about ways you could stay at home with the kids and still have a reasonable income, consider these ideas for blogging.
Review Products for Amazon.com – This method of earning money can generate residual income over time. Basically, you will write reviews for products you are already familiar with. Whenever someone buys something that you recommend, you get paid a commission. When the customer comes through your site, even if they don't buy the recommended item but go on to make another purchase, you will still get paid.
Use Adsense with Your Product Reviews – When you set up a site with product reviews, you can generate extra income by using Adsense on your site. These ads will complement the item you are reviewing and you will get paid each time someone clicks on the ads. Payment can range as high as $1 to $5 per click. If your site has high traffic, this can generate a substantial income over time.
Become an Expert – If you have a topic that you are passionate about or something that you are very familiar with, you can blog about the subject. Focus on growing a community of followers, and be sure to use social media like Facebook and Twitter to help. Once you have a thriving community of followers you can promote products like ebooks and instructional videos to start earning income. It may take some time to get this ball rolling, but it will be worth it in the long run.
Blog About Your Life and Experiences – Television is rife with "reality" shows in which viewers get to watch so-called private lives. Humans are very curious creatures that love looking into the lives of others. You can take advantage of this by blogging about your life as it happens. As you contact readers about various items that you use along the way via marketing resources, you will find many of your readers will purchase items based on your suggestions.
Blog for Others – There are sites that will pay you to write blog entries for them in order to generate quality content. Pay varies from site to site; you just need to make sure your payments will be secure.
Elance – This is a site that you can join where they match your interests with employers who are looking for writers. The nice thing about this site is that you can create a profile that includes all of your expertise.
Guru – This company also supplies you with a list of employers looking for writers. You can choose whether or not to bid on the projects and a paid membership will grant you access to dozens of opportunities on a regular basis.
Online Spokesperson – Digital media has opened up many doors for moms to share their expertise with others. Companies are beginning to reach out to more bloggers to promote their products now, because the traditional methods don't have the high returns on investments that some digital efforts are showing. If you have or can generate a large following, then you may have what it takes to become a spokesperson for a particular brand.
Sponsored Content – Join a blogger network program, such as One 2 One, Role Mommy or Mom Select, and connect with brands or companies who are willing to pay you to blog about their products. You will need to disclose that you received payment for sponsored content.
Craigslist – Occasionally you will find opportunities for freelance writing jobs on Craigslist. Beware of the scams; you should never have to pay for the opportunity to write for someone else unless you are signing up for a clearinghouse service such as Guru or Elance, and even then basic membership is free.
Get Local – You don't need to go after the giants in order to make money. Local businesses would also like to get recognized, and you can help them do that by allowing them to advertise on your site for a nominal fee.
Share Your Knowledge – Take advantage of your abilities by sharing what you know with others around you. Smaller businesses may not be aware of or know how to generate more customers by having an online presence. Share your knowledge with them and show how a blog can help generate a larger customer base. Market yourself and your expertise.
Use Your Creativity – If you are the creative type, you may find that blog design is a field that you can excel in. Don't be afraid to test the waters. Create a portfolio and go out and find your customers while using your own blog as an active example of your work.
Online Consulting – As an online consultant, you aren't just blogging about your expertise; you are also sharing it with others and getting paid to help them develop in that area. You can market your advice to novices who are anxious to learn the ropes. You get to set your own hours and fees.
Ask for Donations – It works! There are some bloggers who set up a donation station on their site and let their readers know what they need the money for to encourage donations. If you have a project in need of funding, consider a crowd funding source such as Indiegogo.com. Your blogging will keep donors up to date on how the project is coming along.
Jay Jay Ghatt is also editor at Techyaya.com, founder of the JayJayGhatt.com and JayJayGhatt.com where she teaches online creators how to navigate digital entrepreneurship and offers Do-It-For-You Blogging Service. She manages her lifestyle sites BellyitchBlog, Jenebaspeaks and JJBraids.com and is the founder of BlackWomenTech.com 200 Black Women in Tech On Twitter. Her biz podcast 10 Minute Podcast is available on iTunes and Player.fm. Follow her on Twitter at @Jenebaspeaks. Buy her templates over at her legal and business templates on Etsy shop!