A short while ago, blogging wasn't highly regarded. Certainly, no one took anyone seriously if they earned a living running a blog. Several success cases and the fact many news outlets publish blogs on their sites have changed the game.
Today, blogs are essential for businesses.
Here are some interesting facts about blogs and why businesses should have blogs along with an informative infographic from BestWebHostingGeek.com:
1. A lot of people read blogs more than once daily.
2. The reading of blogs usually starts at 7.am and reaches a peak period at 10am.
3. While sharing on blog usually reaches a peak at 7.am, comments on blogs hit the highest point at 8.am.
4. The findings of a recent survey reveal that most prefer to read blogs in the morning that at any other time of the day. 79% of the people interviewed said they prefer to read blogs in the morning, 64% have a preference for afternoon, 51% prefer evening, and 40% favor night.
5. Businesses that update their blogs 20 times a month (i.e 4-5 times per week) generate 5 times more traffic than those that update their blogs less than 4 times a month.
6. Businesses that own and regularly update their blogs generate 4 times more lead than those that do not own a blog.
7. Blogs help to influence customers' buying decisions and purchases. A sampling of customers' opinion shows that the information on blogs assists 21% of the surveyed customers to make up their mind on the purchase of a product, helps 19% to fine tune their choice, provides answers for another 19%, helps 17% to discover a product or service, and serves as the inspiration for the purchase of a product or service for the remaining 13% of the surveyed customers.
8. Companies that have more than 51% articles on their blogs experience a 77% increment in median monthly leads.
The below infographic summarizes these and other facts: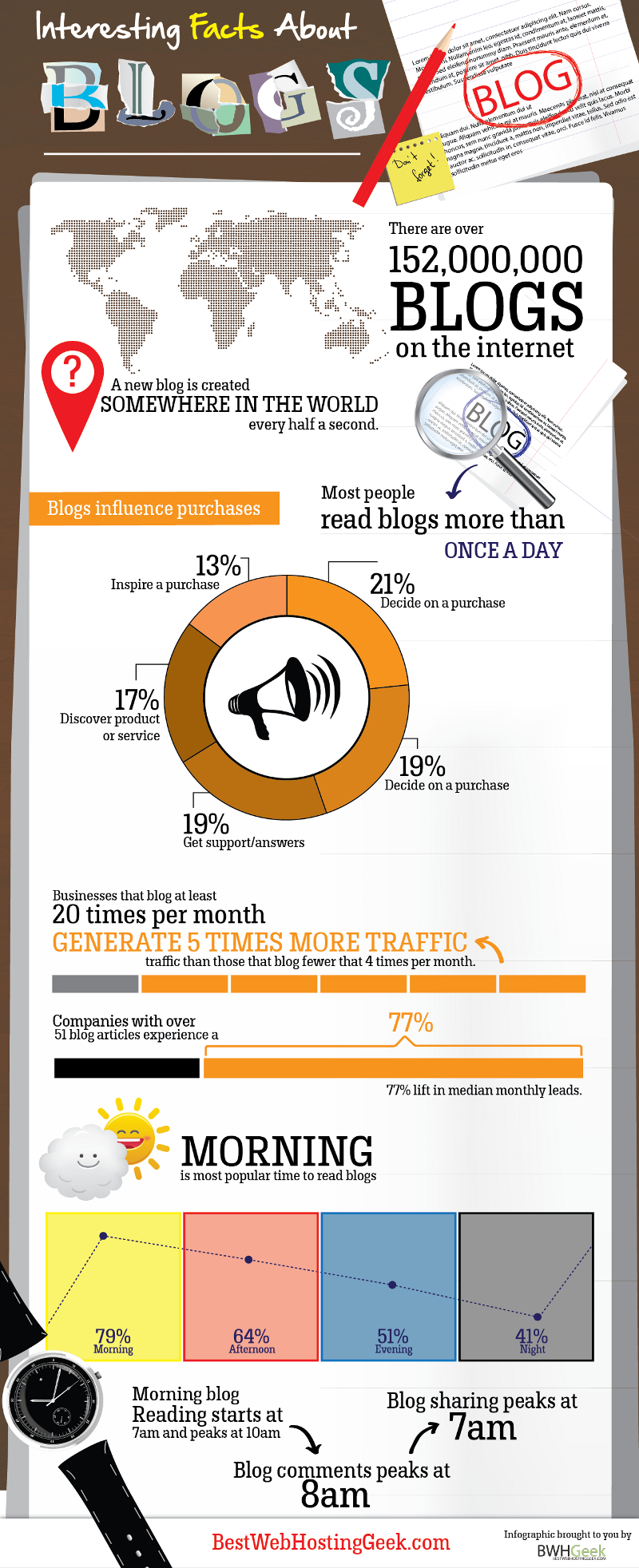 Jay Jay Ghatt is also editor at Techyaya.com, founder of the JayJayGhatt.com and JayJayGhatt.com where she teaches online creators how to navigate digital entrepreneurship and offers Do-It-For-You Blogging Service. She manages her lifestyle sites BellyitchBlog, Jenebaspeaks and JJBraids.com and is the founder of BlackWomenTech.com 200 Black Women in Tech On Twitter. Her biz podcast 10 Minute Podcast is available on iTunes and Player.fm. Follow her on Twitter at @Jenebaspeaks. Buy her templates over at her legal and business templates on Etsy shop!