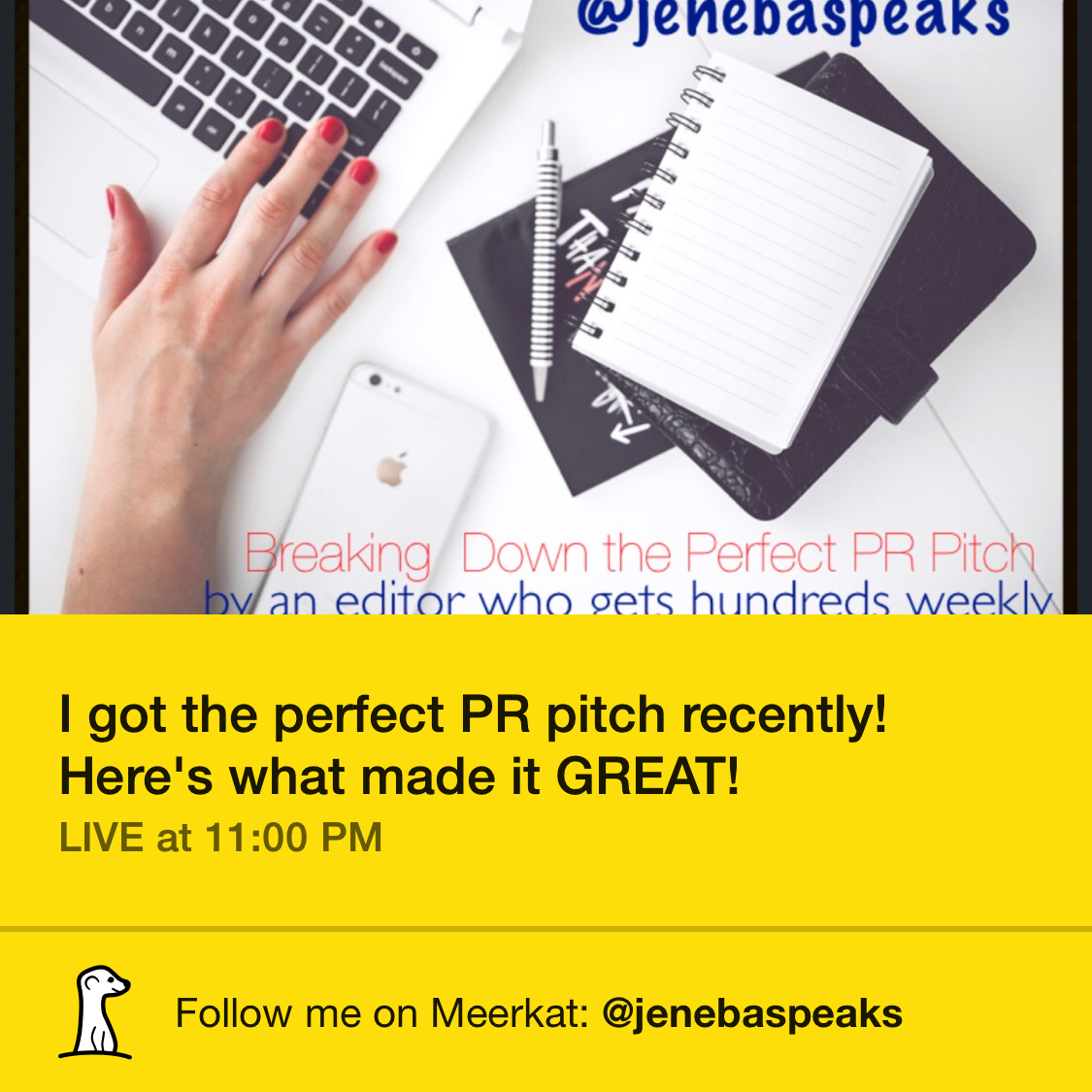 I have broadcast several personal, fun and lifestyle parts of my life on the personal live broadcast apps Meerkat and Periscope. I avoided doing a Biz one because I wanted to make sure whatever insight I share is unique and the type of info that can't be gotten elsewhere.
Recently, I figured out a few topics that would be beneficial to publicists, public relations professionals, content marketers, bloggers and independent publishers.
Last night, I tried to do a test run.
I scheduled and announced a Periscope/Meerkat  late night broadcast. The title of my topic: "I got THE perfect PR pitch recently! Here's what made it GREAT!
A nice  clickbait headline, eh? eh?
Well that was the only thing I got right, unfortunately, in my opinion.
I didn't have a script and got a little bit ahead of myself and I don't think I came off too polished. Also, I spent too much time in the beginning messing around with my son's smartphone I was using to simulcast the session on Meerkat.
It never worked and eventually got disconnected. By the time I turned back to my Periscope, I had lost almost all of my audience!
Doh!
I went through the rest of the broadcast. It was meh.
I had a total of about 70 viewers, many that left and a few that stayed through to the end.
And since the Meerkat version never worked, I did it again and that time had a total of 20 viewers and of those 20, only one came in about midway through it, but she stayed thru the end, retweeted my broadcast and left a comment telling me she appreciated the information I had to share! yay!
I think it's less important to come off polished than authentic. It's a good idea to have an initial script or rule of doing things:
1. Greet guests as they enter and respond to early comments.
(But not too long after the start. I've been on scopes when the broadcaster spends too much time in the beginning shout outing and hailing up all viewers as they enter.)
2. Announce self and handle at beginning and again midway through.
3. Invite audience to retweet and give hearts
4. Speak slow
5. Answer questions in the end.
It was a rough first start, but now I feel more prepared for my next one and I know what to expect.
Unlike Periscope which expires after a few hours, but lets you download the video for upload later, Meerkat gives you a link that you can reference in a blog post as I am doing now.
So go check out my broadcast to learn from me what made for one of THE best PR pitches I've ever received as an influential independent publisher and blogger.
See it HERE!
https://meerkatapp.co/library/mj7Pj9Y4N7sz58PnmEKmcyx1xwL
Jay Jay Ghatt is also editor at Techyaya.com, founder of the JayJayGhatt.com and JayJayGhatt.com where she teaches online creators how to navigate digital entrepreneurship and offers Do-It-For-You Blogging Service. She manages her lifestyle sites BellyitchBlog, Jenebaspeaks and JJBraids.com and is the founder of BlackWomenTech.com 200 Black Women in Tech On Twitter. Her biz podcast 10 Minute Podcast is available on iTunes and Player.fm. Follow her on Twitter at @Jenebaspeaks. Buy her templates over at her legal and business templates on Etsy shop!