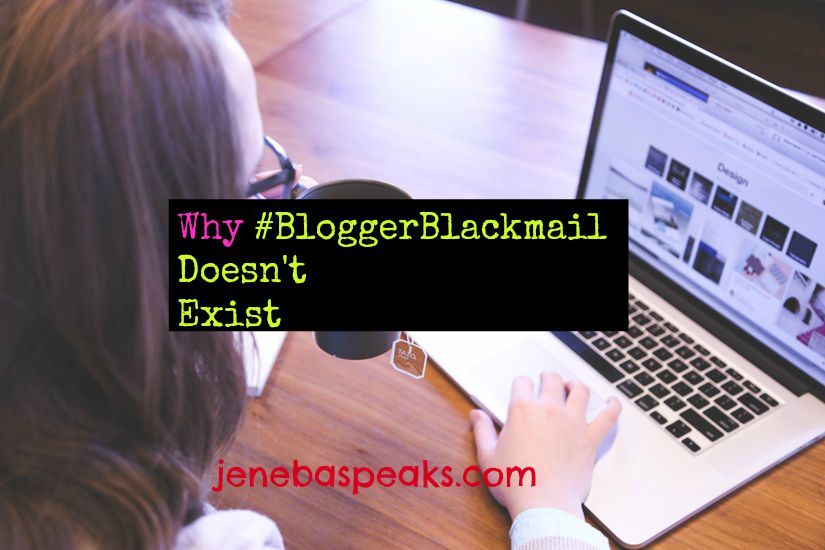 There is no such a thing as Blogger Blackmail, really.
I first saw what I consider a disturbing hashtag "#BloggerBlackmail" trending the other day. I actually learned about it from a Social Media London blog post discussing it and offering readers some background detail into how the hashtag came to be.
I presumed, before even reading the article, that it likely had to do with a miscommunication between a brand or merchant and a blogger where the blogger was perceived as asking for a major perk in exchange for favors or a positive review.
I was correct.
We weren't talking the level of questionable ethics displayed infamously by a travel blogger for a major website who got busted for demanding luxury accommodations and travel from companies in exchange for a possible favorable write up.
Nope, in this case, it appears Bloggers were being maligned, generally, over some macrons! Seriously.
*major side eye*
I was additionally upset to see that the hashtag was being retweeted by PR agencies and public relations professionals with some adding comments in favor of a UK bakery that had a dispute with a local food blogger.
It's a situation where it looks like neither side set out the parameters of an agreement, nor had a "meeting of the minds" on expectations in advance before securing the deal.
As a result, you've got a pissed off blogger who feels she has been undervalued and a baker who feels she was purposefully dissed in social media because she didn't agree to let go of 100 pounds of baked goods in exchange for a positive review.
I read the baker's perspective: that she was contacted unsolicited by the blogger and then, prepped a cute package of samples for the blogger who arrived with an unexpected friend demanding more, she was not having it.
The blogger assumed that she was entitled to more value in exchange for her time and effort and asked for more than a couple of macrons. When denied, she purchased them herself and then proceeded to trash the product in social media.
Both parties have fault in not clarifying expectations in advance and if the Blogger did indeed speak maliciously as a payback, then that's wrong on her part.
However, her actions, if determined inappropriate, and the action of a few similar bad actors should not lead to such a libelous hashtag that I believe characterizes bloggers as unethical and immoral.
Also, it's my opinion that it is almost impossible for a blogger to truly blackmail a brand or merchant looking for press.
Why do I say this? Listen to my voicenote/podcast below:
Jay Jay Ghatt is also editor at Techyaya.com, founder of the JayJayGhatt.com and JayJayGhatt.com where she teaches online creators how to navigate digital entrepreneurship and offers Do-It-For-You Blogging Service. She manages her lifestyle sites BellyitchBlog, Jenebaspeaks and JJBraids.com and is the founder of BlackWomenTech.com 200 Black Women in Tech On Twitter. Her biz podcast 10 Minute Podcast is available on iTunes and Player.fm. Follow her on Twitter at @Jenebaspeaks. Buy her templates over at her legal and business templates on Etsy shop!