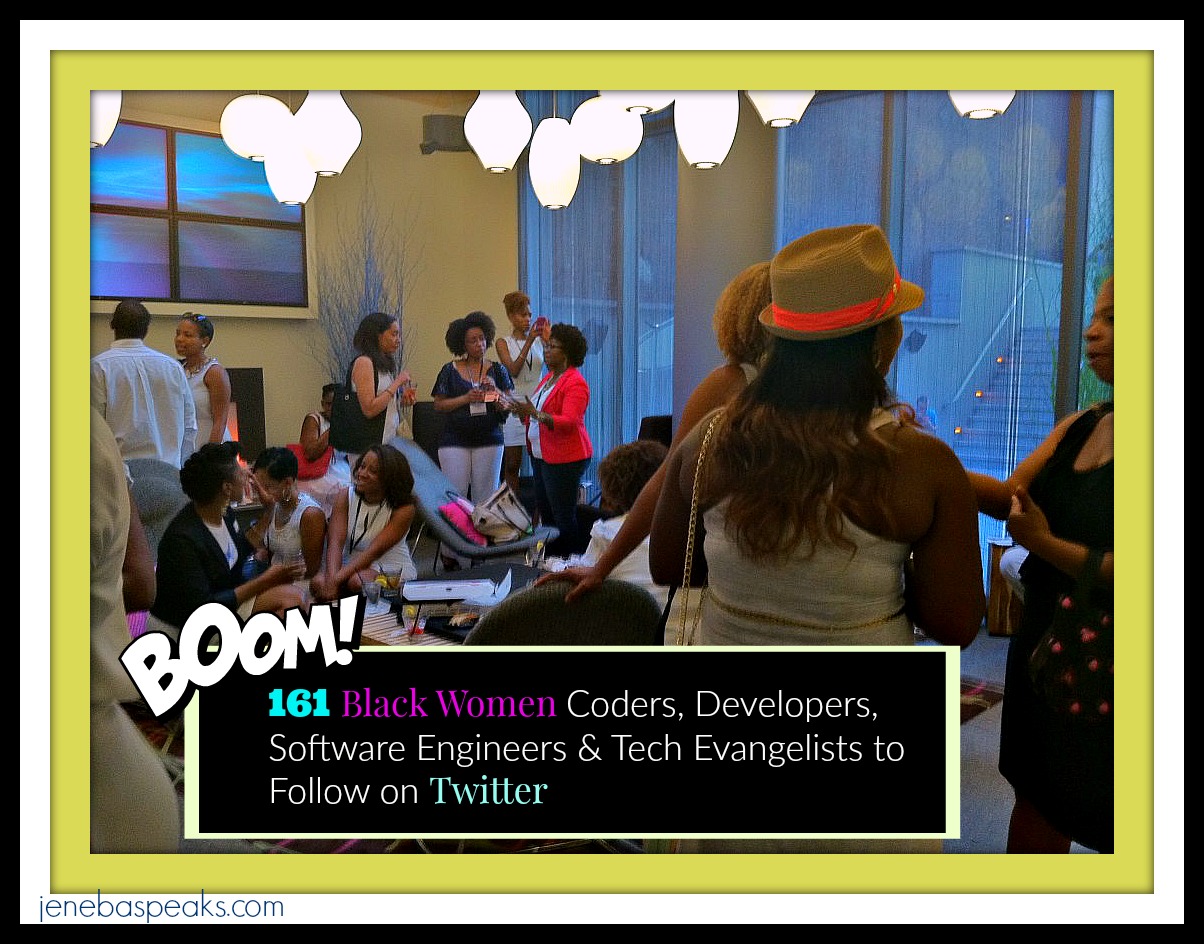 Let's start with some facts:
Less than 1 percent of all venture funding deals involved a Black-woman founded StartUp.
Fewer than 30 black female headed ventures have raised $100,00 in outside funding.
Only 3 Black woman-headed StartUp have ever received over $1Million in Venture Capital.  Not 3 Percent

. Just THREE.

Per a suspected 2 percent conspiracy, while only 2 percent of the workers at Big Tech companies are black;  between 0-1 percent are Black Women.
The outlook of these stats from tech inclusion nonprofit Digital Undivided's Project Diane's  #RewriteTheCode campaign seems bleak.
Meanwhile, 87 percent of VC backed founders are White and 83 percent of all founding teams of these companies are all White.
However, there is another side of this story.
Despite not getting hired in large numbers at Tech firms or getting Angel or VC backing, Black Women are out there in the industry, have STEM degrees and are working in Tech and founding StartUps.
HBCUs, for example, graduate computer science, math, IT, engineer and other STEM majors annually, many of whom are women and many who apply for internships and jobs in the field. The argument about lack of CompSci degree cannot hold up all the way here.
There are a few things that need to bee addressed.
The tech industry, generally and especially, and those who work in it, must be less resistant to change.
As Digital Undivided's founder Technologist Kathryn Finney wrote in a recent Medium post, no one wants to be told they are biased and forced to hire folks they don't necessarily want to hire, mentor or consider.
Indeed, everyone would rather embrace the myth of meritocracy and ignore the impact of unconscious bias.
Unconscious Bias helps or hinders based on superficial factors that have nothing to do with a person's abilities.
Things like one's race, socioeconomic background, region of origin, ethnicity, access to capital and access to a wide network of powerful connections, wealth and being a member of the dominant gender, race and culture are all non-substantive factors that are perks to some but a hindrance to others.
Computer programmer Philip Guo said in an NPR interview last year that he knows he gets an advantage in hiring because people assume he is a tech whiz simply because of his race.
That is an "invisible checkmark" of being "qualified."
That's the winning side of unconscious bias.
A recent analysis by CB Insights found that all Asian StartUps (meaning all members of the StartUp are Asian) raise the most Venture Capital funds.  Ergo, when you look (physically) like the face of past success cases, those in power are easier convinced you will do well and more willing to invest.
Then there is the losing side of unconscious bias.
"I can count the experiences that I have had when I walk through the door at interviews etc, and I'm immediately dismissed," one black male StartUp Founder replied to Finney's Medium piece "My name ( can't peg my ethnicity by it ) and resume get me in the door, but many times my complexion would [have] sealed my fate before I would even have a seat."
Finney too explained to TechCrunch how she had to spend 30 minutes of a one hour meeting with a very popular VC explaining to him why she deserved to be there.
That is precious time a White or Asian-headed StartUp doesn't have to waste. Examples like these bust up that myth of meritocracy.
*welp* It's a tough pill to swallow.
Race is hard.
Combating gender disparity is easier.
Hence, as Ex-Googler Erica Joy penned in an insightful Medium post in October 2015, because race is hard, many companies have decided to focus their diversity efforts, conferences and seminars by narrowly defining "diversity"  to mean inclusion of White women.
*deep sigh*
That pesky dependency on "pattern matching" and word-of-mouth recruiting does us in.
The onus remains on those on the outside to get in and it's darn near impossible when all the wheeling and dealing is done among those on the inside.
Shucks!
Well if the excuse is "we can't find any", how about we create a resource where we can be found? Eureka!
What better place to start than Twitter lists?!
I started with a list curated by Digital Undivided a few years ago, then I updated it, conducted some additional research and with the help of Software Engineer Ijeoma Nnaku, I came up with a list of 161 black women in tech with active Twitter accounts.
There are others and I plan to augment and update this infographic as I learn of more.
Why Twitter?
Twitter is a great go-to source because it is up-to-the-minute and active folks on that platform constantly share news, information, articles and events. Therefore, it is also a great starting point for anyone who is putting together a conference or compiling a tech list to start a search. Looking for a consultant or to diversify your team?
Start here!
My hope is that will could combat that usual excuse "we just can't find any" to feature, place on our panel, include in our "top 20" lists, to interview, to hire, to consult etc etc.
I intend to update it annually and welcome any nominations for inclusions of anyone I missed.
CRITERIA
I included all those referred to me and I researched who have current and active accounts on Twitter.  That was a major requirement. There is no use of following someone if they aren't going to be contributing anything or engaging followers.
VIDEO:
Below is a copy of a LIVE Facebook teeing up this post
This EMBEDDABLE INFOGRAPHIC IS AN ABBREVIATED VERSION OF THE LIST you can embed on your own website, or other platform.
DOWNLOAD: YOU CAN GET A HIGH RESOLUTION DOWNLOAD OF THIS INFOGRAPHIC HERE!
BELOW this infographic is a more detailed list that includes their Twitter Bios and a hyperlink to take you directly to their Twitter pages so you can easily Follow or Add to a List.

Share This Infographic On Your Site
APPRENEURS
BIG TECH/BIG TECH ALUM
CODE CAMPS/HACKATHON OPERATORS
17. Black Girls Code  | @BlackGirlsCode Twitter Bio: Our mission is to empower young women of color ages 7-17 to embrace the current tech marketplace as builders + creators. http://www.blackgirlscode.com/
18. Black Women Code  |  @BlackWOMENCode Twitter Bio: Grown Black women learning code/teaching code. Getting our afrifemCODEgenius on! Let's #renderonetoanother! We learn. We teach. We empower. (And we laugh too!)
19. Kat Calvin |  @KatCalvinLA  Twitter Bio:  Founder of @michintraining and @dc_ye. Rolling the hard six. Insta: @katcalvindc Snap: @katcalvin
20. Khalia Braswell |   @KhaliaBraswell Twitter Bio: Founder of @INTechCampfor Girls. Digital Consultant. Public Speaker. Currently in Grad School. Formerly at Apple.
21. Kimberly Bryant |  @6Gems Twitter Bio: Founder @BlackGirlsCode~ White House Champion of Change ~ 2014 GOOD 100 /good.is/the100 Find me here: http://about.me/kimberlybryant http://magazine.good.is/projects/the100/profiles/kimberly-bryant …
22. Saron Yitbarek |  @saronyitbarek Twitter Bio: I wore a t-shirt to my wedding. Developer. Host of the @CodeNewbiesPodcast. Currently@MicrosoftNYWork hard and gaf.
23. Zakiya L. Harris | @zakiyalharris Twitter Bio:#ShapeShifter Co-founder hack the hood
CODERS/SOFTWARE ENGINEERS/HACKERS
DESIGNERS/UX & WEB DEVELOPER
Carol Glenn | @dulcedemochi Twitter Bio: Founder at LexiCandy. Web Developer, Ed Reformer, Gamer, 日本語の学生
Chantal Emmanuel | @ChantalEmmanuel Twitter Bio: Web Developer Red Clay Design | SF Director Women Who Code
Davey Jones| @__DaveyJones Twitter Bio: Led by curiosity. Connector | Devout Burger-tarian | Client Engagement & Adoption @UserTesting | @Draper_U '13 | @smithcollege '10 #tech #UX
Denise Jacobs | @denisejacobs Twitter Bio:Speaker + Author /Founder + Chief CreativityEvangelist @thecreativedose/Founder @RawkTheWeb /Instigatorhttp://creativityrevolution.com/  /Book:http://denisejacobs.com/innercritic 
France L Jackson | @FranceLJackson Twitter Bio:  UF PhD Student.  Certified Engin. Apprentice and Fashionista. UX Design & Research. Tech Fashion. Wearables. #HCI #HumanFactors #UFHCC IG: @geekNchic
Kristy Tillman| @KristyTTwitter Bio: Design Director @societygrownups Co-founder of@DETWaterProject Former @IDEO. FAMU Alum. Believes in the future. Making it up as I go.
Maria D. Smith | @codegirl3 Twitter Bio: Geek, Co-Owner of Gigabyte Magazine Computer Science, Coding and Programming Major. Student. Front End Developer. UX / UI Designer. Science Enthusiast. Music Lover.
LaShandra Henry | @sistasenseTwitter Bio: Web Designer and Mentor to Women Entreprenuers Online.
Tiffany B. Brown | @webinistaTwitter Bio:Author of SitePoint's CSS Masterhttp://sitepoint.com/premium/books/ …. Freelance web developer. Mostly basketball tweets. #Knicks #Clippers
DIGITAL /CONTENT MARKETING
Brittany  Davis Moris  | @brillianceblog Twitter Bio:  Style Blogger + Wife + Mom to a Poodle. Lover Tech & Web. Embrace Your Brilliance! Snapchat:brillianceblog Lets Connect: [email protected]
Marcia Wade Talbert| @TheTechGyrl Twitter Bio: Content Marketing Enthusiast. VP of Integrated Marketing @dgtlfactoryAlso follow my alter ego@newsgyrl
Minka Wiggins | @Minkado Twitter Bio: Marketing consultant. Global explorer. Tech enthusiast. Music blogger. My life in the sunshine!
ED TECH
47. Candis Best |  @CandisBest Twitter Bio: Professor, Writer, Ed Tech Entrepreneur.
48. Dr. Abigail Joseph | @drabigailjoseph Twitter Bio: A technology educator, computer scientist, STEM
49. Felecia Hatcher | @FeleciaHatcher Twitter Bio: Entrepreneur|Author|Mom | White House 2014 Champion of Change} Co-Founder of@CodeFeverMiami & @blacktechweek & retired Chief Popsicle of @FeverishMiami|
50. Heather Hiles | @HeatherHiles Twitter Bio: All about self-actualization
51. Nicolette Omoile | @WellHelloTeach Twitter Bio: Habitual line-stepper | Teacher |http://WellHelloTeacher.com is a refreshing blog that creates and curates K-2 Resources for Teachers and Parents.
52. Twanna A. Hines | Twanna A. Hines@funkybrownchick Twitter Bio: Award-winning educator with appearances on CNN, NPR, Sirius, and CBC. Internet addict. Teaches#SexEd. Loves #MUFC& #DTSS. Speaks Dutch. FUNKY BROWN CHICK®
53. Vari Audrey | @Vari_Audrey Twitter Bio: Avid wanderer. Tech consultant. STEM education evangelist. MD of @p_stem. Book reader. Student of life. Child of God #STEM
FINANCIAL TECH
54. Valisha Graves |  @valishagraves Twitter Bio: Cleveland native @SuffieldAcademy@Cornell@Columbia_Biz Alum @NYIFinance Wall Street Tech Product Manager Founder GoGelati FinTech & EdTech Cavs & Cowboys Fan
HEALTH TECH
55. Sheila D Isbell | @sheilaisbell Twitter Bio: @GeorgiaTechComputer Scientist – Tech 4 Connected Community #Wellness, #HealthIT,#Vaccines, #ICT4D. Twt: #health kids tech women travels running happiness
56. Sekai Farai |  @SekaiFarai  Twitter Bio: anthropologist (studying startups). founder@hackchange (coding school). startup professional (cust. exp. + partnerships). catalyst (re-imagining civilization).
57. TinaShoulders |   @laidbackchick Twitter Bio:  Maker of stuff, babies, apps, designs, moves. Inspiring youth to make via @exposurecamp while working on a startup
INCUBATOR/ACCELERATOR OPERATOR
58. Angela Benton | @ABenton Twitter Bio: Changing the status quo up: CEO'ing @NewMEAccel@BlackWeb20
59. Christian Anderson |  @cdanderson805 Twitter Bio: Co-Founder BuildUp Investment Banker. Nasdaq YEx Advisory Board Member. Director of IoT Startup Investment Portfolio. Venture Design. Tech. Art. Nonprofits. Traveler. Food Lover.
60. Kristina Omari | @kkomari Twitter Bio: Co-Founder BuildUp Accelerator
61. Laura Weidman Powers| @laurawp Twitter Bio: Co-Founder, CEO of @CODE2040. I like food, startups, yoga, and doing good. I have been to 38 countries. New Yorker in California.
IT/DIGITAL STRATEGISTS
62. Daphne Leroy | @DaphneLeroyTwitter Bio: Media, Marketing & Communications strategist | Native New Yorker | Heart is in Haiti | Opinions are my own
63. Dr Lisa T Richardson | @DrLisaWPTwitter Bio: Lover of tech, fashion, food, anime, k-dramas & travel. Digital strategist and #smallbiz champion. Chief RoadTripper @tumblroute.
64. Elizabeth Tarpley | @techmommiTwitter Bio: IT Innovator, Digital Strategist, Serial Entrepreneur and Mom extraordinaire- technology is my love; sharing technology with the world is my passion!#LiveTruth
65. Juliana Rotich | @afromusing Twitter Bio: Tech, Africa, Beyond. I advise companies like BASF + Ushahidi, iHub, BRCK. MIT Media Lab Director's Fellow 2012 Views – mine
66. Kenya Allmond (not that) | @kenya Twitter Bio: gadget girl, tech tamer, arts aficionada, #STEMsupporter, wanton wanderer, vivacious volunteer, photograph flaunter, lighthouse lover, nosy by nature FKA @koa
67. Lindsey C. Holmes | @lindseycholmesTwitter Bio:Digital/ Productivity Strategist – @MastodonMail@Evernote Expert ∙ Dev ∙ Author ∙ Tech Writer ∙ Activist ∙ ΔΣΘ — Yes, all of that.
68. Luvvie Ajayi | @iLuvvitTwitter Bio: Writer. @RedPumpProj Rocker. Social Media Fixer. Pop Culture Fiend. Branding Strategist. Jill of all Digi Trades, Master of Shoes! Also: @Luvvie
69. Shevonne Polastre | @shevonne_p Twitter Bio: Speaker. Patient Safety/Healthcare Advocate. Podcast Host. Blogger. Healthcare Influencer. Christian. Social Media Enthusiast. Stanford #MedX #epatient Advisor
PATENT ATTORNEY
70. Andrea Evans |  @EvansIPLaw Twitter Bio: Intellectual Property Attorney – Patent, Trademark and Copyright Law/ 2014 White House STEM Champion of Change
SOCIAL MEDIA STRATEGISTS
71.  Chakayla Taylor  | @chakaylajtaylor Twitter Bio: Help Women Create BOMB Online Brands! Crack the Code to Instagram Success: http://bit.ly/theinstaprintchallenge …
72.  Charryse Johnson  | @Cjthetechdiva Twitter Bio: Fearing, Wife, Mother of four sons, entrepreneur, philanthropist, sister, educator, Mrs. RSI Systems, Asthma advocate, STEM Advocate
73.  Dr. Renee Matthews | @AskDrRenee Twitter Bio: I am an MD, blogger, resource social media guru and at your disposal.#MadameNoire #Goodenoughmother#BlackDoctor [email protected]
74. Ijeoma S. Nwatu  |  @ijeomasnwatu Twitter Bio: Then: @georgemasonu@cityyearphilly@agcofa @startupinst @StartupInstNYC@hzdg/@canvascowork Now: digital consultant (hire me). h/t matthew 5:5
75. Kris McDonald |  @ @LittleTechGirl Twitter Bio: Newlywed | Digital Lifestyle Expert | Travel | IT Professional | Social Media Consultant | Social Event Planner | Photographer | Mom to 2 sets of twins
76. Karen RogersRobinson| @SocialMMMDiva Twitter Bio: Super friendly Social Media geek| Blogger@SocialMediaWeek| Social Media Talk Radio Host| Social Digital Strategist| #qrcodes#socialdigitalstrategist
77. Lenora Houseworth| @daremebeautiful Twitter Bio: Digital/social media samurai. Truth dispenper. Multi-tasker. Multi-creative. Go-getter.
78. Luckie Daniels| @LuckieIsHappy Twitter Bio: Social Media Linguist. Blogger. Tweeter. Artist. Designer. GEEK. Strategist. PM Mobile Rock Star. Girl In Tech. Advocate. Mom ~ A Happy Go Luckie kinda gal!:-)
79. Mary Pryor  | @msmarypryor Twitter Bio: IG:UrbanSocialista Digital Social Fitness & Holistic Lover@digitalflash
80. Yolanda Spinx | @YoloSpinks Twitter Bio: Digital Brand Strategist. Content Curator. Social Media Marketer. PR pro. Motivator. Advocate for Women & Children of Color. Views my Own. RT ≠ Endorsement.
SOFTWARE DEVELOPERS
81. Anne Amuzu  |  @Ewoenam Twitter Bio: Software Entrepreneur, Child of God, co-founder @Nandimobile
82. Anissa Thompson  |  @anissat Twitter Bio: Adobe User Group Manager & Certified Trainer/Instructor • Developer • Speaker • Technologist • PTX • Believer in #Yeshua (Jesus). Fb/Tw/Li/Ig: Anissa
83. Bukky Adebayo  |   @bukkyadebayo Twitter Bio: Building great products.
84. Danie Banks@DanieHacks Twitter Bio: developer | @thoughtworks| loves social good and conscious hiphop
85. Elena Walom | @elenawalom Twitter Bio: My name is ኢለን. Developer. Creative. #Social#ImpactTech Founder & Executive Director@wocintech. Goddess. Reiki Master
86. Gloria KimBwala |   @gkimbwala Twitter Bio: Developer, Speaker, Mom. #codecamp and #womeng at @Square #womenintech #diversityintech #wocinTech #minorities
87. Jennifer Shola| @breakowt Twitter Bio: Software Engineer. @walkercobrands// Former CODE2040 Fellow. Stanford Grad. I do some other cool stuff…
88. Kamila Taylor | @MissKelleyOhh Twitter Bio: Nulli Secunda. Co-Creator of@paigeandpaxton#EarlySTEM, chef, marketer. My story: http://bit.ly/PVolRl . #STEMMake-a-thons: http://bitly.com/MAKE-A-THON 
89. Kendall Byrd  |  @flylikeabyrd22 Twitter Bio: IMSA '13. Swat '17. @CODE2040 Fellow '14. Prev: Jawbone, JPM. BMT and WCS member. Don't just be good, be good for something. -Dr. McLaren. ANYTHING IS POSSIBLE!
90. Nicole McIntyre| @NikkiAtRayvin Twitter Bio: Web Developer. Universal Music Group. Creative Thinker. Intellectual Athlete. Star Wars Fan. A world full of ignorant people is too dangerous a place to live in am. Living a life of purpose. Founder of @Kahnoodle. GM @Uber_DC
START UP FOUNDERS
91.  AmaMarfo | @AmaMarfo Twitter Bio: Building @flyairfordable– Installment plans for Flights! | ΔΣΘ | Proud Ghanaian
92. Amanda Spann |  @amandaspann Twitter Bio: Technology Publicist, Co-Founder of @tiphubAfrica, Spirit Chaser in Charge at @AlchomyApp, Business Insider's 30 under 30 Women in Tech
93.  Ashley G. Scott  |  @ashleygscott Twitter Bio: #MillennialFounder of @CurlyInCollegebiz inquiries: [email protected]
94. Brit Fitzpatrick  | @BritFitzpatrick Twitter Bio: Interested in the future of learning + opportunity in the Education Economy. Founder+CEO@HeyMentorMe. Director@100GirlsofCode. @HowardU girl.
95. Chanel E'bone   | @chanelebone Twitter Bio: @Myavanahair@MinuteWeave#cofounder & #ChemicalEngineer. My journey in #entrepreneurship &#motherhood. As seen in #Ebony#MSNBC #TheReal #Forbes
96. Chika Uwazie | @ChikaUwazie Twitter Bio:  @ Talentbase ~ HR software for growing enterprises
97. Cheryl Contee |  @ch3ryl Twitter Bio: geek + good = inspirational innovation – Co-Founder athttp://FissionStrategy.com & Attentive.ly; #YesWeCode
98. Dr. Charlene Brown | @reciprocalldoc Twitter Bio: CoFounder & CEO of@ReciproCareAppPlanning Chair for ACPM Annual Mtg (#prevmed16). Alum @harvardmed#innovation #aginginplace #homecare
99. Ella Mbewe  |   @Ella_effe Twitter Bio: Wife |Co-founder@asikananetwork|ITU YIC Ambassador#ict4d enthusiast | I believe Passion plus inspiration leads to fulfillment…
100. Jennifer Daniels | @jentrification Twitter Bio: improving the internet's property value. tech #startup CEO @getcolorstock. adjunct professor. made in #Detroit.
101. Joycelyn Tate | @JoycelynTate Twitter Bio: Tech Startup Co-Founder • Technology Policy Advocate • Radio Host • Public Speaker • Interested In All Things Tech
102. Kellee James |  @Ksemaj Twitter Bio: Markets. Data. Organic & non-GMO agriculture. What else is there?
103. Kelechi Anyadiegwu |  @shopzuvaa Twitter Bio: is founder of Zuvaa, that delivers African fashion to the Diaspora.
104. Kiah Williams |  @kiahjw Twitter Bio: co-founder @sirum(tech getting rx meds to people who need them). Black. Korean. Philly jawn in the Bay Area. Stanford alum. Tweets are my own
105. Kendra Bracken-Fergu | @KendraBracken Twitter Bio: Innovator and Strategist, Ideas Curator, Business Architect, The BrainTrust Creator, Bicoastal Warrior. Co-Founder of @TheRealDBA. #CarpeDiem
106. Laura Weidman Powers | @laurawp Twitter Bio: Co-Founder, CEO of @CODE2040. I like food, startups, yoga, and doing good. I have been to 38 countries. New Yorker in California.
107. Marlo Rencher | @marlorencher  Twitter Bio: Mom. Wife. Entrepreneur. Anthropologist. Co-Founder @snapsureco. Committed to diverse technology entrepreneurship.
108. Mary Farrow  |  @dr_startup Twitter Bio: gramsly.com
109. Maureen Erokwu | @MErokwu Twitter Bio: Founder at Vosmap • Inc's 9 Awesome Black Women Tech Founders to Watch • White House LGBTQ Innovation Fellow •@lesbiantechAdvisor • Focus Fellow 14
110.  Melissa Hanna | @MelissaCHanna Twitter Bio: Founder of http://Mahmee.com , #mhealthfor new mothers. JD/MBA @DruckerSchool@SouthwesternLaw. Bahamian-American & Jewish.#startups #women
111. Morgan DeBaun | @MorganDeBaun Twitter Bio: Founder of @Blavity. Building community through technology. #blavity– [email protected]
112. Nichelle McCall |  @Nichelle_McCall Twitter Bio:  #CEOof @BOLDGuidance, #Tech#Entrepreneur, #Speaker, Coach, Serial Social Enterprise Founder, Lover of Ice Cream, Fries, and my Godbabies
113. Nicole Sanchez |  @NicoleLSanchez Twitter Bio: Startup Founder. Refinery 29′s Most Powerful Women In NYC Tech Harvard Grad. Seen in Fast Company, Elle, Ebony, Essence, and Inc.
114. Rachel Brooks | @RachelABrooks Twitte Bio: Retail, eCommerce & manufacturing innovation. Founder of @CitizenMade. Retail innovation@ThoughtWorks.
115. Regina Agyare  |  @Ragyare Twitter Bio: CEO @SoronkoF, @Techneedsgirls.Fellow at@Ashoka@WashFellowship,@AspenNewVoices,@Wetech_Global,@WEFGlobal Shaper,Featured@CNNAfricanstart, @leaninorg
116. Regina Walton | @ReginaWalton Twitter Bio: Marketing Director at Pole to Win International. I organize @SFTech4Good. I'm a J.D. who chose travel over the bar. Former K-blogger, ExpatJane.
117. Riana Lynn  | @rianalynn Twitter Bio: Entrepreneur. @thefoodtrace,#foodlover, travel. Biologist & Techie. Google – Code2040 Entrepreneur in Residence. Feed the #Futur
118. Tara| @taraw Twitter Bio: AWS Technical Evangelist for Amazon. Previously a Developer Evangelist for Microsoft. Geek Girl changing d world 1 line of code @ a time. My tweets != employer
119 Zuhairah Scott| @Zuhairah Twitter Bio: My name means radiant light & at my best that is exactly what I
TECH EVANGELISTS
120. Aisha Satterwhite  |  @smarttechgirl Twitter Bio: Managing Director @BSD DC. Digital strategist harnessing tech for social change. Website whisperer. Project management evangelist. Local-Global. Views mine.
121. Meredith Hurston |  MHA  |  @meredithhurston Twitter Bio: Speaker. Patient Safety/Healthcare Advocate. Podcast Host. Blogger. Healthcare Influencer. Christian. Social Media Enthusiast. Stanford #MedX #epatient Advisor
TECH INCLUSION ADVOCATES/EVANGELISTS
122.  Adria Richards | @adriarichards Twitter Bio: Technology Instructor. DevOps Engineer. Hackathon Organizer. Empowering People Through Technology. #passthemi
123. Adrianne Burke@2Adrianne Twitter Bio: Down for the cause via technology, rhetoric, and/or carrier pigeons. Whatever it takes.
124. Audrey P. Jones  | @pennycoffee Twitter Bio: I'm a G(eek)!
125. B. Cole  |  @BespokeButch Twitter Bio: Practitioner of the impossible. Obsessed with innovation, life design, race and gender. Godfather to Brown Bois everywhere.
126.  Charryse Johnson  |  @Cjthetechdiva Twitter Bio: God Fearing, Wife, Mother of four sons, entrepreneur, philanthropist, sister, educator, Mrs. RSI Systems, Asthma advocate, STEM Advocate
127. Evelyn Namara @enamara Twitter Bio: Passionate about Innovation & Entrepreneurship, Women in Tech, Empowering Youth & EdTech. Acumen & IDEX fellow, Change Agent ABIE Award '12, ISOC IGF Ambassador
128. Jeneba Jalloh Ghatt | @Jenebaspeaks Twitter Bio: Thinker| Attny| TechYaya;Technical.ly DC|WhiteHouseBlack BloggersSummit|@CisionTop50#ContentMarketing & Top50 RichMedia Influencer Cont:jenebaspeaks(at)gmail
129. Jumoke Dada | @jumokedada Twitter Bio: Believer. Social Entrepreneur. Technista@SignatureRED| @ProjectALOE
130. Linda Anson | @mzanson Twitter Bio: Co founder of Vestracker AB, co founder and president of STEMbees organisation, an entrepreneur and an advocate of STEM
131. LisaLeid | @Digitalnista Twitter Bio: I blog for @innov8tivmag. Creator & Curator of@TechncolorI'm passionate about Social, Digital and all things Tech
132. Lucki Daniels  |  @MyLuckieGroove Twitter Bio: Non-sleeping Creative Spirit. Social Rebel & Eternal Do Gooder. Groove Seeker. Rockin' my Emerging Media Program Manager's cape via @LuckieIsHappy!:-)
133. Lynne d Johnson | @lynneluvah Twitter Bio: Digital Media Strategist tweeting & writing about diversity in tech, as well as media, marketing, Augmented Reality, apps & gadgets.http://lynnedjohnson.com
134. Marlo Rencher  | @marlorencher Twitter Bio: Mom. Wife. Entrepreneur. Anthropologist. Committed to diverse technology entrepreneurship.
135. Marieme Jamme | @mjamme Twitter Bio: CEO @Spot1Global– Tech & Education Activist Investing in Girls/Millennials via #STEM@YGLvoices2013 @africagathering – Founder of @jjiguenetech@Accur8Africa
136. Monique Woodard | @MoniqueWoodard Twitter Bio: Founder & ED @blackfounders | Product person. Building things for consumers, commerce, & cities. | Internet rules everything around me.
137. Nadia | @nalei Twitter Bio: Digital Strategist, operator of a Media Center in Africa. Holding a glass of bourbon, clutching a passport. Strategic accounts @hootsuite, @invoke,@red.
138. Ritse Erumi | @RitseOnline Twitter Bio: Afrophile. Daughter of the #NigerDelta. Techie.#ICT4D#PhD Stud: #GlobalDev #InclusiveInnovation#DigitalGenderGap #SMEs #WomenEntrepreneurs // RTs != endrsmnt
139. Ruth Mesfun  |@ruthmesfun Twitter Bio: Co-Founder of @pocintech|@TeachForAmericaAlum |@FlatironSchoolCS Education Fellow | CS Teacher
140. Shireen Mitchell | @digitalsista Twitter Bio: speaker, founder, thought igniter in media, tech & politics; Investigator of the #UnusalSuspects~Geekette Grad '84~
141. Stacy Brown-Philpot | @sbp04 Twitter Bio: ExGoogler, creator of Black Googler Network, now Hewlett-Packard Board member and TaskRabbig
142. Tierra Filhiol | @TierraFilhiol Twitter Bio Founder TALENT100. Champion for inclusive#tech, education equity.@umichalumna. Social #digital#advertising @doner_agency. Tweets are my own.
143. Tiffani Ashley Bell@tiffani Twitter Bio: Executive Director at @DETWaterProject. YC W15.@HowardUalumna. 2014 @CodeForAmericaFellow. Rails + iOS dev. Not for hire. Water is a human righ
144. Tiffany Crawford | @CREATEbyTiffany Twitter Bio: Founder and CEO, CREATE Leadership Institute,#womenleadersnetworkCultivating #confidence,#freedom, and #sisterhood in #leadershiphttp://events.createleaders.co 
TECH INSTRUCTORS/PROFESSORS
145. Allissa Richardson | @ProfAlliRich Twitter Bio: Passionate about #mobile#journalism. Harvard Nieman Fellow. Apple Distinguished Educator. Mobile Media Prof. @BowieStateU. Founder of MOJOPro. Wife + Mom!
146. Bretta Nitra | @bretta75 Twitter Bio: Entrepreneurship Professor – Creativity, Clean Tech, Innovation. Detroit Native. Organic Living. Foodie. World Traveler. Living God's Life. Join my Journey!
147. Hadiyah Mujhid | @hadiyahdotme Twitter Bio: Software Engineer + Startup Aficionado. Co-founded@blackfoundersand sw agency Playpen Labs (http://playpenlabs.com ). Teaches at @hackbright. UMES alum
TECH MEDIA/TECH JOURNO
148. Amber Jackson | @strivemg  Twitter Bio: Amber J. #TechDivaDips#FishBowlRadioNetworkhttp://techdivadips.com  ITunes http://ow.ly/ntw4u  Websites-Graphic Design [email protected]
149. Jenna Wortham  |  @jennydeluxe Twitter Bio: Staff writer @ NYT Magazine #ybaBlackFuture.us; Bloop
150. Keisha Reed  |   @TechGirlTweets Twitter Bio: Tech wrangler | Doin' it for the 99 and the 00′s. | #navigatethenoise
151. Shauna Stuart |  @ShaunaReporter Twitter Bio: Obsessed with where journalism meets community. Eye on the Caribbean & Africa. #Documentarypurveyor. Lover of@BlackGirlsCode. Janelle Monae disciple
152. Sherri Smith  |  @misssmith11 Twitter Bio: Tech and games journalist with a passion for good food and better drink. Got a tech or gaming question? I'm your woman
153. Stephanie Humphrey  |  @TechLifeSteph Twitter Bio: Tech-life expert on-air@fox29philly&@HuffPostLive | #Tech writer@EBONYmag | ask me about my signature #SocialMedia seminar for young people and parents!
154. Tori | @LovinTori Twitter Bio: @GlassesNGlitter #Tech-geek by day…an addict of#shoes, #fashion, and #technology in general by night (or while on break at work!!). #BLMGirl
TECH POLICY
155. Dr. Nicol Turner Lee  |  @drturnerlee Twitter bio: tech guru, social scientist, social entrepreneur, innovator and change agent
156. Erin Horne McKinney |  @erinhmckinney Twitter bio: tech policy guru, communications scientist, entrepreneur, visionary, what-if specialist, and game changer! You may not recognize me without my cape!
157. Joycelyn James | @jfjamesesq Twitter bio: Advocate for diversity & inclusion in all things media, tech & STEM related. Enjoys a good policy debate. RT not endorsement. Proud Howard Bison.
158. Kristal High Taylor | @KristalHigh Twitter bio: Advocate. Momtrepreneur. Telecom. Tech. Economic Development. Civic Engagement #BWYP
159. Ory Okolloh Mwangi | @kenyanpundit Twitter Bio: Mama of 3 girls who will run the world, Omidyar Network Africa, ex-Google Policy Manager Africa, co-founder Ushahidi & Mzalendo, Time 100, Kenyan patriot.
160. Tatiana King Jones | @TatianaKing Twitter Bio: Grand Duchess of Tech™. @FanBrosShowHost/FanBros.com EIC. Black Russian. @HowardUAlumna. Atypical Nerd. WizardFromTheMoon. [email protected]
TECH RECRUITER
161. Alexandria Spiva@alexandriaspiva Tech Recruiter. Silicon Valley. For the people. In another life, I'd be a pastry chef. In this life, I have no skills. Your job: Inform me. Tweet me. Link me.
Jay Jay Ghatt is also editor at Techyaya.com, founder of the JayJayGhatt.com and JayJayGhatt.com where she teaches online creators how to navigate digital entrepreneurship and offers Do-It-For-You Blogging Service. She manages her lifestyle sites BellyitchBlog, Jenebaspeaks and JJBraids.com and is the founder of BlackWomenTech.com 200 Black Women in Tech On Twitter. Her biz podcast 10 Minute Podcast is available on iTunes and Player.fm. Follow her on Twitter at @Jenebaspeaks. Buy her templates over at her legal and business templates on Etsy shop!