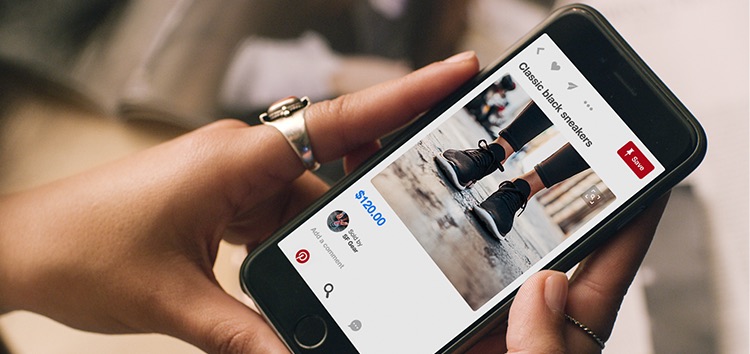 A lot of my fellow content creators who realize they get most of their traffic from the social sharing platform, Pinterest, are finally starting to take it more seriously and dedicate more of their lives to learning the platform and growing their followers.
I am too. I started last year to shift priorities to it given that I have several viral pins that bring in thousands of visitors weekly.
This is my last month's performance, for example: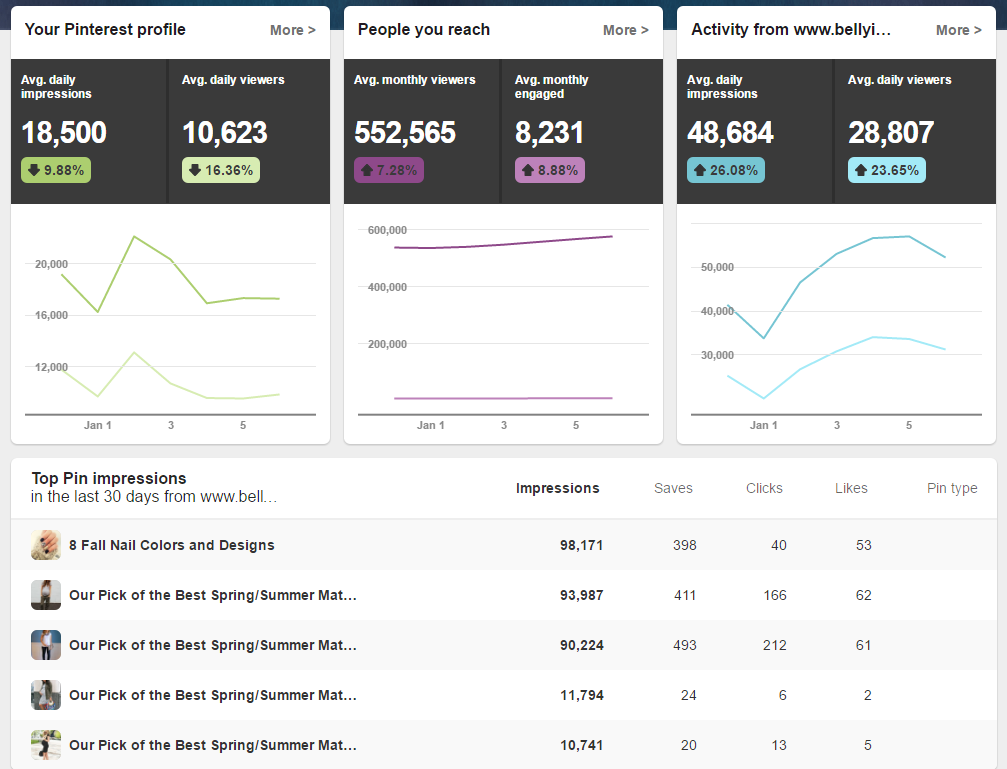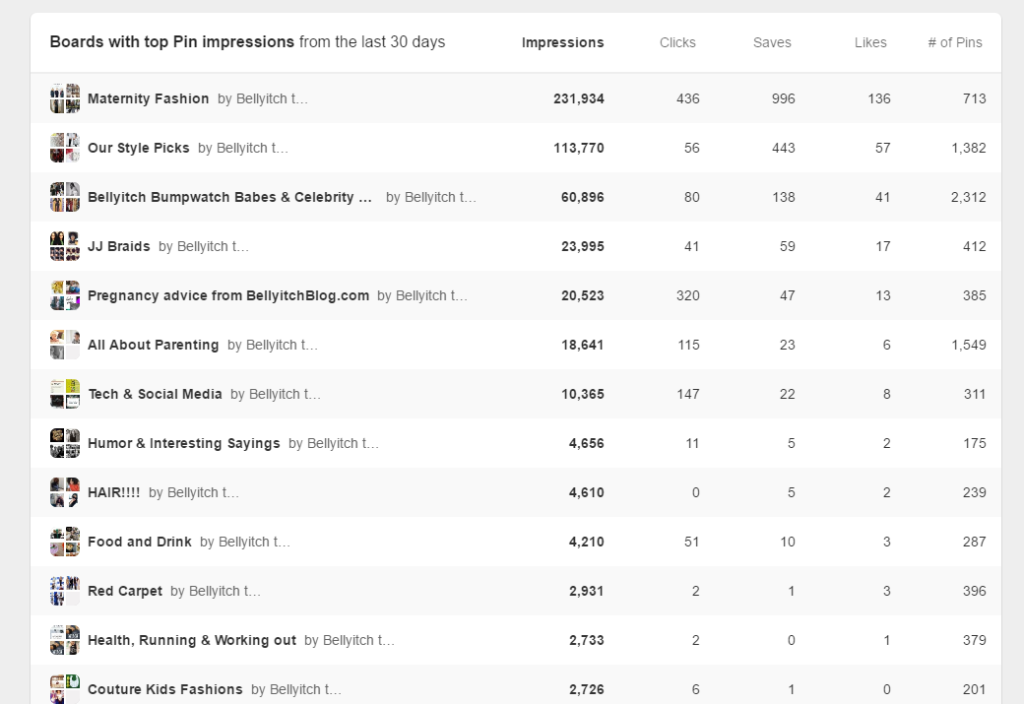 As you can see from these charts, Pinterest is generating over a half a million monthly viewers to my pins alone. I've been successful in getting several pins to go super viral. This is my most popular one to date with over 30,000 people having repinned it!
This is a lion share of the traffic to that particular blog and eclipses traffic from Facebook, Twitter, Google Search, Linked in and Google Plus. 
I am going to share with you the two amazing and wonderfully effective and powerful tools that I (and other great Pinterest account holders) use and plan to use more to continue to grow my Pinterest following and use it to drive traffic to my websites and sales of the various products and digital services and products I also sell:
Tailwind
Before Pinterest started sharing analytics with users (the above) image is from Pinterest, a company called Tailwind was ahead of them in the market. I signed up and have had an account for a few years now.
It is free to sign up (you can sign up here using my affiliate link). Tailwind tracks repins, follows and comments on your pins and boards. It sends you a weekly summary which lets you know how well (or bad) you did compared to the previous week. It also tells you which of your pins did the best and so you know to continue to pin that type of image to maximize results.
Tailwind lets you track your brand performance. The Profile Performance charts let you know how  your pins are doing across all boards. Here is mine for the past 7 days: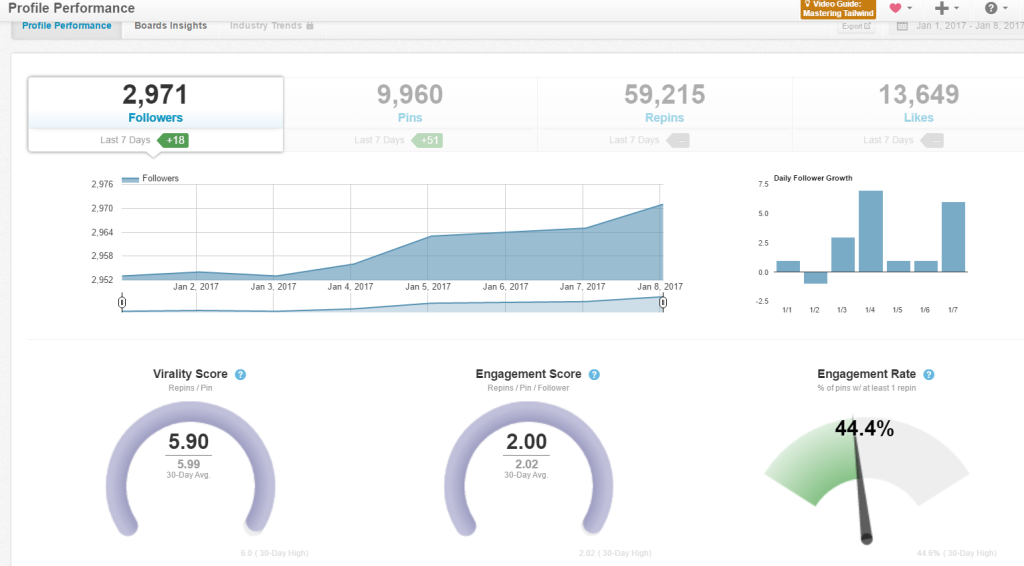 The Board Insights data tells you how well each of your boards are doing compared to each other and presents them from most engaged down. From this intelligence, I know that one of the group boards I belong to is getting very high engagement and it would be in my best interest, to pin to that board, including some content directly from my site as well because it will get more engagement there.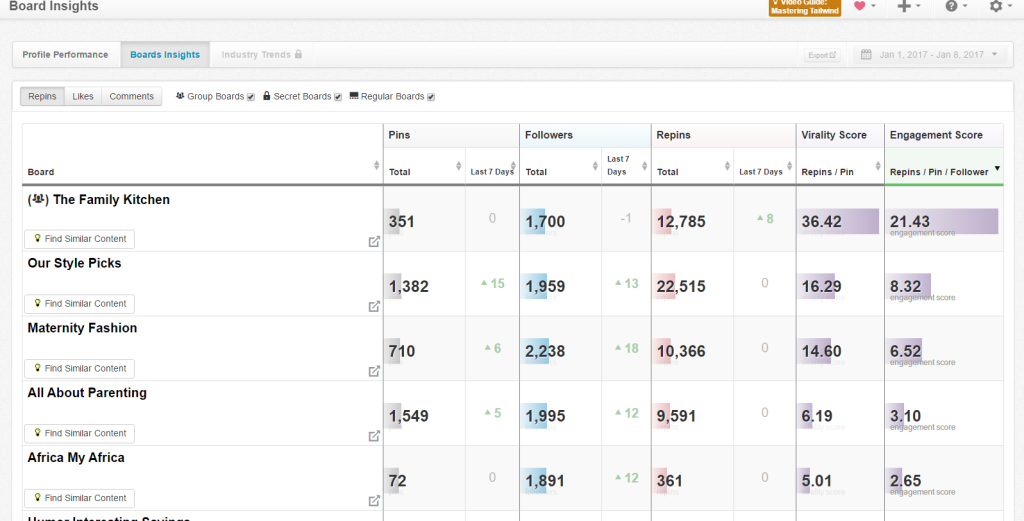 With its new Pin Inspector,with the click of a button, I can have Tailwind automatically repin content from my website, or from Pins already on pinterest! It's a great way to cycle out Pins and randomly through the day.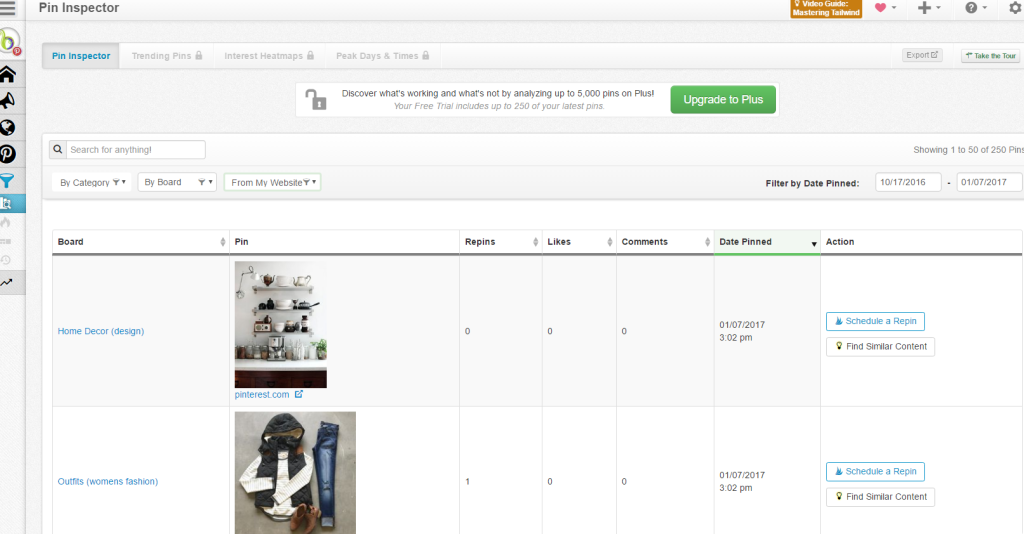 Because you cannot physically sit at your computer pinning all day, Tailwind does it for you! If you click the "Find Similar Content" button, Tailwind will search Pinterest and pull up similar content from global Pinners. Because you should be pinning 80% others content and only 20% of yours, this functions helps you maintain that formula and come of as a good Pinner to follow. Self-promotion only is a no-no in marketing.
Pin Automatically from Your Site Without Having to Open up your website
Sometimes, you forget to pin your own content. So, by selecting the "Monitor Your Domain" function, Tailwind will pull up images from your website and makes it super easy for you to pin them without having to go to your site, pull up specific posts and pages and pin from there. Tailwind takes out several steps in that process. You cannot get any easier than that!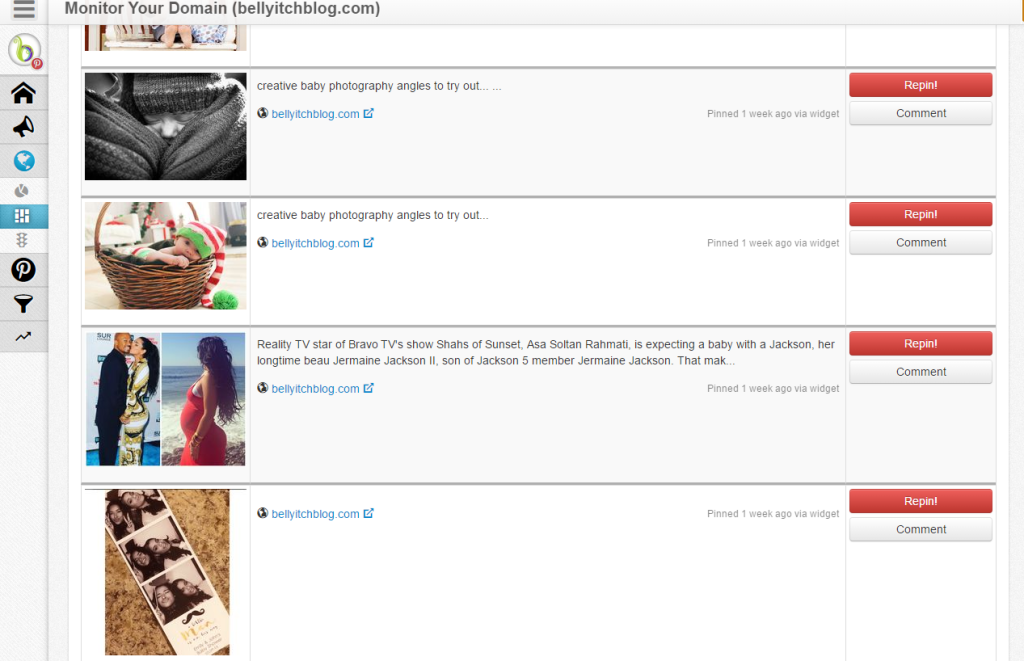 Pin from Instagram
Tailwind has a brand new function that allows you to pin content directly from your Instagram account (or any account you manage as I manage 8 personally right now). I love this new function because it is a great way to also grow your Instagram following.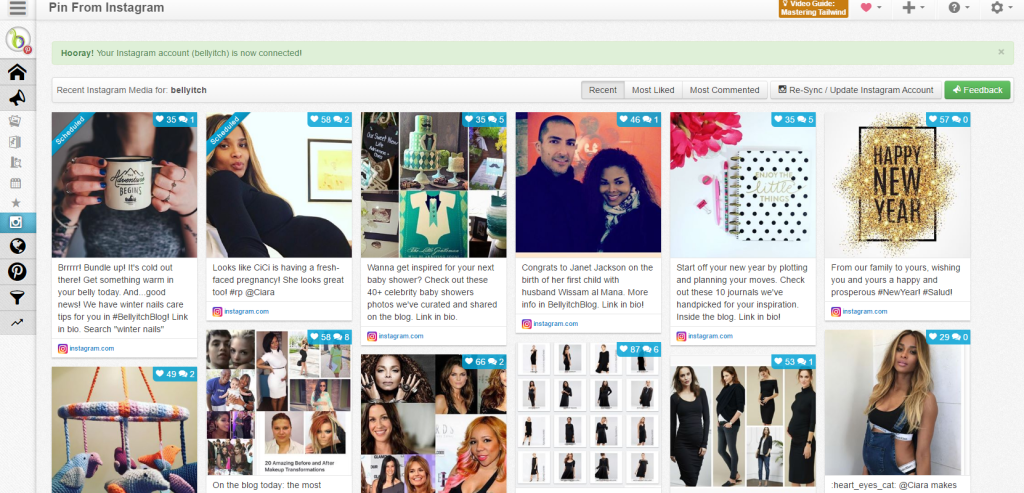 Tailwind will give you suggestions on ways to optimize your profile. For example, it reminded to add an industry to my profile and to add a description to one of the newer boards I just created. Nice reminder!
There are several other insights you can get if you upgrade to a monthly plan (starting at just $9 per month) but you get all of the above on the basic FREE plan for now so sign up and get to using Tailwind NOW!
The second tool I use (and am using more regularly) to accomplish my Pinterest 2017 goals is Boardbooster. I used this newer service towards the end of my 2016.
Boardbooster is similar to Tailwind in that it will let you select pins to auto pin for you throughout the day.
The way it works is that it creates clones of up to 18 boards or so. You then add pins to the clone boards that Boardbooster makes secret for you. Then, throughout the day, on an automatic basis, Boardbooster releases the pins so it appears as if you have pinned them!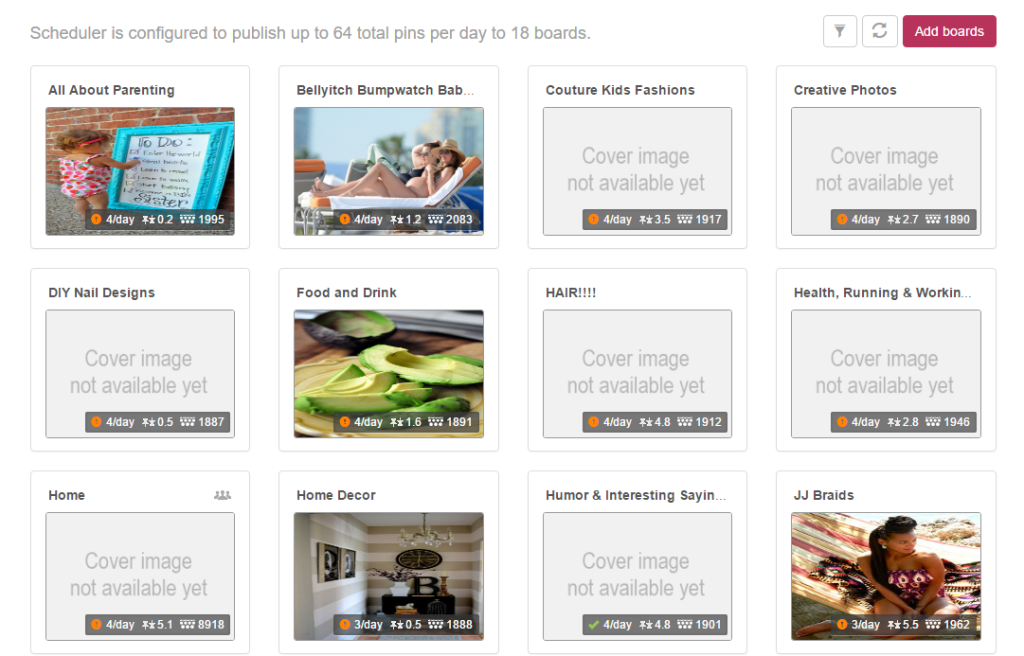 The difference between this and Tailwind is that it automates it for you and you don't have to manually set it to auto pin. Once you add the pins to the secret boards by pinning them there, Boardbooster does the rest.
I used to take about a half hour each day to simply top up the board. For the Free plan, it will only auto pin 3 pins daily for you across all your boards and there is a max of 18 boards.
For just $5.00 per month, you get up to 500 repins!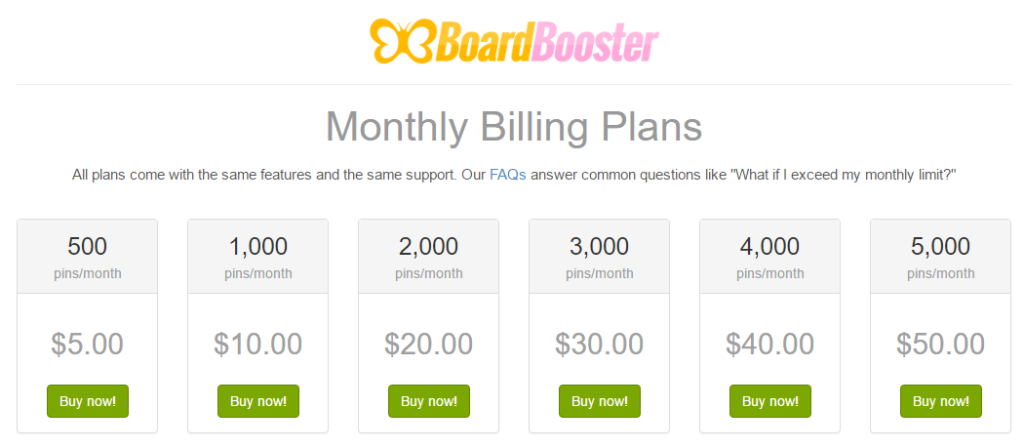 That's a small price to pay for the increase in followers, repins and comments you will get, all which should net you more traffic and sales if you play the entire game right.
Some people seem to think that they cannot master social media for marketing because they don't have the time to do it, but it only takes a commitment of maybe one hour a day or week to go through these two tools.
The Take Away
If you follow these rules, and use the above tools, you'll be on your way to becoming a master Pinner and maximizing traffic and sales in no time!
Learn from what the analytics teach you and adjust your content and pins accordingly so you are pinning what gets the most repins and engagement!
Select others' content and set them up to auto pin so you can meet the 80/20 rule for sharing content.
Then, use the tool that will let you pick from images in your past posts to pin on your boards and onto those boards that your Tailwind analytics tell you perform the best.
Follow a set number of pinners per day and grow your following from those who will follow back.
Monitor traffic to your sites/pages with eCommerce on them and make sure those

pages are optimized and prepped to attract and convert

some visitors into sales.
Make sure you regularly pin products from your sales pages or products of your Amazon, Shopstyle or other affiliate products  periodically and ensure that they are filtering through and reaching potential customers. (Make sure you pin actionable pins of the products in their inspirational use and not just products with plain white background, as the former convert way better!)
Good luck everyone!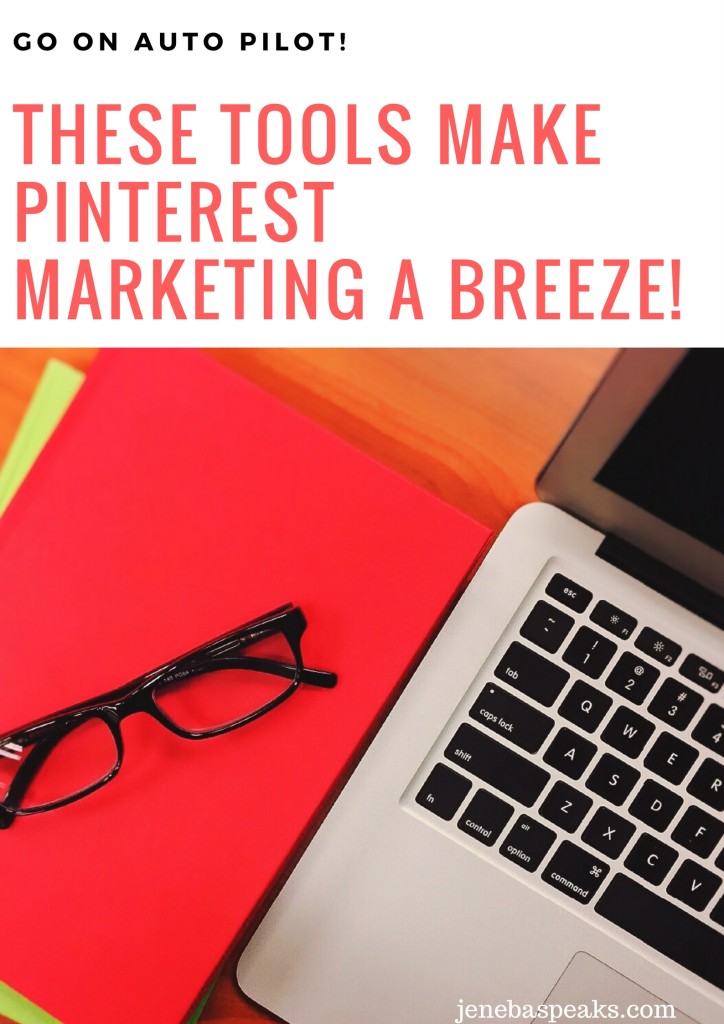 Jay Jay Ghatt is also editor at Techyaya.com, founder of the JayJayGhatt.com and JayJayGhatt.com where she teaches online creators how to navigate digital entrepreneurship and offers Do-It-For-You Blogging Service. She manages her lifestyle sites BellyitchBlog, Jenebaspeaks and JJBraids.com and is the founder of BlackWomenTech.com 200 Black Women in Tech On Twitter. Her biz podcast 10 Minute Podcast is available on iTunes and Player.fm. Follow her on Twitter at @Jenebaspeaks. Buy her templates over at her legal and business templates on Etsy shop!