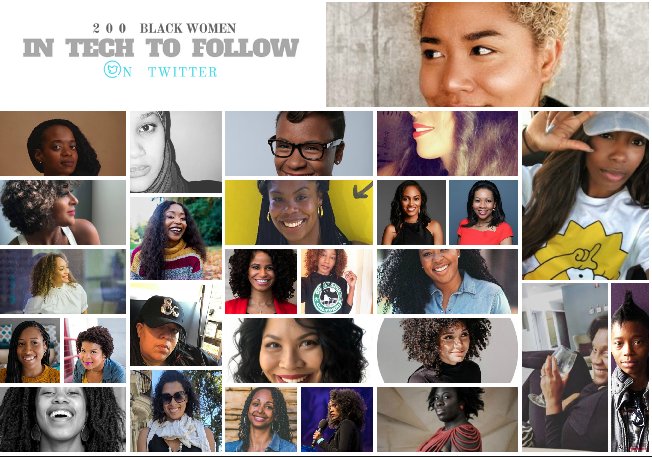 So after a full year of hiccups and delays, I finally published the 2018 version of my annual list of
200 Black Women in Tech to Follow in Twitter!
For those of you who follow this blog, you know this list is a labor of love that I put out for the cause not for the applause yet it feels good to see these women get the attention they deserve for all the time they put in sharing good intel, deets, information, news on tech and tech inclusion and just being their same wonderful selves every day out here in these tech streets. I want to shout out
Shari Hunt
for stepping up this year to help me out and update the list. We replaced accounts that were no longer active, have moved on from tech, do not tweet as much or that are now protected and private. We replaced them with a bunch of code newbies and younger women in the field I noticed were making waves and making sure their voices were heard. Hacker Noon published the post and as can be expected,
at least one person
hopped on my mentions to ask when will the list of
"200 White Men To Follow On Twitter"
be released. There is always one! As I tweeted back, there is rarely a peep about our systematic exclusion on every "who to follow" list that has come out since Twitter was created given close to 100% of those list have ZERO Black Women on them.
I shouldn't have replied to a troll account but I'm glad I did to put the discussion to rest for any would-be future detractor. Anyway, you can check out the
list published on HackerNoon on Medium HERE
or on the
official Black Women Tech page here
!
Methodology
: We selected those who update their accounts regularly, and usually share news, information, images, ideas and tips related to inclusion, the celebration of diversity in tech and the elevation of underrepresented groups. Ideally, the majority of the content shared by these women is not self-promotional but instructive and shared to edify followers while expressing themselves, their passions and their opinions and authentic selves. We could not add accounts that are set to Private.
What's New:
This 2018 year of honorees includes a lot more code newbies and active members of the Twitter community that are millenials, many are college students and young professionals, innovators and founders who are under 25. We wanted to maintain a robust list of active users of this social media platform's most informative, influential and engaging tweeters!
FOLLOW ALL:
If you are on Twitter, you can follow everyone on this list at once by following this
Twitter List!
Jay Jay Ghatt is also editor at Techyaya.com, founder of the JayJayGhatt.com and JayJayGhatt.com where she teaches online creators how to navigate digital entrepreneurship and offers Do-It-For-You Blogging Service. She manages her lifestyle sites BellyitchBlog, Jenebaspeaks and JJBraids.com and is the founder of BlackWomenTech.com 200 Black Women in Tech On Twitter. Her biz podcast 10 Minute Podcast is available on iTunes and Player.fm. Follow her on Twitter at @Jenebaspeaks. Buy her templates over at her legal and business templates on Etsy shop!