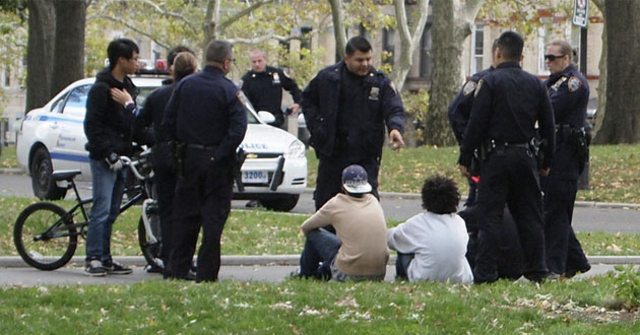 In my third installment of my new VLOG series, in which I expound on pop culture, politics & current event topics discussed on Twitter, I take on Stop And Frisk and the #DonLemonOn hashtag created in #BlackTwitter spoofing the CNN anchor's defense of NYC's controversial "stop and frisk " policy!
This week, an appeals court decided, on request of outgoing New York City mayor Michael Bloomberg, to let NYCs police department stop and frisk policy continue while a challenge to it works its way up the appeal process. A lower court district judge had decided that the blanket and pervasive stopping of all basically all black and Hispanic young men in certain neighborhoods, amounted to a violation of the Fourth Amendment of the Constitution because officers did not have any reasonable suspicion to warrant most stops, but just did it carte blanche on any kid which fit a certain description based solely on their race.
 The US Supreme Court in a 1968 case, Terry v. Ohio gives police the power to pat down people they want to interrogate who they have a reasonable suspicion may have committed a crime or may be in the process of doing so. But the NYC police force, under Bloomberg have watered down the standard and frisk kids whether they did anything to warrant it or not. 

The result has been wanton, regular and repeated violation of the civil liberties of those frisked with a total disregard for the constitutional standard. And the beneficiaries have almost all been minorities — the good, bad and in between.
Over the past decade, New York Police significantly increased its stop and frisk rate, I wrote on a piece on UrbanFaith.com. Between 2004 and 2009 police stopped 2.8 million people and Blacks were among 50% of those stopped. Latinos 30% and whites were merely 10% of that population.
But the supporters of the policy have said the results have been more arrests and convictions and safer streets, and thus Lemon chimed in on it.
On his segment on the Tom Joyner morning show, Don Lemon, CNN anchor said that while he opposed personal violation and wouldn't like to be stopped & frisked himself, he felt it was a needed trade off for safer seats. 
""The question is, would you rather be politically correct or safe and alive?" he said.
Jay Jay Ghatt is also editor at Techyaya.com, founder of the JayJayGhatt.com and JayJayGhatt.com where she teaches online creators how to navigate digital entrepreneurship and offers Do-It-For-You Blogging Service. She manages her lifestyle sites BellyitchBlog, Jenebaspeaks and JJBraids.com and is the founder of BlackWomenTech.com 200 Black Women in Tech On Twitter. Her biz podcast 10 Minute Podcast is available on iTunes and Player.fm. Follow her on Twitter at @Jenebaspeaks. Buy her templates over at her legal and business templates on Etsy shop!