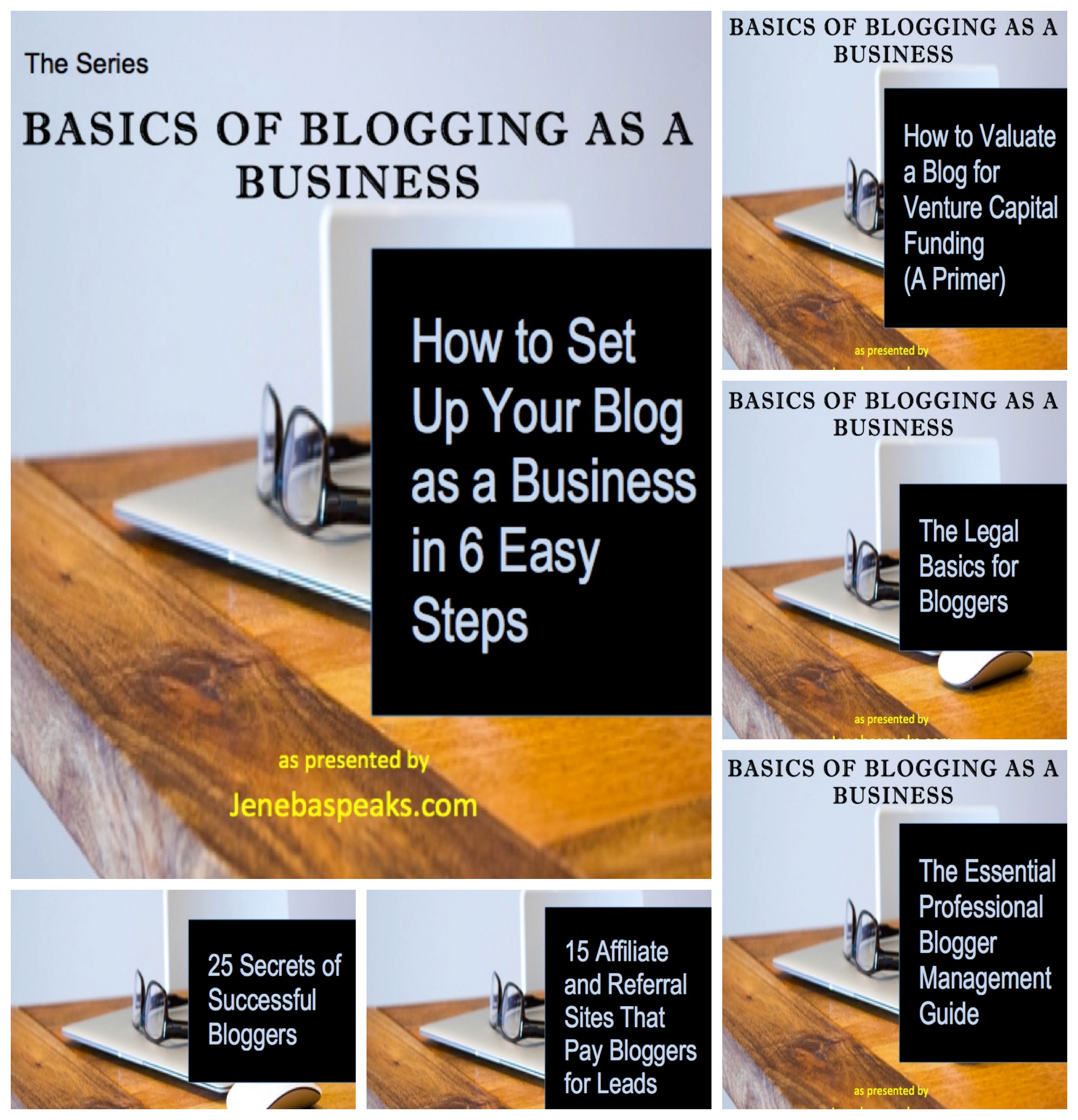 Some people blog as a hobby, to chronicle an experience, moment or event in their lives they're living thru or just to organize thoughts or photos. Others blog to share their journey or simply to spout their daily musings and perspectives on various topics.
Something happens when daily journaling starts to grow a large following and to catch the attention of content and brand partners or other media. When a blogger realizes he or she has opportunities to make substantial earning from blogging, it's time to get serious. There are a series of steps and things needed to be done to make a blog a true business like traditional ones.
This series derive from a handful of popular posts I've published on this Poli-Tech blog, Jenebaspeaks.com. Each was highly searched and received tons of traffic from people all over the world looking for quick advice. It made sense to encapsulate the solid tips and suggestions found in those posts and organize them into an ebook series.

This first book in the series, How to Set Up Your Blog as a Business in 6 Steps (Basics of Blogging as a Business Book 1)
 covers all the things one needs to know to set up the blog so it can be run and grow just as any brick and mortar business. The overhead costs for web-based businesses are still minimal compared to traditional small and micro businesses but when venturing out to earn revenue, there are a few items and services that would need to be invested in so the blog can grow to the next level. This First Volume in the Series offers all the basic things that may not be as intuitive and could be overlooked.
It is a quick and digestible read that readers can turn to as a reference guide.
DOWNLOAD this First eBook in the series HERE!
Jay Jay Ghatt is also editor at Techyaya.com, founder of the JayJayGhatt.com and JayJayGhatt.com where she teaches online creators how to navigate digital entrepreneurship and offers Do-It-For-You Blogging Service. She manages her lifestyle sites BellyitchBlog, Jenebaspeaks and JJBraids.com and is the founder of BlackWomenTech.com 200 Black Women in Tech On Twitter. Her biz podcast 10 Minute Podcast is available on iTunes and Player.fm. Follow her on Twitter at @Jenebaspeaks. Buy her templates over at her legal and business templates on Etsy shop!