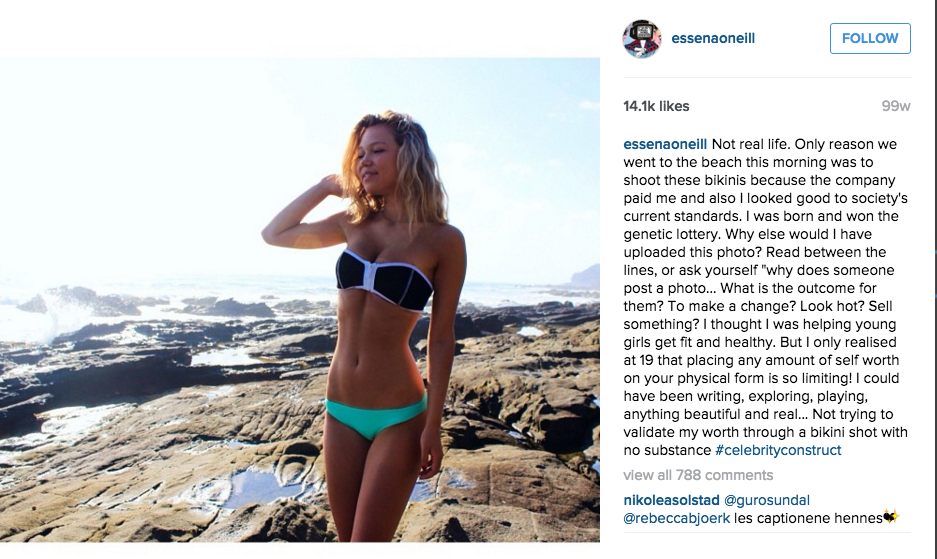 Uh oh!
Another digital #TeamInternet superstar has lost it and quit social media.
This time Australian IG model Essena O'Neill has given the royal middle finger to the fame and money that she won by being a super cute girl with a hot body that many people loved to follow and emulate.
What could have gone wrong? Too much too soon, maybe?
Well, it looks like O'Neill who used to get paid hundreds and thousands of dollars to promote products to her YouTube  and Tumblr (250,000 followers) , Instagram (5,700), and Snapchat (60,000 views), has had enough with the smoke and mirrors
(I know I'm doing the most with the cliches tonight. *snicker*)
It's all BS and she lets her audiences know on her new website (http://www.letsbegamechangers.com/) dedicated to disconnecting from social media and encouraging us all to be "change agents" while living in the present.
"I didn't live in the real world, I lived through screens," the 18-year old enlightened one pens. "And I created a celebrity construct of myself, believing it would bring me happiness. That couldn't be further away from the truth… I no longer want to spend hours and hours of my time scrolling, viewing and comparing myself to others."
Aaah! Growth.
O'Neill left a series of messages on IG before nixing her entire account.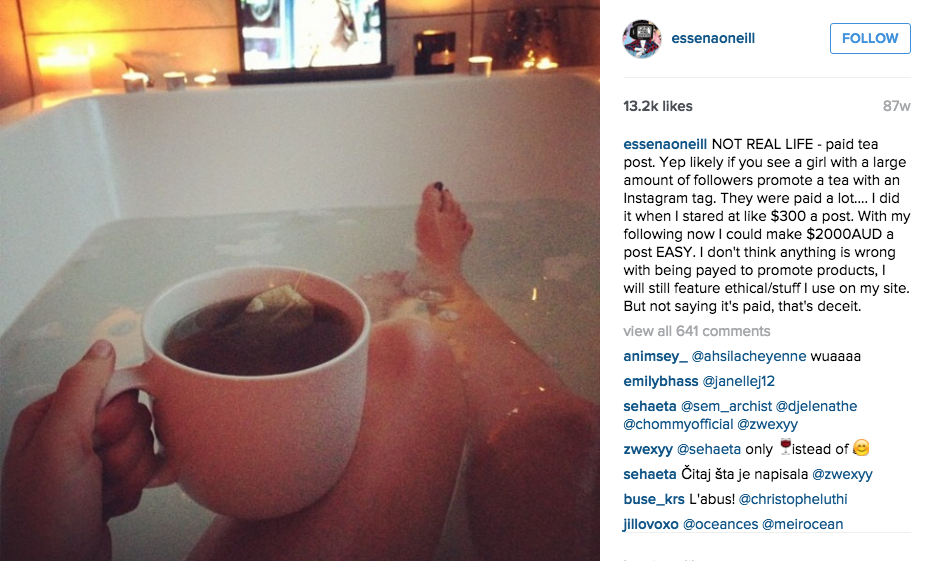 "Social media allowed me to profit off deluding people," O'Neill writes, admitting to being a "content creator." This is a brave admission for an individual who has cultivated an image of effortless beauty.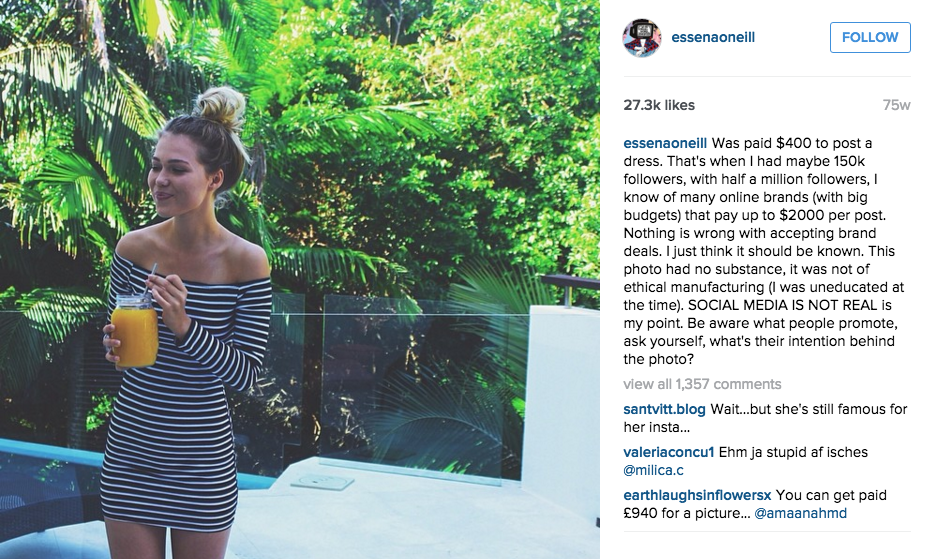 Forbes summarizes it well in a recent article on O'Neill defection:
There are few specifics regarding O'Neill's earnings from Instagram, but she is one of many bloggers who generate income from their social media presence. Thomas Rankin, CEO of Dash Hudson, a program which makes Instagram posts "shoppable," told Harper Bazaar that a user with hundreds of thousands of followers can earn anywhere from $500 to $5,000 a post. With over six million followers, payment is closer to $20,000 to $100,000 a post.

Though O'Neill is one defector out of nearly 400 million Instagram users, she has shed light on the business behind the virtual trappings of perfection. "Be aware what people promote," she writes in the new caption of one of her Instagram photos. "[A]sk yourself, what's their intention behind the photo?"
There you have it. We wish her well.
h/t Forbes: http://www.forbes.com/sites/hayleycuccinello/2015/11/03/instagram-star-essena-oneill-quits-social-media-exposes-the-business-behind-her-pics/
Jay Jay Ghatt is also editor at Techyaya.com, founder of the JayJayGhatt.com and JayJayGhatt.com where she teaches online creators how to navigate digital entrepreneurship and offers Do-It-For-You Blogging Service. She manages her lifestyle sites BellyitchBlog, Jenebaspeaks and JJBraids.com and is the founder of BlackWomenTech.com 200 Black Women in Tech On Twitter. Her biz podcast 10 Minute Podcast is available on iTunes and Player.fm. Follow her on Twitter at @Jenebaspeaks. Buy her templates over at her legal and business templates on Etsy shop!