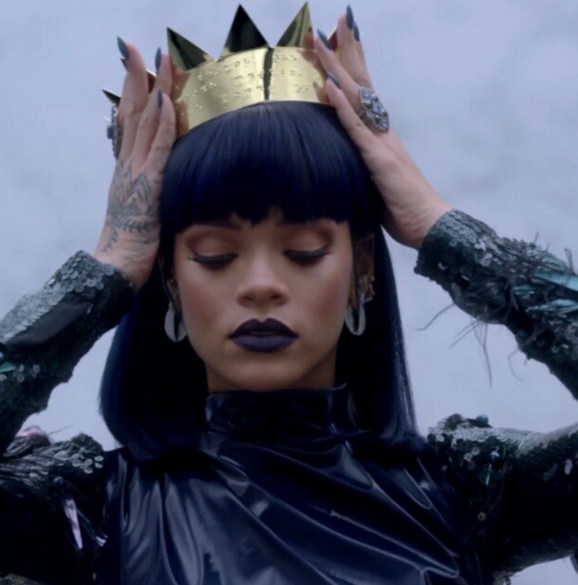 Rihanna's Mic-Dropping Free "Anti" Album Release could have Just Disrupted Multiple Industries in a major way.
Pardon Ms. Fenty as she adjusts her crown.
The multi-platinum, multi-award-winning, lifetime achievement award-having 27-year old just dropped her latest and very much-anticipated album, "Anti" for FREE to all tonight, shortly before midnight on January 27.
[ADDED NOTE: You do NOT need to be a Tidal subscriber to get it or hear it. Simply download it to your computer and listen to it on whatever music player you have on your desktop. I did. You need Tidal to hear the streamed version but not to get the album]
There are at least 3 take-aways I can surmise from the way and means the pop star released her 8th studio album.
One lesson for the record industry , another for the content marketing industry and one more for the JayZ-invested music streaming service Tidal that Rihanna is associated with.
Lesson One is for the record industry. It is official, if it was uncertain before, artists who have built brands so lucrative and so influential are really now more powerful than the traditional record labels.
A sponsor like Samsung, who apparently is footing the bill for us all (I'm thinking for a limited time) would pay to the artist directly what she would get from a traditional label after deducting the label's reimbursement costs for production, marketing and other expenses associated with producing and promoting the album.
Oh and about promotion. Social media nixed all of that. Who needs traditional media marketing when you got 32 million followers on Instagram and 55 million on Twitter as RiRi does?
She was able to tease up the album for months and then days to the release building anticipation on her own. She loaded it up with enough questionable Satan related imagery to all keep the Illuminati conspiracy theorists busy for the next 12 months!
No thanks Sony, Universal, Epic Records. You can keep your posters and TV commercials.
This is disruption personified.
Brands can get access to legions of buyers in one fell swoop. It means the record industry may have lost a major foothold they once had on their artists. I mean, even YouTube stars have millions of followers in social media.
Lesson Two: For all the money, time and effort that content marketers, growth hackers and other marketing and advertising professionals spend curating followings and struggling to convert likes, eyeballs, views into customers, this experiment could show that major influentials like celebrities still have tremendous pull.
There has been talk recently of many brands and companies abandoning celebrities for social media, bloggers and other less costly influencers.
So it will be interesting to see what Samsung's numbers look like at the end of this all.
Lesson Three: This could be an "I told you so" moment for Jay-Z's streaming company Tidal which has been languishing for a while now in irrelevancy land in terms of the streaming music market
Apple released its own streaming service and quickly amassed 10 million paid subscribers in 6 short months. That is a little under half of Spotify's 25 million paid users which it took 8 years to accumulate. (Granted, it had to wade through industry, market trends and audience fickleness and affinity for "free")
Still no one has mentioned Tidal in eons!
But here we go!!
This could be a game changer if this risk pays off.
Rihanna's Navy of fanatical fans who call her their Queen, other less die-hard fans and the curious (like myself) just gave up our email addresses in order to get the album for free.
And by "free" I mean the opportunity to be marketed to by Tidal and whomever else they pass our email on to…in the near future.
The landing page after you cut and pasted the link from Rihanna's Twitter and Instagram account had a convenient and attractive Call to Action offer: 60 Days Free!!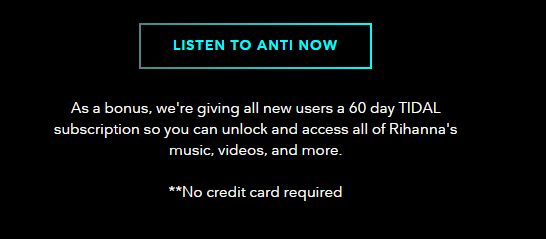 It's not the 3-months free Apple offered, but unlike with Apple, you don't have to leave a credit card that you may fear will be auto deducted (like mine was) if you forget to opt-out of the full monthly service.
Tidal is learning about the nature of its youthful tightwad market.
Lure them in then get them hooked and retain a healthy portion of the auto-opt in users and finally start making a dent.
They should have done that in the first place.
Better late than never. We'll be watching to see if this works out.
I like to root for the underdog, albeit a bunch of filthy rich underdogs, but still.
Jay Jay Ghatt is also editor at Techyaya.com, founder of the JayJayGhatt.com and JayJayGhatt.com where she teaches online creators how to navigate digital entrepreneurship and offers Do-It-For-You Blogging Service. She manages her lifestyle sites BellyitchBlog, Jenebaspeaks and JJBraids.com and is the founder of BlackWomenTech.com 200 Black Women in Tech On Twitter. Her biz podcast 10 Minute Podcast is available on iTunes and Player.fm. Follow her on Twitter at @Jenebaspeaks. Buy her templates over at her legal and business templates on Etsy shop!