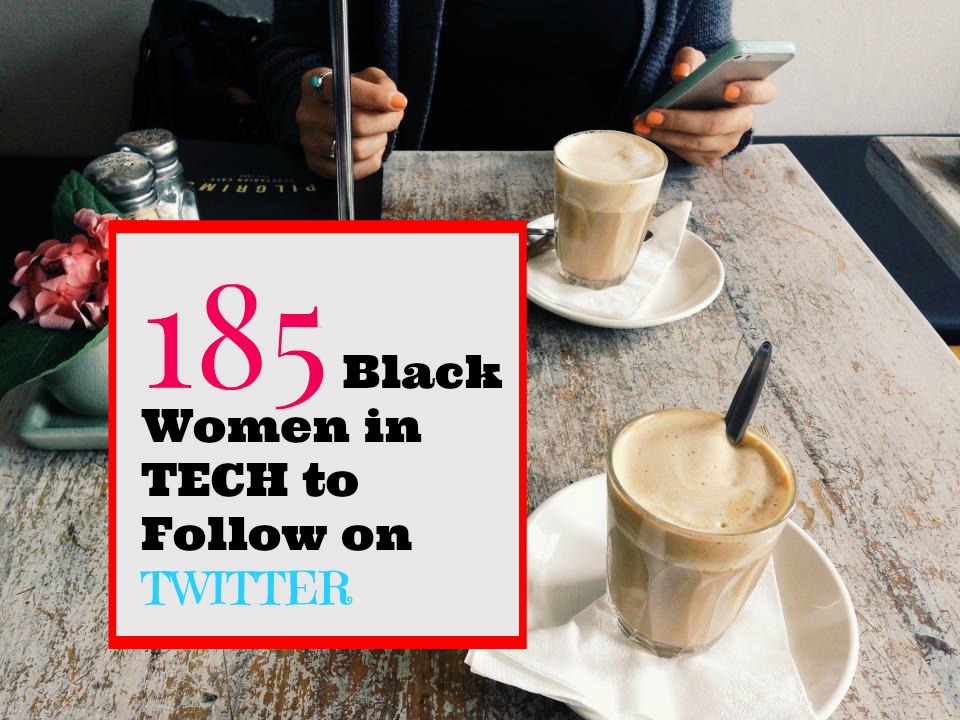 After publishing my list and infographic of 161 Black women in tech to follow on Twitter last week, I've heard from various people who have suggested others.
I also realized that I totally forgot to include my Angels/Investors category altogether which featured a woman referenced much in the piece. Doh!
Therefore, I've updated it to include the following people. You can see the new Infographic featuring 185 Black Women on Twitter below this list.
Get a high def download HERE!
ANGELS/INVESTORS
Arlan Hamilton  | @ArlanWasHere Twitter Bio: Investor/Managing Director at@Backstage_Cap, Tour Manager@janine_mixtape, Creator@ModernLWord | hella #lesbian | GeneralHospital foLYFE | Trillmore Girl™
 Kathryn Finney @KathrynFinney Twitter Bio: Founder/Speaker/Investor/Wifer/Mother.@digundiv, @rewritethecode,#projectdiane, @budgetfashion (sold). More info: http://kathrynfinney.com 
Lauren Maillian @LaurenMaillian Twitter Bio: Author of The Path Redefined, mom to remarkable children, marketer, brand builder, founder of an award-winning wine brand at 19. Startup advisor and investor.
Rebecca Enonchong @africatechie Twitter Bio:  African Tech Entrepreneur. Founder & CEO@AppsTech and @IOSpaces. Boards:@ActivSpaces @ABANAngels @VC4Africa@African_Media @CameroonAngels@SalesforceOrg
Sarah Kunst @sarahkunst Twitter Bio: @prodayco founder. investor. philanthropist. @marieclaire contributing editor. kunstsar at gmail.
APPRENEURS
Sheena Allen | @whoisSheena Twitter Bio: Sheena Allen Apps [PicSlit. Dubblen. Orange Snap. TwtBooth. Words on Pics.] | InstaFunds | HouseBoxx | Partytell | ……… Somewhere Thinking
Margo Wright   |  @margowright  Twitter Bio: Doer committed to getting more students through college. Yenko Founder.
Mirta Desir  |  @MirtaDesir Twitter Bio: mom | kid language learning enthusiast | CEO @ http://smartcoos.com 
CODE SCHOOL OPERATORS
Kisha Richardson |  @KishaRichardson Twitter Bio: Inner City kid turned Wall Street-er Turned Entrepreneur & Engineer Founder & Lead Engineer at cleanMe |@hackerschool Cohort[batch4] | Pizza & Whiskey Snob
DESIGNERS/ UX & WEB DESIGNERS 
Angelica Yarde  | @sevenality  Twitter Bio: Sevenality is a Brand Strategy and Consulting Agency located in Celebration, Florida. Our goal is to build sustainable communities, one business at a time.
Anjelica Dezel | @AnjelicaDezel Twitter Bio: Web designer and luxe brand strategist. I help female entrepreneurs ditch the website shame and start attracting their dream clients!
Katrina Martin | @theKatrinaM Twitter Bio: I'm just here for the shits and giggles. Developer of Web things. Drinker of Adult Beverages. Lover of food.
Kimberly Marie Clements   | @hernameiskim_ Twitter Bio: Visual Branding Strategist • I help women creative solopreneurs + stylish bloggers create crush-worthy brands that attract their ideal clients
Krystle Rowry @KrissDidIt Twitter Bio: I make websites for fab women. Graphic Designer | Natural Hair/Style Blogger | As seen in May 2012 @essencemag | [email protected]
Shae Weekes  | @afroniquely  Twitter Bio: I love Jesus! #NaturalHair & #Beautyblogger @texturedgirl, a#GraphicDesigner + #WebDesigner@FreshMedley and a #BLMGirl *Be#AfroniquelyU *
DIGITAL/CONTENT MARKETERS
 Tinu Abayomi-Paul  |  @Tinu Twitte rBio:  I write. Black on all sides.@HotMommasProj Leadership Fellow. Was #wgbiz. Am #infj do #seo & you can't knock my hustle.
ED TECH
Makeda Ricketts  | @MakedaRicketts Twitter Bio: 🙂
SOCIAL MEDIA STRATEGISTS 
Aliah Davis McHenry | @AliahPR Twitter Bio: #PR #Social #Digital Strategist. Millennial Mom. @bamchenry's better ½. Speaker. Creator @thefervency @thegetfitdivaLover of travel, red lipstick & dancefloors
Christine K. St.Vil  | @MomsNCharge  #FLY Wife & Mom | #Blogger | #Speaker| #Trainer | Co-Author@WhoseShoesBook | Follow me on#Periscope for parenting & social media tips | @PDMediaLLC Founder
S. LYNN COOPER  |  @sociallyahead Twitter Bio:  Social Media Strategist | Expertinial Marketing Consultant #Speaker | #PR | Contributor @madamenoire | #Tech#Entrepreneur feat @MSNBC@BlackEnterprise
STARTUP FOUNDERS
Adepeju Jaiyeoba  | @pjlalah Twitter Bio: Founder of @brownbutton_org & Mother's Delivery Kit Ventures| 2014@washfellowship Fellow | @WISHQatarYoung Innovatorhttp://youtu.be/DUs14cAp2wg 
Briana M. Ford  | @brianamford  Writer. Reader. Nerd. Huey + Riley. The Allure. Founder of @startupnoire#InTheBlack
Mariah Lichtenstern  | @lightedstar Twitter Bio:  Founder @CINESHARES | @FoundingSV Grad | @VelocityVC Accelerated |@UCLAVCFund Member |@KauffmanFellows Finalist | @USCMafia | @Cal Bear | #INFJ
TECH INCLUSION ADVOCATES 
Melanie Araujo | @melarauj0 Twitter Bio: I measure my success by the opportunities I create for others. Increasing diversity in tech through design w/ @joinfrontcenter.
Heather Faison | @HeatherFaison Twitter Bio: Girls advocate using tech to accelerate change. @googledevs @HowardU grad. Hella gay. DC  Oakland.
Idalin Bobé | @IdalinBobe  Twitter Bio: Find me at the intersection of tech + social justice. At #ThoughtWorksInvested in empowering communities. Past includes #BlackGirlsCODE#Supervalu #IUP
Nsenga Burton  |   @Ntellectual  Twitter Founder & EIC of award-winning news site @TheBurtonWire. Editor-at-large@TheRoot247 & @HuffPo. Media scholar, professor & writer shaping hearts & minds.
TECH JOURNALISTS
Christen Rochen  |  @DIVASANDDORKS Twitter Bio: Tech, Style & Beauty all in one! [Your Digital Lifestyle Expert] 'Best In Blogs'-@BlackEnterprise 'Top Women in Media'-@HelloBeautiful
MAKE SURE TO CLICK HERE FOR THE OTHERS from the previous post!

Share this Image On Your Site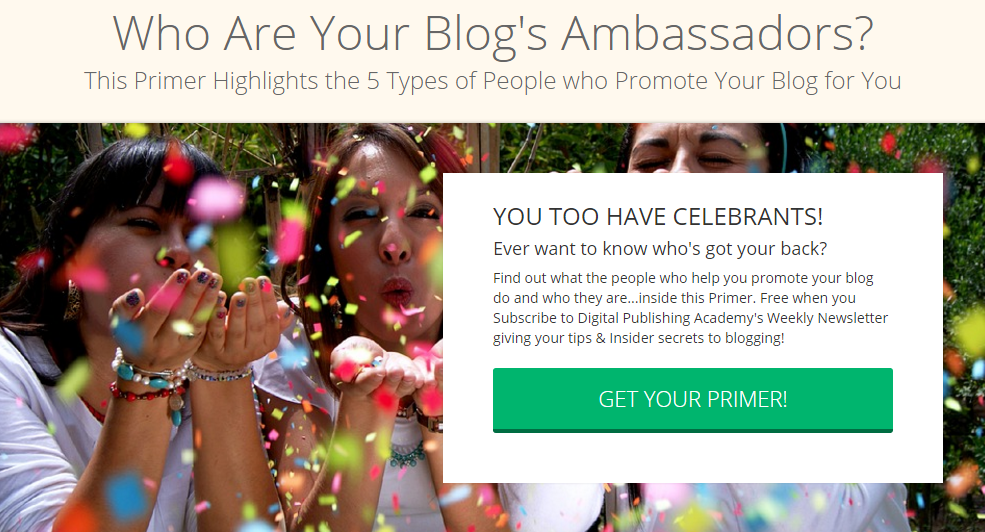 Jay Jay Ghatt is also editor at Techyaya.com, founder of the JayJayGhatt.com and JayJayGhatt.com where she teaches online creators how to navigate digital entrepreneurship and offers Do-It-For-You Blogging Service. She manages her lifestyle sites BellyitchBlog, Jenebaspeaks and JJBraids.com and is the founder of BlackWomenTech.com 200 Black Women in Tech On Twitter. Her biz podcast 10 Minute Podcast is available on iTunes and Player.fm. Follow her on Twitter at @Jenebaspeaks. Buy her templates over at her legal and business templates on Etsy shop!