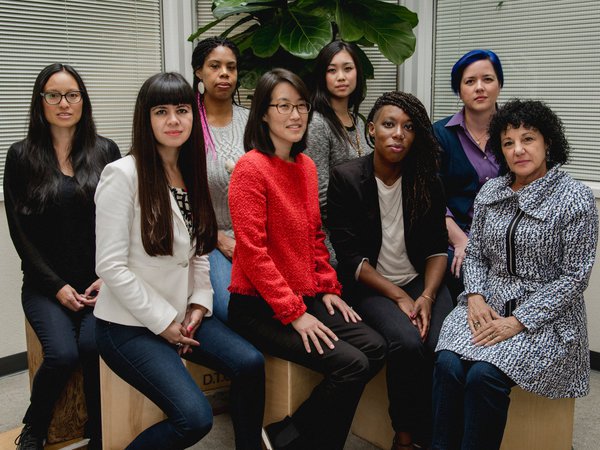 Project Diane tackled the dearth of venture capital funding of black female led companies and now Project Include aims to track and monitor Diversity Inclusion of Employees among Tech StartUps.
Eight high profile women of Silicon Valley are pooling their collective and existing efforts to track and improve tech diversity and launching a new initiative called "Project Include".
It reminds me of the recent report from Project Diane which concluded that there are only 88 black female funded startups total, nationwide.
The group of women that make up Project Include plan to get Tech companies to make certain commitments towards diversifying their staffs and then will track their progress. They plan to start with StartUps that employ 25 to 1,000 workers. The effort is in response to all the talk but slow progress among industry leaders that talk a good game about moving the needle but are taking baby steps to get there.
These companies always "say" they have plans to diversify  and deal with things like unconscious cultural bias, but things are slow moving.
"The standard mantra for every company on diversity statistics is, 'We're not doing well, but we're working on it,'" Ellen Pao, a former venture capitalist at Kleiner Perkins Caufield & Byers, and a Project Include co-founder, told New York Times. "People don't learn anything from that. Can you tell us what are you actually doing?"
The Project's founders also include former Googler Eric Baker who famously created a spreadsheet of salaries showing gender pay disparity at the top search engine company, and who has continuously challenged the Tech industry's insentience that meritocracy rules. These same companies are reluctant to acknowledge that other factors, like workplace culture and connections, will always make it exponentially more difficult for people from underrepresented groups to get the same opportunities to prove themselves.
The New York Times pointed out venture capital firm Sequoia Capital's partner Michael Moritz who made headlines when he said in an interview that his firm — which had no female investment partners in the United States — would focus on hiring women but would not "lower its standards" to do so. He also said the firm was blind to gender and race.
"It is this incredibly self-serving mythology that we are the best and the brightest, and that the best ideas rise to the top and will get funded," noted Freada Kapor Klein, a partner at the Kapor Center and a longtime proponent of inclusion in tech, while mentioning the abundant data showing that minority access to tech programs and networks is worse than that of white males. "Despite an avalanche of rigorous data to the contrary, the belief in pure meritocracy persists."
"If companies start early with diversity and inclusion, they don't have to bolt it on later, which is much harder," said Ms. Baker, the former Google engineer, who now works at Slack, a workplace collaboration software start-up.
The group's push is intended to cut through tech's slow pace of change on diversity. Larger companies, including Google, Facebook and Microsoft, have openly admitted their failures to create and nurture diverse work force and have launched efforts to change the current ecosystem. But their initiatives have not trickled down to smaller companies yet and Project Include aims to change that.
The women are looking to target 18 companies and then use their findings to create metrics and best practices for other companies.
Other co-founders include Laura I. Gómez, who founded a start–up focused on improving diversity in the hiring process; Project Include's other founders are , Susan Wu of the mobile payments start-up Stripe, ware engineer at Pinterest and one of the most vocal engineers concerning the lack of female peers.
I wish them lots of luck!
Read more about their work in HERE!
Jay Jay Ghatt is also editor at Techyaya.com, founder of the JayJayGhatt.com and JayJayGhatt.com where she teaches online creators how to navigate digital entrepreneurship and offers Do-It-For-You Blogging Service. She manages her lifestyle sites BellyitchBlog, Jenebaspeaks and JJBraids.com and is the founder of BlackWomenTech.com 200 Black Women in Tech On Twitter. Her biz podcast 10 Minute Podcast is available on iTunes and Player.fm. Follow her on Twitter at @Jenebaspeaks. Buy her templates over at her legal and business templates on Etsy shop!