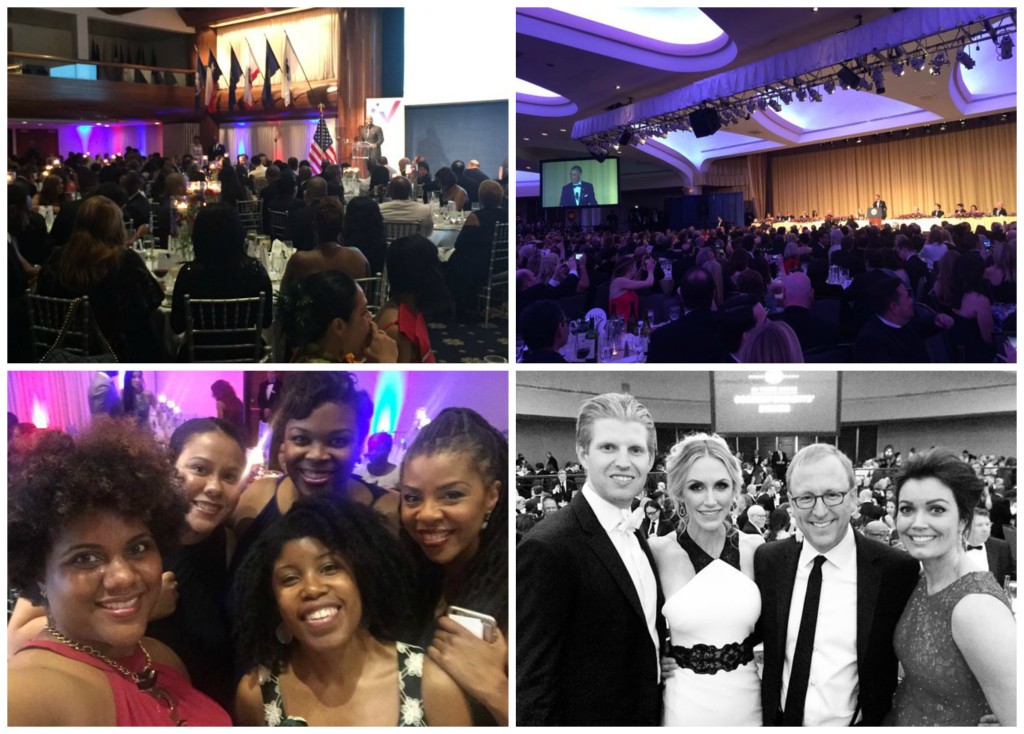 I was fortunate to get an invitation to the inaugural Multicultural Media Correspondents Dinner thrown by Vote It Loud, a nonprofit group that promotes civic engagement among people of color.
The National Press Club in Washington, DC, blocks from the White House hosted the star-studded event that included a red carpet with Getty photographers snapping esteemed guests as they arrived.
The event obviously was created as a response and alternative to events like the White House Correspondents' Association dinner which for over 102 years has been a nearly all-White event, and dearth of diversity of attendees (outside a few journalists and the celebrity invitees).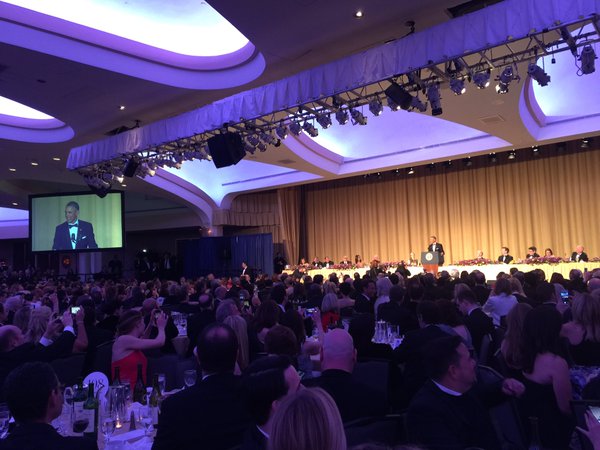 BET's Real Husbands of Hollywood comedian Chris Spencer hosted the event which was attended by other well known comedians, Alonzo Bodden and Aida Rodriguez, each who took the state and brought the house down with humor, according to Rolling Out.
Among Vote It Loud's board members and founders is Pras Michel, one third of the famous hip hop group The Fugees. The organization's website states that its mission is to provide people of color with the necessary tools and relevant information to make informed decisions.
In addition to featuring comedic bits, the organization also gave out awards, including one to one of the most famous comedians, actor, singer and songwriter Jamie Foxx who surprised guests with his appearance. The audience rose to their feet when Foxx took the stage. He received the Media Icon Award.
Per Rolling Out's reporting:
"During his speech, Foxx acknowledged how negatively mainstream media portrays people of color but also how they often dismiss their accolades. He briefly spoke about the importance of starting events such as the correspondents dinner as well as how honored he was to be invited."
Here is a list of other Honorees:
Charles B. Rangel– Lifetime Achievement Award
Armstrong Williams– Media Owner of the Year
Kim Keenan– Media Executive of the Year
Yvette Clarke– Special Recognition
Todd F. Brown– Champion in Media- Fifth Estate (Online Media)
Victor Shiblie– Champion in Media- International
Richard Lui- Champion in Media- Broadcast Journalism (Politics)
Patricia Guadalupe– Champion in Media- Print
Cenk Uyger– Champion in Media- Fifth Estate (TV)
Blanquita Cullum– Champion in Media (Radio)
Bravo! I'm bummed I missed it because I mislabeled it in my calendar but I do hope I get an invite to the next one as well. Apparently, it was an invite-only affair which I understand because of space limitations of the National Press club.
I hope also to not hear people complain that this event is an example of Black and Brown people  "separating themselves". I hope to not hear people label it as "racist" even though multi-cultural is an inclusive term that embraces all.
It's akin to the criticism of NAACP, BET, Black Girls Rock, La Raza etc by those who are ignorant to the fact  that each of these institutions/companies/ organizations were created out of necessity to uplift, and recognize peoples that were/ and are still systematically excluded and ignored.
The National Bar Association was created because the American Bar Association excluded Blacks. The National Association of Black Journalists, NAHJ, AAHJ were created because the RTNDA and American Press Institute and the like did not include others.
Historical Note: Essentially, whenever you learn about a National Association of [insert Professional association], it was likely created because the  American version of it was exclusive to non-Whites.
It's too bad in 2016 we still have to create brand new organization to respond to exclusion but alas, we are!
Bravo to Vote it Loud!
I also talked about this on my new Facebook page for this blog.
Jay Jay Ghatt is also editor at Techyaya.com, founder of the JayJayGhatt.com and JayJayGhatt.com where she teaches online creators how to navigate digital entrepreneurship and offers Do-It-For-You Blogging Service. She manages her lifestyle sites BellyitchBlog, Jenebaspeaks and JJBraids.com and is the founder of BlackWomenTech.com 200 Black Women in Tech On Twitter. Her biz podcast 10 Minute Podcast is available on iTunes and Player.fm. Follow her on Twitter at @Jenebaspeaks. Buy her templates over at her legal and business templates on Etsy shop!