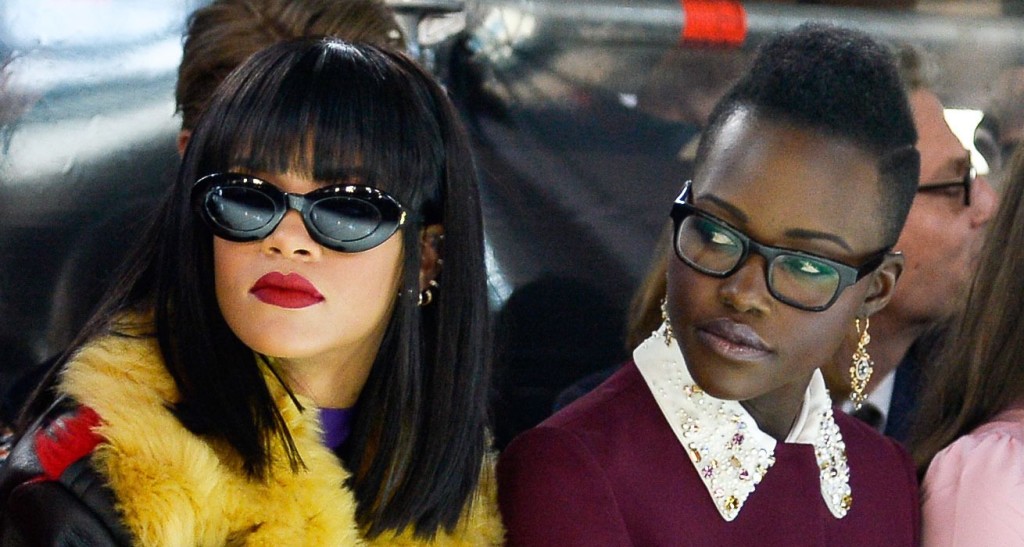 What happens when two different internet users have share similar reactions to a popular of two mega stars two years apart and one catches the eye of people with the power to actually turn it into a movie?
Confusion over creative credit happens.
It started in 2014, when Tumblr user "ElizabitchTaylor" blogged a photo of pop star Rihanna and Oscar-winning actress Lupita Nyon'go attending the 2014 Miu Miu fashion with the caption, "They look like they're in a heist movie with Rihanna as the tough-as-nails leader/master thief and Lupita as the genius computer hacker."
The humorously accurate assessment of that photo got re-blogged and discussed close to a half-a-million times thereafter.
Fast forward three years and a Twitter user named Kateria who uses the handle @1800SADGAL saw a recently shared tweet of the very fashionable photo and she decided to retweet it with her own caption, "Rihanna looks like she scams rich white men and lupita is the computer smart best friend that helps plan the scans [sic]".
Rihanna looks like she scams rich white men and lupita is the computer smart best friend that helps plan the scans https://t.co/PhWs1xd3nj

— ??????? ??? ????????? (@kauyasha) April 18, 2017
Coincidence?  Yes. Maybe.
But, there is more to this story which also shows that Twitter maybe is more powerful than Tumblr at reaching celebs and influential people.
See… Rihanna and Lupita took notice of the Tweet that came TWO YEARS after the Tumblr post.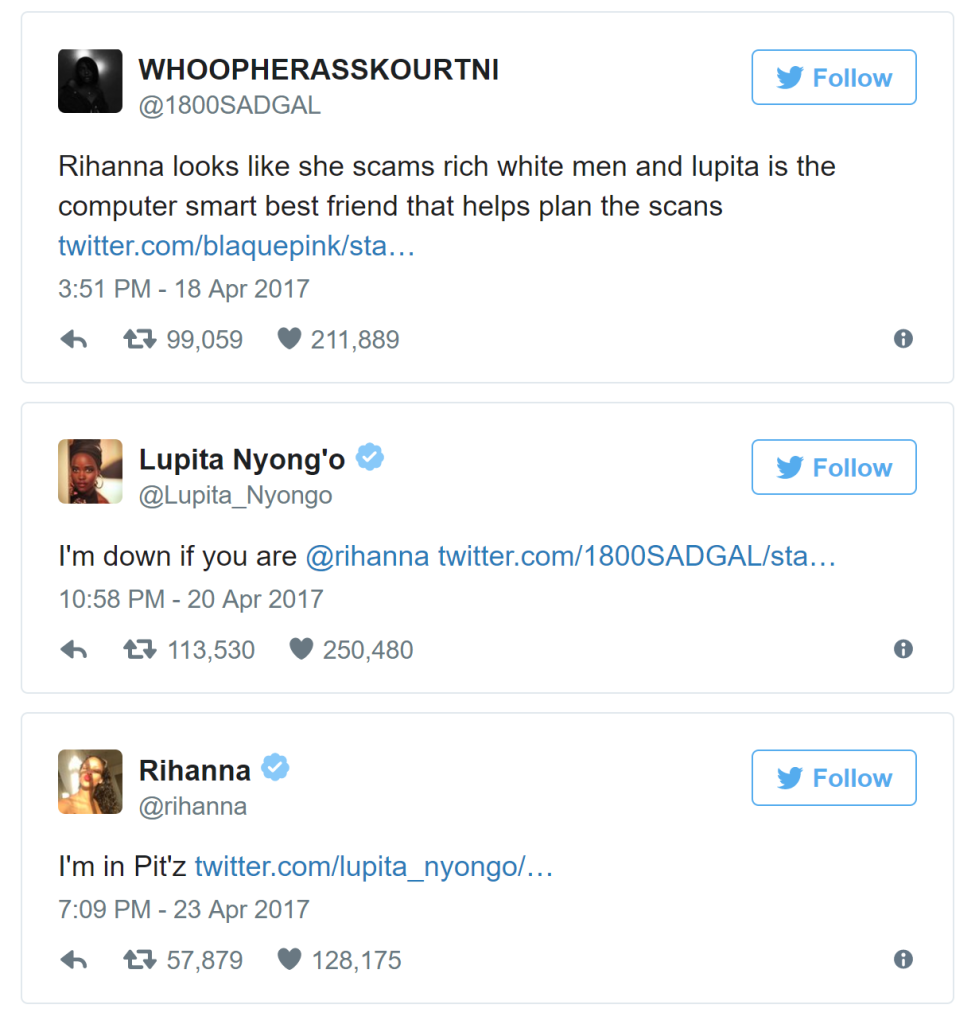 Although that more  tweet got shared close to 100,000 Retweets (400K less engagement than the Tumblr post)  Nyong'o saw the tweet and replied that she is actually down to be part of such a movie; and Rihanna hopped on it as well replying to Nyong'o's tweet.
Next thing leads to another, people in powerful positions put one and two together, and before you know it, weeks later, Netflix has reportedly acquired the rights to the film at the Cannes Film Festival!
Imagine that "Team Internet"…. from an idea that originated in social media!
Apparently, director Ava DuVernay was tapped to head the project and Insecure creator Issa Rae was tapped to create the script.
But before things got out of hand with people on social accusing Kateria of stealing the Tumblr idea, Kateria hashed things out via inbox with Tumblr user Elizabitchtaylor is Roxy MacDonald on Twitter.
https://twitter.com/1800SADGAL/status/866787223915700224
And from my scoping out the Tweet history, it looks like Kateria only wants to meet Rihanna and Lupita as a form of payment. *hmmmm* Okay,.
Who knows if either of these ladies will get creative credit for their idea of what looks to be a fun movie.
What I do know is that it appears that if Kateria could show hers was original and separate from the Tumblr post, then she should certainly NOT cut herself out of any credit for creative given that it was her tweet that was the catalyst for the film eventually (possibly) becoming a reality.
Sorry, Roxy. The rule regarding first to come up with the idea governs for sure but not when you just sit on it and do nothing to make it into a commercial venture.
One can also compare this to the famous "Black Girl Magic" fight where a childhood friend of mine, Cashawn Thomspon, made the popular phrase famous in social media even though it had existed before and
A big name Hollywood person and national magazine later tried to capitalize on the phrase and Trademark it even though neither was first to make the phrase a thing  name Hinitially.
I think it is different in Thompsons' case because she actually converted the phrase into a commercial venture after making it popular and she did so before Hollywood started to fight over it.
The lines of demarcation of creative discovery get so blurred when it comes to online and social media.
It's all very interesting!
Jay Jay Ghatt is also editor at Techyaya.com, founder of the JayJayGhatt.com and JayJayGhatt.com where she teaches online creators how to navigate digital entrepreneurship and offers Do-It-For-You Blogging Service. She manages her lifestyle sites BellyitchBlog, Jenebaspeaks and JJBraids.com and is the founder of BlackWomenTech.com 200 Black Women in Tech On Twitter. Her biz podcast 10 Minute Podcast is available on iTunes and Player.fm. Follow her on Twitter at @Jenebaspeaks. Buy her templates over at her legal and business templates on Etsy shop!