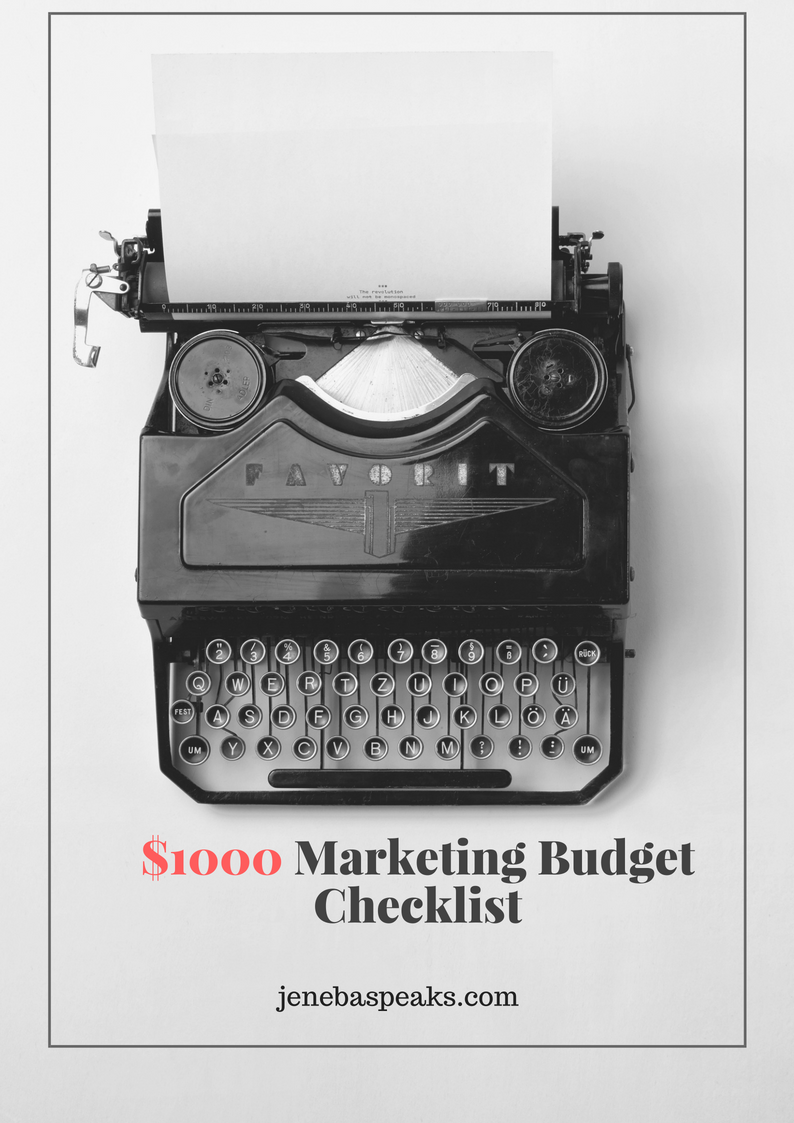 A couple of years ago, wanting to help out startups who have no clue on how they should be spending their very nominal marketing and promotion budget, I put together a blog post with some ideas.
It has since gotten tons of attention but needs updating to reflect changing times and priorities.
I've updated that post to now include: Pinterest ad marketing because for a lot of brands, websites, ecommerce sites, Pinterest is a major driver of traffic and leads. I'd update the advertising budget to include Pinterest.
I also would also increase my influencer marketing budget. Influencers, and in particular micro influencers, have become more effective in helping new brands gain exposure and sales.
I no longer use Instagram tools for promotion and no longer recommend them and would funnel that money instead into the influencer marekting budget.
Here is a summary to Update you
If you are running a side gig or a super small or micro biz or lean startup, you may not have a budget to hire a marketing or social media manager to help market and promote your venture.
You are limited even though you know very well that that marketing is the most important thing for promoting, scaling and advancing any business.
It is really hard to grow if no one knows about your company.
A friend of mine asked me to give him advice on how should a startup, online or digital entrepreneur spend $1,000 per month marketing budget. I offered to pen my suggestions in a blog post and here they are:.
In sum (but I go into details below), here is the breakdown:
$500-Intern because you cannot automate marketing and you need actual "engagement" or interaction between your brand and your audience or market in order to bolster that "know, like, and trust" factor you've heard about and need desperately to grow and scale and you need a human to do that. For this amount of money at a rate of $10-15 per hour, you can get someone to dedicate, 
If you are willing to outsource to a foreign land where hourly wages are less, consider looking toFiverr to hire a virtual assistant for as low as $1.95 per hour but beware, it's remote and your instructions may get lost in translation. Tread carefully with this option. 

$100- SEO Agency because again, people need to see what you have to offer when they conduct an online search in Google, Bing or Yaho but they need to actually see you on page one first! Every business needs to optimize their site's placement in search traffic and there are remote agencies out there that will help you for about $100 per month or a little more. 
Alternatively, you can purchase tools and learn how to do it on your own but that can be time consuming and you are better off leaving it to the experts and using your time in other ways. 

$145- Facebook and Pinterest Ads because and once you develop a formula or discover how to target our market, you need to reach wider and more of your market.  These two platforms are the best for driving traffic back to your site, elevating your brand, and ideally converting casual new visitors into loyal site visitors or customers!

$150- Social Media Influencers because paying people with an established online presence to promote your offerings, service, site, app or products is still the quickest, easiest and most efficient way to reach your audience. No second guessing or crossing your fingers and hoping an ad campaign will work. You are almost guaranteed to achieve more follows and hopefully, engagement and eventual new audiences or sales. 

$24- ViralTag subscription because in my opinion, this desktop (with a mobile option) it replaces a lot of other social media and blog marketing platforms Hootsuite, Co-Schedule, Edgar, Buffer, Klout, Tailwind and Boardbooster. It helps you mass schedule and share your content to multiple social media platforms at once without you having to do much work. Just add the posts and sit back and let Viral Tag expand your reach!

$25- Leadpages because it has long been the industry standard for capturing emails, leads, and growing your email subscriber list. The site used to require annual subscriptions but now permit monthly payments and has expanded to lead sites and has a host of new offerings. It has a large library of attractive designs that work to convert.


$25- Email Marketing (Convertkit, Mailchimp) – for communicating w/your email list. I prefer Convertkit because it's best for bloggers but any of the other popular tools will work. 
$14 – Tailwind because it's a highly specialized tool for using Pinterest to drive traffic and its Tribe feature helps expand your pins' reach to wider audiences. You can try it out for FREE first to test it out!

$16- Video Software (Camtasia or other software) -for easily creating viral videos and this tool is also great for editing YouTube videos or any other video. I use it and find it wonderful and intuitive and easy to use! 
That's it! There you go!
—
Approximately, $1,000 per month and you will discover that your business, reach, sales, audience, downloads, subscribers will be growing exponentially faster each month!
Good Luck!
Jay Jay Ghatt is also editor at Techyaya.com, founder of the JayJayGhatt.com and JayJayGhatt.com where she teaches online creators how to navigate digital entrepreneurship and offers Do-It-For-You Blogging Service. She manages her lifestyle sites BellyitchBlog, Jenebaspeaks and JJBraids.com and is the founder of BlackWomenTech.com 200 Black Women in Tech On Twitter. Her biz podcast 10 Minute Podcast is available on iTunes and Player.fm. Follow her on Twitter at @Jenebaspeaks. Buy her templates over at her legal and business templates on Etsy shop!