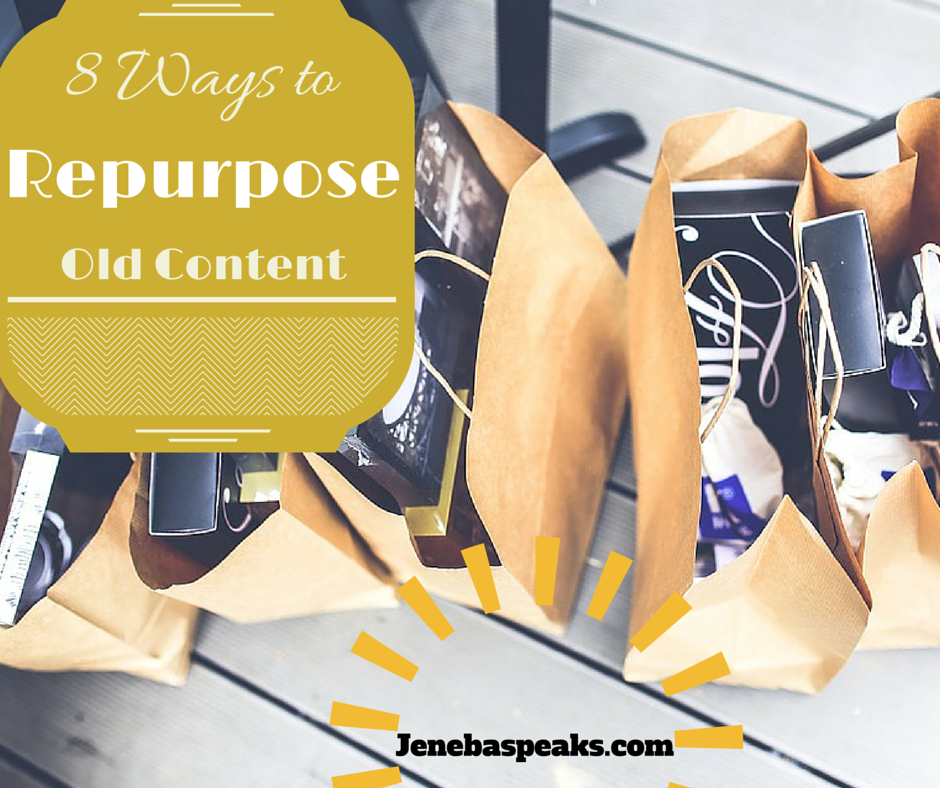 There is no such thing as an old blog post. In this digital era, there is a plethora of ways that content creators can re-purpose old blog posts and breathe renewed life into them and present them to fresh new audiences.
You can just re-post old content "as -is" in another platform, remix an old post with new or different thoughts and ideasor update an old popular post with more current information.
Have it your way.
Here are 8 ways that I re-purpose old content I've created and examples of the re-purpose in action to give you idea of how it works.
1. I post on re-post it on LinkedIn Pulse or Medium. A little while ago, there was a fear among content creators, bloggers and website owners that having too much duplicate content on the net could damage your site's SEO (search engine optimization) standing. However, recent school of thought is that these other platforms are disregarded because posts shared on those platforms are designated "no-follow" so Google's search crawlers do not recognize them and allow them to count against you.  So, it's totally cool to simply post an old post there and attract the audience that follow you. On LinkedIn, there isn't any algorithmic restrictions (yet) as there are on Facebook, and other older social media platforms that limit the number of people that see your post. It's a great way to get fresh eyeballs. Similarly, Medium doesn't suppress your reach. In fact, if your content is compelling enough, it may get seen and picked up by one of the many blogs on Medium which have an aggregate reach of 10,000 and more, depending on the blog.
In action: Here is a post, "12 Reasons People Don't Return to Your Blog"that I republished on LinkedIn Pulse and another I re-posted on Medium,"StartUp Cult: The 12 Different Types of Entrepreneur."
2. I convert it into an ebook – You can use Powerpoint or some other desktop or mobile software (or hire someone on Fiverr, or some other Freelance platform) and turn a post is popular and gets a ton of traffic into an ebook. You can give away the ebook and use it to draw traffic back to your blog, increase brand awareness of your site or yourself as a blogger or influencer. Or you can sell the ebook.
In action: So far, I have taken about 8 old blog posts I've written and converted them into a series on blogging as a business and I sell them on Amazon Kindle, iTunes and iBooks.
3. I create a webinar or webcourse – I've taken material I've blogged about that is instructional in nature then and video or audio taped my thoughts on them, added some curriculum material and marketed them as a free webinar. You can make it a paid or a Free webinar that you give away to elevate your brand or use as an opt-in to build your subscriber list or to pitch a paid product at the end of the free webinar.
4. Convert it into an  infographic – There are over a dozen sites that will help you create an infographic and are seamless in process. You don't have to have a graphic design background or eye. Many allow you to just customize existing templates, adding your own text and data. Easy breezy.
In action: Here is one I did using Infogr.am a few years back which took me a few hours to put together and it looks very professionally done.
5. I create a Slide Share  presentation – You can use Microsoft Powerpoint to turn the information in a blog post into a slide that you upload onto Slideshare like the one I did about the Legal Aspects of Bogging. Nowadays, Canva lets you create slides that are visually appealing. You can add your branding and then easily copy it when you want to create a new slide.
In action: Here is a slide I created using Canva that I include in one of my webcourses on this topic I teach at the Digital Publishing Academy.
6. I pitch it to a conference – A great way to reach new audiences, elevate your personal brand and promote your site is to present at various seminars, summits and conferences. A lot of these have call for presenters. You can take a well-received blog post and pitch to present an oral summary version to attendees at an upcoming conference.
In action:  I pitched an old post I did about using Instagram, Pinterest and Google Plus and Newer Social Media platforms to promote a blog and got it accepted at the Blogging While Brown conference.
7. Turn it into a lead magnet- b You have to be creative in gathering subscribers and one way is to give away some valuable freebie or asset in exchange for it. You might have heard of it described as a "lead magnet" or an "opt in" because it is given away with the understanding that the recipient is "opting into" receiving more information from you as a condition of accepting the freebie.  Even if the content exists already, people like being able to an easy-to-read and digest capsule of information that they can download and print or read later.
In action: Here is an example of content I've turned into a lead magnet. It was a blog post HERE first.
8. Convert it into a podcast – Audio content via podcasts and voice notes are growing in popularity. People love listening to them because they can be consumed while doing something else like driving or commuting to and from work; or even cleaning the house. I know I take in my fave podcasts while doing yardwork, personally.
In action: I recently converted my thoughts about Facebook's new Live broadcast in an event page or FB group into a short 10-minute podcast and uploaded it onto Soundcloud. Listen to it here. It's less than 12 minutes long actually.
Hopefully, this post will give you some idea on how to drive new traffic to your site and promote your site and brand using some of these suggestions.
Jay Jay Ghatt is also editor at Techyaya.com, founder of the JayJayGhatt.com and JayJayGhatt.com where she teaches online creators how to navigate digital entrepreneurship and offers Do-It-For-You Blogging Service. She manages her lifestyle sites BellyitchBlog, Jenebaspeaks and JJBraids.com and is the founder of BlackWomenTech.com 200 Black Women in Tech On Twitter. Her biz podcast 10 Minute Podcast is available on iTunes and Player.fm. Follow her on Twitter at @Jenebaspeaks. Buy her templates over at her legal and business templates on Etsy shop!