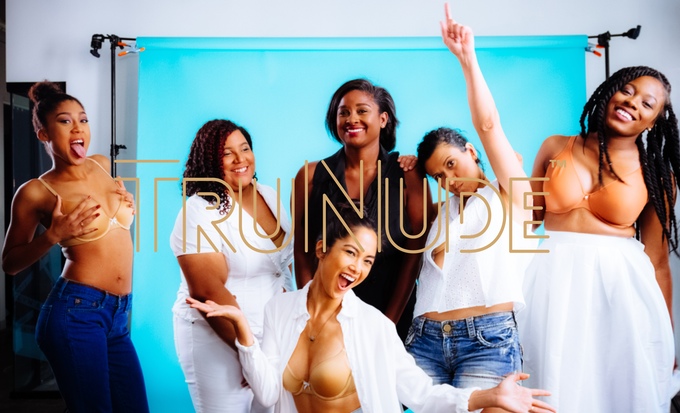 I love seeing when diverse people take advantage of crowdsource funding platforms and meet their fundraising goals.
Here is one such success case which wins because it meets a need. In July 2015, Brooklyn native Danai Pointer launched a company aiming to bring genuine and authentic nude color undergarments to all women.
The fact remains that for decades the color "nude" in hosiery, shoes and clothing has used a white skin as the standard. But upon realizing that "her nude" did not exist, Pointer moved quickly to find a tech solution to help all women struggling with the bra shopping existence. And it's as simple as snapping a selfie.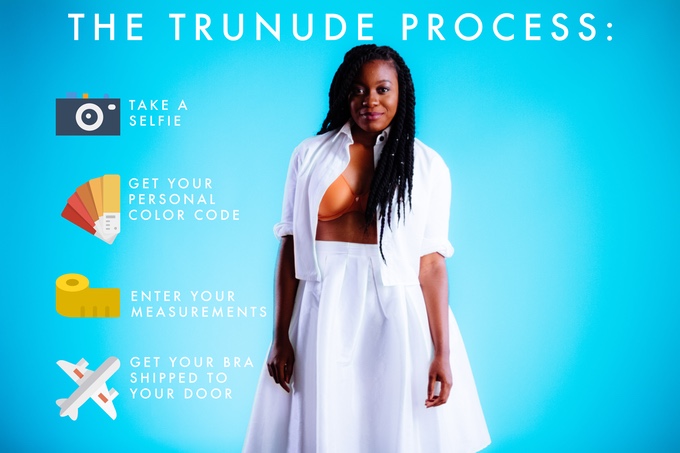 The Brooklyn based fashion, technology, and e-commerce startup TruNude solves that problem many women of color face trying to find nude clothing, undergarments and shoes. Using a technology that has received a provisional patent from the US Patent and Trademark Office, TruNude™ works in 4 steps
1) Users Download the TruNude™ app
2) They then Snap a selfie photo of themselves to generate a Personal Color Code (#PCC)
3) Then they select the bra size and style
4) TruNude™ ships them their garment(s)
The team and Pointer aimed to raise $20,000 on Kickstarter this past October 2016 and by November had raised more than their goal and plan to ship out the product to first adopters in May 2017.
I got a press release 20 days in that told me that they were 80% to their goal at that time. So that means there was much excitement about the product and company.
According to the Kickstarter listing, TruNude
allows you to take more fashion risks;
eliminates pesky bra straps in constant need of hiding;
provides seamless comfort and structure;
gives you the confidence to know that all eyes are on your outfit and not what's underneath;
makes you feel sleek, sexy, and sophisticated
Because brown girls come in buxom proportions and many have large boobs, the company offers a wide range of cup sizes AA-M, a range of wing sizes, and tools for users to measure themselves.
If your skin tone or body changes you can update your profile and get matched for another season.That's awesome because I am usually much darker in the summer compared to the winter.
TruNude™ 's team includes product developers, fashion consultants, colorists, and marketing pros all under the direction of Pointer, whose dad was renowned Grammy-winning violinist and protegee Neil Pointer who died of a stroke at the young age of 39 when Pointer was a child.
 Before starting the company, Pointer worked in cultural communications, recently as the Cultural Assets Management Lead at Bloomberg Associates, advising global cities on strategies to support the cultural sector, construct a collaborative communications approach, and cultivate public-private partnerships. Before that, Previously she was the Director of External Affairs at the New York City Department of Cultural Affairs,
She is a member of the Board of Directors of the Noel Pointer Foundation supporting music education, and named to honor the legacy of her dad
This is not the first effort to bring true color to women of color. NubianSkin caters to black women but TruNude has the selfie-thing that makes it stand out.
Also, various brands like Christian Louboutin, offer a wider range of nude
Jay Jay Ghatt is also editor at Techyaya.com, founder of the JayJayGhatt.com and JayJayGhatt.com where she teaches online creators how to navigate digital entrepreneurship and offers Do-It-For-You Blogging Service. She manages her lifestyle sites BellyitchBlog, Jenebaspeaks and JJBraids.com and is the founder of BlackWomenTech.com 200 Black Women in Tech On Twitter. Her biz podcast 10 Minute Podcast is available on iTunes and Player.fm. Follow her on Twitter at @Jenebaspeaks. Buy her templates over at her legal and business templates on Etsy shop!